Best Value: AiM Solo 2 DL Mini Data System Review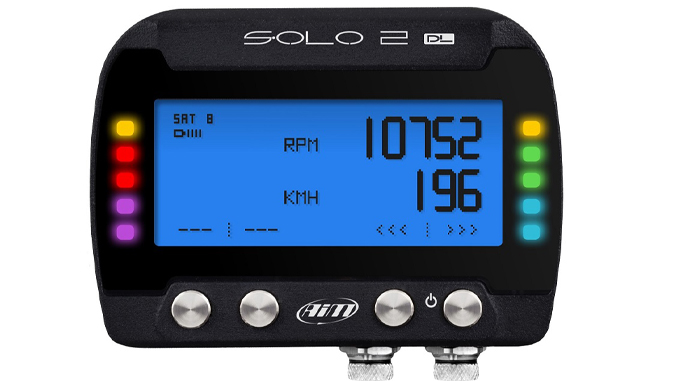 The Solo 2 DL, as you may recall, is an upgrade to the beloved Solo DL. The Solo 2 DL adds warning lights (which can be used as shift lights or to indicate progress in sector times) to the great Solo DL features. The Solo 2 DL also now features WiFi connectivity to your laptop. This makes downloading data easier (no more lost cables).
The Solo 2 DL is often used for HPDE lap timing, with enhanced data. Because it is battery-powered, many users simply keep it on a RAM suction mount, which can be easily installed on your windshield. You then just run a wire to your OBD II port, press one button to turn it on and you are ready to go.
As always, the big thing about the Solo 2 DL is that it offers ODB II or CAN input, so that you can use proven AiM Race Studio 3 software (free of charge) to monitor and study brake pressure or throttle position as well as the standard GPS-based inputs like speed, lap time and track position. The battery-powered Solo 2 DL has over 3000 tracks built in, so setup really is usually as easy as turning the Solo on and driving (and if you wire it to 12V, you don't even have to remember to turn it on or to charge it).
For dedicated race cars, we think of the Solo 2 DL as a mini data system as much as a road racing lap timer on steroids. We like the Solo 2 DL so much that we've installed them in all of the Spec MX-5 Challenge cars:
The Solo 2 DL can form the core of a system together with the AiM SmartyCam HD 2.1, so that rpm, speed and other data are embedded in your videos:
The Solo 2 DL costs $699; purchase it here!