Gear Review: The Garmin Catalyst — The Best Lap Timer?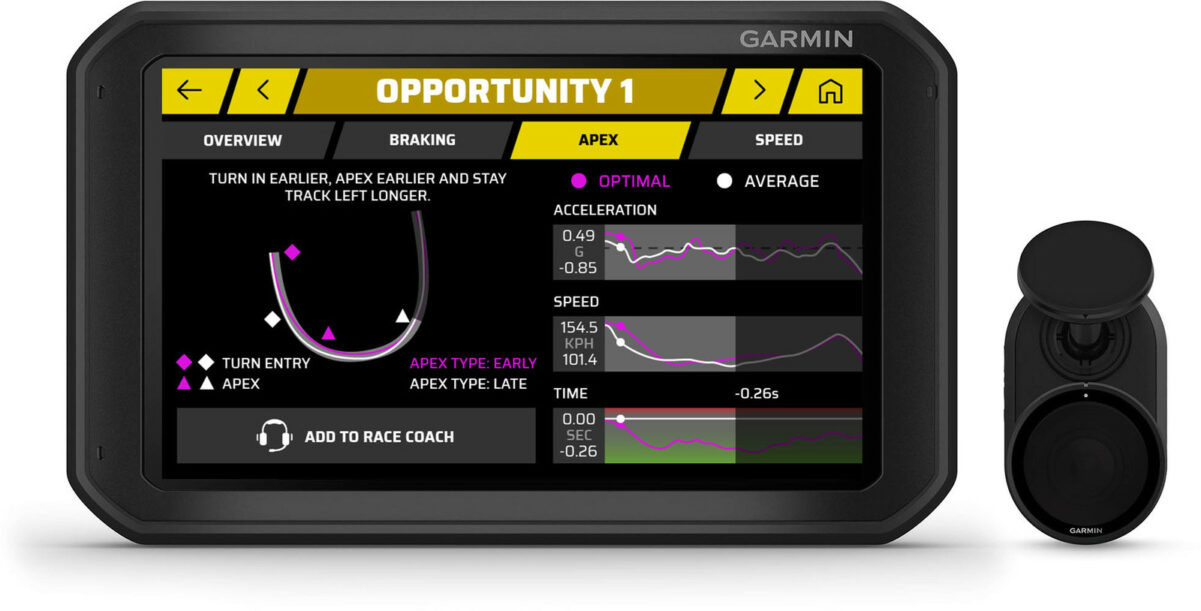 2023 Update: Garmin Catalyst – one benefit to stepping foot inside the Garmin ecosystem is being the recipient of new features through "pushed" updates. Garmin is ever perfecting their devices and they don't always require their users to buy new equipment to take advantage of this. The Catalyst is not excluded from this. One of the most recent updates was the creation of a companion App – Garmin Catalyst App . This App lets you see how you compare to your friends on the same track by overlaying your driving lines and lap/sector times. While this is great for bragging rights, one area where we see this as a considerable advantage is with regard to coaching.
If you want a lap timer, presumably it's because you want to improve your track driving. A lap timer gives you feedback, which is intended to help you improve. So, the question of what makes a good lap timer is really broader than something as simple as ease of use, since the lap timer function per se is pretty simple (if you just want an easy-to-use lap timer, get the AiM Solo 2). In fact, the real question is "which lap timer help me improve the most, that's the easiest to understand, and the quickest? Which lap timer is the best?"
The motorsports lap timer and data game recently got a tad more crowded, with GPS tech heavyweight Garmin entering the ring with their much-anticipated Catalyst Driving Performance Optimizer.
Garmin has taken a completely new approach to making a lap timer that helps you improve. We set out to test the Catalyst's ability to be an on-track driving coach, provide real-time lap data and adaptive coaching, give us data on demand, and more. Let's see how they did.
The Setup
We took the opportunity to put the Catalyst through its paces at Willow Spring's Streets of Willow track in Southern California's beautiful Mojave Desert. We've run this track countless times, we can put down lap times with reasonable consistency, and its best-suited for our test mule: our beloved 2014 Mazda2 with suspension, tire, and brake mods to make the most of its momentum and severe lack of power. This served as an excellent test track because its tight and technical, and every millimeter away from the apex counts when it comes to hustling momentum cars through it.
Lucky for us, Speed Ventures was hosting a trackday there on September 19th, which sync'd up flawlessly with our testing timeline.
At the track, after performing our normal tech inspection checks, we got to work mounting the Catalyst system into the little Mazda hatch. Everything made sense, and everything was wired, thus ruling out any potential Bluetooth connectivity issues. The provided instructions were easy to follow, as were the directions in the unit itself: after moving through a couple of screens and quickly whipping up a user profile, it went through the steps to get the unit and its camera mounted in a good position inside the car. We found the setup in-unit to be very idiot-proof; just tap through the screens and follow the instructions. Our media tester came with an SD card already inserted and ready to record our data and video.
We opted to keep the unit suction-cupped low on the windshield, and went against the unit's directions of mounting the camera high behind the rear-view mirror; having cords flapping around in our field-of-view would've made us see red mist on track for sure. Conveniently, setting up the camera was very easy as it gave us a preview of what the angle would be, as well as whether it was level. We were a little concerned at first about the unit taking up too much space in our forward view, but it wasn't bad at all. Though, that's partially due to the Mazda2 having a big front windshield.
Once this was all set, physically and in-unit, the proper track and configuration were selected from its extensive database, one tap of the screen yielded instructions to proceed to grid and cross the start/finish line.
On Track
The unit started recording and relaying info as soon as we crossed the start/finish, even on our slow, yellow-flagged out-lap. "Starting first lap" the nice lady inside the Catalyst reported, followed by a big, easy-to-read lap timer on the screen. We were relieved that the screen's auto brightness adjusted accordingly and was easy to see in the bright, desert light. Coming around the skid pad onto the front straight with a green flag waving right at us, we proceeded to run the session that consisted of eleven laps.
As we lumbered along, the unit quickly started reporting real-time lap data. The adaptive delta time changed up rapidly, in our case showing that we were shedding a ton of time off of our out-lap time. Like other units, we found this to be the most valuable visual reference for cutting time; seeing what kind of throttle and brake inputs, as well as positioning on track, could get the delta to inform us that our lap time was on-track (pun sort of intended) to be a bit shorter. Since we were very familiar with Streets of Willow Clockwise, we had a decent handle of the apexes and braking points.
(Point-by received)
Though, there's always more to learn, and this unit certainly helped; we shed 0.20 seconds off our PB, on not-as-grippy tires, a rear damper in less-than-ideal condition, and less negative camber up front than we had we when set our our previous PB. We were pretty pleased with our new PB of 1:35.75, especially after a long COVID hiatus.
We weren't able to take full advantage of the unit's on-track driving coach. These prompts came in the form of spoken commentary of our lap as we went along, with such comments as "good apex" and "good job braking less." Because Speed Ventures requires front windows be all the way down on track, as well as having a helmet that lacked a comms setup, we didn't learn of this commentary until after the session while reviewing over the footage. For folks who are able to run windows up, commentary volume would likely be ample depending on how loud their car is. There is a plug-in on the side of the unit for a normal headphone-like jack.
Thanks to a clean session with nothing more than one or two brief yellow flags, lots of real estate, and no significant traffic, we ran quite possibly one of the best sessions we've ever had on Streets.
Post-Session Data Review
After our cool-down lap and arriving back in the pits, one tap of the screen ended the session, which followed with the Catalyst quickly processing everything that just went down.
We were able to tap through the screens and see how we did, as well as review our footage. The first screen gave us our Best Lap Time, our Optimal Lap Time (more on that in a moment), percentage variation between laps, total time, Track Conditions, as well as opportunities for improvement. In our case, if we were to clean up our act in Turns 2, 3, and 4, and 8, we could've achieved as low as 1:35.07. Paging through each lap, examining our Position, as well as the Acceleration/Deceleration screen, gave us a good idea of where we did well, and where we could've improved. It also overlaid the Optimal Lap Position (our line) and acceleration/deceleration with our Best Lap, which we found to be brilliant for visual learners like ourselves.
How does it do all of this? Gamin boasts that it utilizes 10 Gz multi-GNSS positioning, image processing, and built-in accelerometers to analyze data, and generate drivers' racing lines on track. The key phrasing that Garmin uses, is the Catalyst uses your measured optimal lap to guide you up to your personal maximum performance. In essence, it analyzes how you did, and if you follow its instruction, it will help you achieve the Optimal Lap that its showing you. We like this a lot, because its helping drivers gradually improve, and not making them measure their laps against significantly more experienced and/or skilled drivers.
So what exactly is Optimal Lap? This is perhaps the Catalyst's coolest feature. It stiches together data and video of each of your best sectors on track from the session -in our case, Streets of Willow has twelve sectors- and puts it all in one video, as well as one single lap of data. Our video below demonstrates this the best.
At 3:35 the Optimal Lap begins: watch where it cuts the sectors up, such as after Turn 2 where a pair of Toyobarus in front of us suddenly disappear, and then later we pass one of them. There's no sound included in the Optimal Lap, which would've been nice to hear the engine rev up and down and get an idea of our acceleration and braking.
Optimal Lap is essentially saying, "we created a best-of from your session, take a look and see how it compares to your individual laps. If you keep it up, and follow some of our suggestions, you can achieve this lap time!" The Catalyst is always learning, and compares more and more of your laps the more sessions you run. Ultimately we weren't able to achieve that lower 1:35.XX, as running in the Mojave Desert in September meant very high track and ambient temps later in the day.
Check out the notes it gives, we found this to be really cool:
Reviewing over video of each lap was generally user-friendly. We liked seeing speed and time data overlaid onto the video, though we wished acceleration/deceleration were overlaid as well. This would've helped us figure out where we were braking, what our braking intensity was, or where we were losing acceleration (crucial for momentum cars), instantaneously, rather than having to remember each spot, and then moving over to a different screen where the laps' acceleration/deceleration data was. Also, the cursor to fast-forward or rewind was fumblesome to use, as if it lacked touch sensitivity. This was a tad annoying while thoroughly reviewing individual corners.
Final Thoughts, and What its Missing
All-in-all, we really enjoyed using the Garmin Catalyst Driving Performance Optimizer for HPDE/track day purposes. Being super easy to setup, use, and review was a huge benefit, and being able to review video and data as soon as we took our helmet off meant no time was wasted. This could be a huge benefit for coaches who normally import data to a laptop, and then go over sessions with their drivers.
We think its top benefits are verbal on-track coaching and Optimal Lap, which really make it stand out, and find it give competing products by AiM, APEX Pro, and VBox a run for their money (assuming you're able to hear it on track). APEX Pro and AiM have a system of lights to let drivers know how they're doing, the Catalyst gets this across just a tad more clearly with actual verbal commentary.
Here's a list of what we found was lacking, though we imagine some of these items could show up in the future with a simple software update:
No speed, time, lap, or segment info overlaid on the video footage that we downloaded to our computer.
No acceleration/deceleration info overlaid on the in-unit footage during review, or on the footage that we downloaded to our computer.
While the amount of post-session data is good, we find that the APEX Pro Digital Driving Coach displays a lot more, such as creating the always-invaluable scatterplot.
We had no qualms with its size, though some consumers who have smaller windshields, or smaller cockpits in general, might. Again, Apex Pro does this very well.
The spoken feedback was good, but require either comms or windows-up to hear it on track; simple statements on the screen could help, such as "good apex" or "brake later," not something that pulls too much attention away like "next lap, trying carrying more speed through that turn." Keeping an eye on the delta wasn't distracting, simple statements wouldn't be either.
How it Compares to Other Units
We wouldn't say its better or worse than competing units by APEX Pro, AiM, VBox, etc. It has a ton of convenience and ease-of-use, and adding video is very easy too. What it boils down to, is: what is the consumer's budget, do they want or need this level of video integration, what they want to get out of data review, and how much data do they want to have at their fingertips. Receiving on-track feedback is another point to discuss: does the customer like the visual cues from APEX Pro and AiM, or would the verbal commentary help better? Also, the way in which they review it comes into play: does the Catalyst's small tablet sound appealing, or do they enjoy downloading data on their computer, or even going over it on their phone?
We should note that Catalyst's data is viewable via the Garmin Connect app, though it isn't nearly as detailed, and it's clunky to use as the app is (so far) more geared towards activities like running, cycling, etc.
Have more questions about the Garmin Catalyst Driving Performance Optimizer? Give us a call or shoot us an email: [email protected], 512-994-0656. We also have units in-store, ready to demonstrate with; stop by one of our locations!
Check out our footage! The first lap has examples of in-car coaching, the second lap is our PB, and the third lap is the Optimal Lap.
Coming soon: we take to Sonoma Raceway and see how the Garmin Catalyst performs mounted up in a Spec MX-5 racecar!