The New 2021 Lexus LS 500 F-Sport — Updated Styling, Boosted Power Figures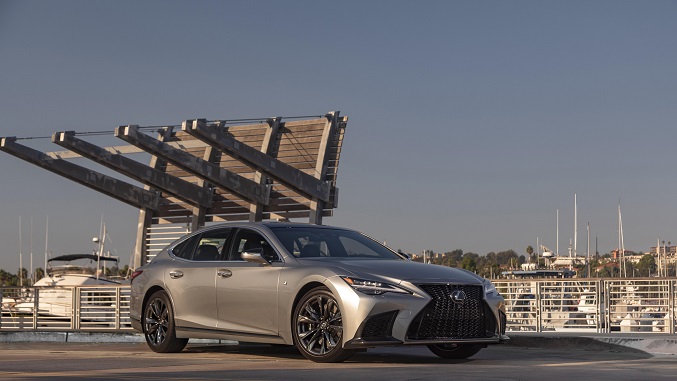 Lexus USA
After the debut of the new 2021 IS and LC 500 Convertible, Lexus has now followed up with their flagship BMW 7-Series and Mercedes Benz S-Class competitor: the new 2021 LS 500.
Since 1989, the LS has been the symbol of how Lexus competes against its more established European and American (well, more so European these days) competition. Through innovation and technology they've offered quietness, comfort, and build quality at a competitive price point, and have always been renowned for their longevity.
The new 2021 model builds on the success of the not-so-distant 2018 model by adding more power, revised styling, and updated comfort, convenience, and tech. It starts at $76,000, and comes in three trims to compete and stay relevant: the standard trim, 500h hybrid, and F-Sport.
Lexus USA
Naturally, the one we're most keen to report on here at Winding Road is the F-Sport, which starts at $79,600 for the RWD model, and would be our definite choice over the AWD model. The specs sound great: 3.5-liter twin-turbo V6 producing 416 horsepower and 442 lb.-ft. of torque, RWD, and 0-60 MPH in 4.6 seconds. Sporty 20-inch alloys with 245-width front and 275-width rear performance Summer tires are how all this power meets the pavement, and its kept reigned-in with six-piston aluminum monoblock calipers with ventilated 15.7-inch rotors in front and four-piston calipers with 14.1-inch rotors in back. The gearbox is a 10-speed unit, most likely the one they've used for a while now, with revised shifter programming and a limited-slip differential.
As far as lateral-g-force-fun goes, several subtle, key modifications were made to improve overall ride comfort. Spring and damper rates, as well as revised front- and rear sway-bars were revised for improved damping performance, and less body roll in turns. Lexus' Adaptive Variable Suspension is also standard, which they've revised and beefed up for more demanding performance. They also offer a Dynamic Handling Package which adds their Variable Rear Ratio Steering system for sportier steering feel, Active Rear Steering, and Active Stabilizer Suspension; this piques our interest the most – reduced brake dive due to active dampers?
Lexus USA
The F-Sport looks the part as well. We generally dig Lexus' updated design language, and the sporty cues they've integrated into the new F-Sport look great. Like the 2021 IS, the large-mouth grille looks much better here over the previous generation.
This all sounds like good fun; who doesn't like a big sedan brute? Our only question is: if they're using a twin-turbo V6 in the LS 500, will they ever offer the beautifully-smooth, naturally-aspirated 2UR-GSE V8 as well? It's at home under the hood of the LC 500 and RC-F, imagine one with a bit more power and same brutally-high redline.
Looks like a nice place to be, too. – Lexus USA