Review: Bell Racing RS7C LTWT Carbon Helmet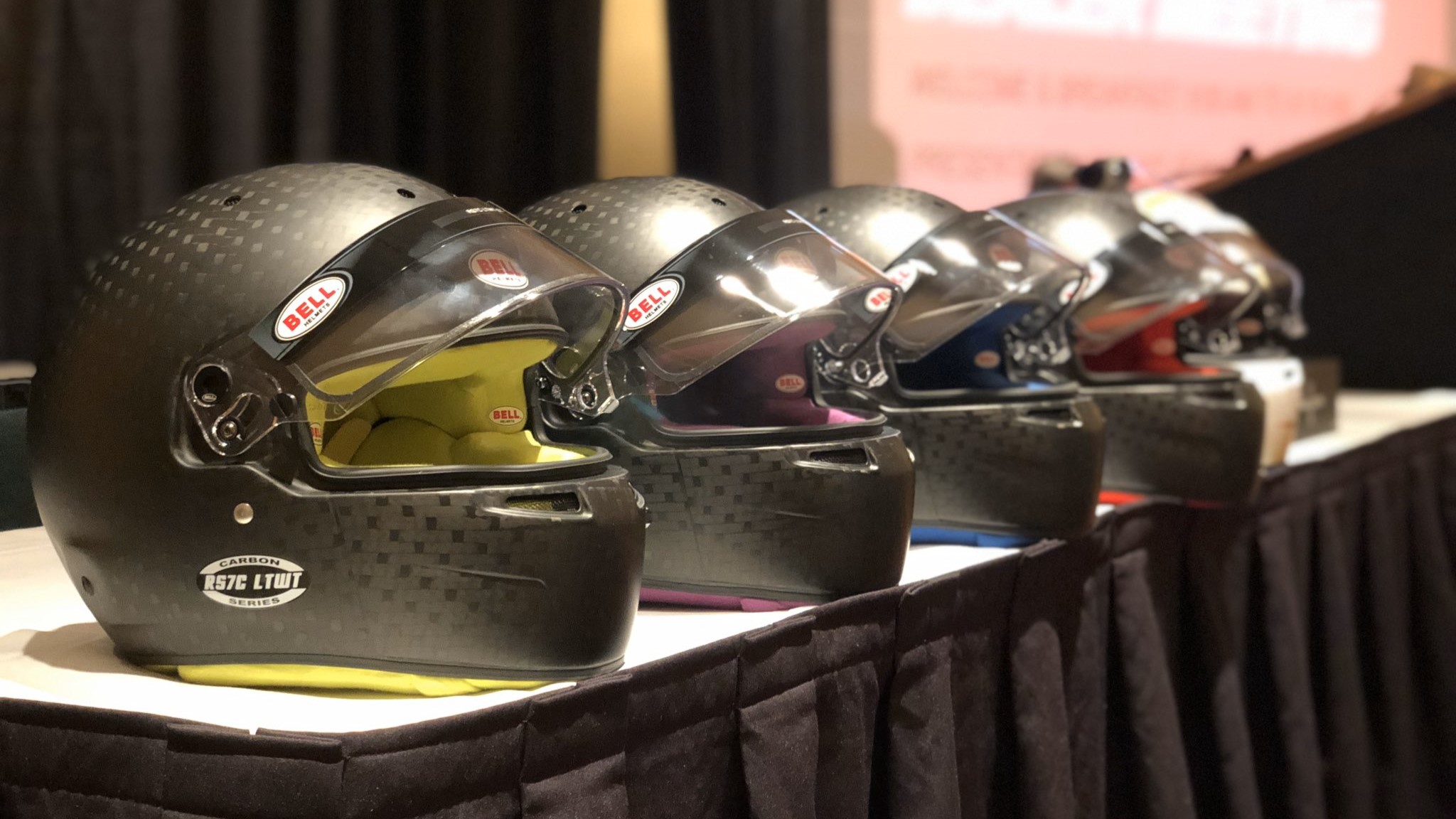 This review focuses on the Bell Racing RS7C LTWT Carbon helmet.
Bell Racing based this lightweight racing helmet on their very well-received, very pricey HP7, a helmet originally developed for Formula 1.
The RS7C is a less expensive version of that helmet but retains most of the same features, while also meeting the safety standards needed for most racing series in North America.
It is exceptionally lightweight, but does not compromise safety. We were also impressed by the airflow and ventilation design that keeps you cool in even the most demanding conditions.
That said, it isn't perfect. We did notice some niggles that we'll get into with our full review below.
Keep reading for more information about the pros & cons of Bell Racing's RS7C LTWT Carbon helmet.
Design, Build Quality, and Materials
Bell Racing knocked it out of the park with the design of this helmet.
It is based on their HP77 racing helmet, which was originally designed for use in Formula 1. This one has pretty much the same shell design, with minor updates.
One way to distinguish between the RS7C and its Formula 1 counterpart is that the carbon weave is slightly different on this model.
The entire outer shell is made of aerospace grade, ultra-lightweight carbon. Bell's use of their proprietary high-pressure molding technique ensures optimal structural rigidity for the entire shell.
The inner lining is multi-layer, multi-piece Nomex, which is completely flame retardant. You can get this inner lining in over 8 different colors, so feel free to customize.
Acoustics were given special attention, so you don't get too much noise inside the helmet. If you want to add a bit more noise-canceling to your setup, this helmet is fully compatible with ear cups.
Aerodynamics are extremely important when it comes to racing or even driving a car. This helmet is primarily designed for open cockpit racing, which means the aerodynamics of the helmet come into play. Thankfully, it can be outfitted with additional flaps and aero bits to help maximize performance.
Weight
You would think the headline feature of any carbon helmet would be the weight savings. But actually, lots of carbon helmets, especially at lower price points, weigh about the same as their composite brethren.
Fortunately, Bell Racing's RS7C actually delivers on the carbon promise, coming in at a featherweight 2.795 pounds. Larger sizes will add a bit of weight, but even the largest size helmet came in at under 3 pounds. This is as much as half a pound lighter than many carbon helmets we've weighed.
Besides the carbon fiber, this helmet also cuts weight by using other lightweight materials such as Kevlar and polycarbonate throughout the build.
Speaking of weight, Bell offers this same design in a composite version, which is heavier than the carbon fiber model. That's also worth a look if you want the same look and feature set at a more budget-friendly price point.
Airflow/Ventilation
But maybe this helmet's best feature is its unique ventilation design. The whole shell is specifically designed to channel airflow so as to mitigate excess heat and aid driver comfort.
Testing the helmet in harsh temperatures and more humid conditions, we were pleasantly surprised by how comfortable it kept us.
You can thank the 14 air inlets dotted around the shell for that. You get inlets under the visor, on the forehead, and even across the top of the shell, resulting in enhanced airflow. Exhaust ports in the back ensure continuous ventilation.
If you need even more air channeled into your helmet, Bell Racing also offers a duckbill version of this helmet. This shares its design with the HP7 Duckbill Carbon Helmet.
However, we found that for most applications, the standard setup works well enough.
Or if you don't need any ventilation at all, there is an RS7SC version that axes the vents and inlets altogether.
Features
Moving on to some special features, we have a HANS post mounted to the shell, which is a nice addition.
A synthetic rubber gasket seal prevents any dust or small debris from getting into the helmet. This is some forward-thinking on Bell's part, seeing as how this helmet is meant for open cockpit racing.
You get an optical grade injection molded Double Screen Anti-Fog (DSAF) visor that is made of polycarbonate.
This visor has superior clarity, compared to others we've tested, offering crisp sightlines and exceptional viewing angles. The difference in clarity between this visor and others is akin to the difference between halogen headlights and LEDs!
It does not contribute much to the overall weight, and works in conjunction with the gasket to prevent water, dust or any other irritants from getting into the helmet and obscuring the driver's vision.
Being a dual pane visor, it does not fog up, which is ideal for racing in the rain or very cold conditions.
You can get the visor in a couple different configurations, depending on personal preference and the type of conditions you'll be racing in. We went with the clear version, though you can also get it in both the light and dark smoke, mirrored, or amber varieties.
Here, we have to say that the visor opening is a tad on the small side. It's plenty for giving you a good view out of the helmet, but if, like us, you wear glasses, you'll find that the opening just isn't large enough to get most glasses in comfortably.
If you want to install a drink tube or radio systems, there are special channels for both in the front piece.
Sizing
Part of what makes this racing helmet so comfortable and ergonomic is the enhanced airflow. But the fact that it comes in sizes ranging from 54 to 61+ means you can find the perfect fit for yourself without sacrificing safety or ergonomics.
Safety
Overall, the impact protection performance is a cut above other helmets at this price point, offering better energy absorption and safety for the driver.
The multi-density liner improves energy management, and helps deal with impact forces without adding too much weight to the helmet.
Homologation
This helmet is Snell SA2020 approved. That means it is allowed in every North American race series. Some European series also accept this certification.
It is also rated FIA-8859. This is not the FIA certification that is allowed in IMSA or other professional race series, but it is allowed in any amateur series. You also won't be able to use this helmet for international race series, though legality at the national level will vary from region to region.
In fact, the lightweight build and enhanced safety features of this helmet also make it a great alternative to traditional sports car or motorcycle helmets.
Conclusion
So, to sum up, the Bell Racing RS7C LTWT Carbon is a pretty compelling helmet. It offers best in class ventilation and airflow, in addition to being one of the lightest helmets in its category.
It packs most of the same features as the HP7, but brings them down to a more manageable price point. Sure, it lacks the FIA certification that allows that helmet to be used for international racing series, but it has the necessary Snell certifications to be used for amateur series in North America.
And considering that this helmet shares most of the HP7's features but at less than half the price, it's the bargain of the century.
Author Bio
Jim Matthews is an automotive specialist and current author at Beast Auto. He has been working in the automotive industry for over 10 years, allowing him to rub shoulders with veterans and newcomers alike.
A student of all automotive disciplines, Jim has a wealth of knowledge about the field. He is interested in advanced aerodynamics, electric vehicles and the developing world of autonomous driving. He's also a huge motorcycle nut and loves tinkering with his Kawsaki Ninja 300.