Review: 2020 Mercedes AMG C63 S Sedan — Modern Brute-Force Fun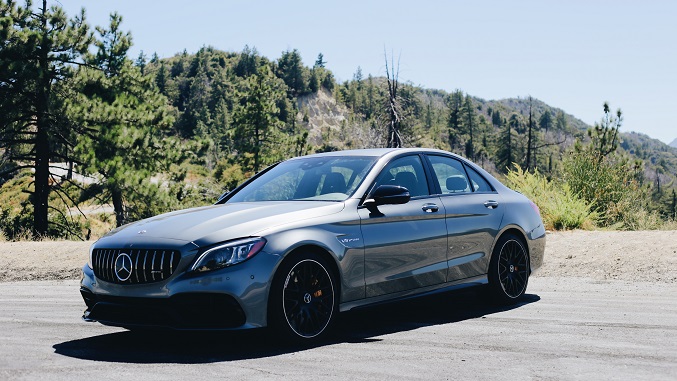 All photos by Peter Nelson
We try not to use hyperbole when writing about cars. Using blown-out-of-proportion comparisons, weird and sometimes esoteric references, and other flowery ways to convey sensations is a bit tired. For some reason in automotive reviews of German cars, hyperbole with signature, cheesy German references is more common than other country's carmakers. Corny things like it charges forth like an ICE train, it blitzes ahead, and its seats are as cozy as a broken-in pair of lederhosen are things you won't find here. There are better ways to write about fun, fast German cars.
But in the case of our week with the 2020 Mercedes Benz AMG C63 S sedan, it's actually a little hard to avoid using a healthy helping of hyperbole.
Why do we say this when it makes us look like a bunch of hypocrites for quickly going against what we're saying in our first paragraph, in our second? Because this mighty AMG was just so good.
We were a bit surprised by how unobtrusive and stealthy its styling was when we first laid eyes on it; it's definitely a those in the know, know car. We were also surprised how small it was in person, kind of like its rival the F80 M3. Photos and its published weight made it seem like a big, bulky sedan, but its trim, athletic proportions proved otherwise. The way it accelerated, cornered, and braked proved otherwise as well.
Thanks very much to Mercedes Benz USA for lending us the 2020 Mercedes-Benz AMG C63 S for a whole week for this review. The base price of this car comes in at $75,700, and our tester had $18,840 in options and destination fee, making the all-day total $94,540.
Engine, Traction Control, and Transmission
Positives: great power that came on aggressively and dilated our pupils
Negatives: No real qualms
The handcrafted, 4.0-liter biturbo V8 by Mercedes AMG has proven to be an excellent power plant in various AMG vehicles, and the C63 S is no exception. With a shiny nameplate sitting stage-left on top of this beautiful masterpiece indicating its handmade status, this engine's assembler Mr. Petkovic should be quite proud of what he put together on the clock at AMG's production facility in Affalterbach, Germany.
Peak torque is available quite early thanks to its twin turbos sitting inside the V of the engine, making this a hot-v engine design. This means more efficient (meaning, rapid) power delivery that comes on strong and stays strong all the way to its 7,000 RPM redline. The quick-revving, high-pitched V8 makes 503 horsepower and 516 lb.-feet of torque, which shoves the 3900 lb. sedan to 60 MPH in a scant 3.8 seconds.
Alright, here's a little hyperbole that we'll let slide: this engine is an aural masterpiece. The tone that it produced through the C63 S's AMG Performance Exhaust System was incredibly addictive. We found it very hard to avoid revving it to at least 5,000 RPM every time we had our foot on the gas pedal and the exhaust set to wake-the-dead in Race (one of six AMG Dynamic Select Drive Modes). This exhaust tone wasn't limited to the more aggressive modes, either; a quick press of a button could open it up whenever we wanted.
Luckily, fuel mileage was very good for being an angry twin-turbo beast, as Mercedes reports the C63 S can achieve as much as 18 MPG city and 27 MPG highway; we saw an average of about 20 MPG, which included a lot of stomping on the loud pedal and dilated pupils. The surge of torque that accompanied this raging aural sensation was quite wild; it's a good thing it comes equipped with intuitive traction and stability control.
The C63 S's adjustable 9-setting AMG traction control was very fun to play with, and quickly helped us realize how much this intuitive system was helping us weave through twisty roads with a good amount of speed. Everything turned off made it truly a handful. We enjoyed setting it to 8, which was right on the edge of grip, but not in danger of spectacularly looping it in front of oncoming traffic, smacking a curb with a smokey rear wheel, or worse. The back-end allowed for some mild, fun drifting that was easy to hold, and then would straighten out smoothly so long as we kept our foot in it. The best test for this was a full-lock u-turn with a good throttle mash while holding a travel mug full of coffee in this author's left hand. It kicked the tail out, held it for maybe three-to-four feet, and then very gracefully straightened out down the road.
We were concerned that a hot-v engine design might mean a lot more heat, limiting our amount of playtime on our favorite test roads. It only makes sense; two turbos sitting in the valley of a V8, pushing heat over and out the back, and helping it rev up and down all day might start to produce a bit too much heat. We've experienced some overheating on-track with hot-v V8s in the past, such as behind the wheel of a 2020 BMW M5. Though, we never saw water or oil temps move above the halfway mark, including spirited jaunts in 101-degree, high desert heat.
Mercedes' AMG Speedshift MCT 9-speed automatic transmission was a pleasure to use. It indeed shifted with speed, a ton of it in fact, and it was significantly smoother than the dual-clutch gearbox in the CLA 35 AMG we tested a few months ago. Depending upon the mood we were in, it did a good job keeping mellow in more pedestrian drive modes, and sharp with just a tad bit of jerkiness in Sport, Sport+, and Race modes.
Suspension and Brakes
Positives: Genuinely impressive handling characteristics for such a large sedan
Negatives: Was still a little jarring in Comfort mode
The C63 S was right at home on twisty roads with fast, flowing sweepers, and occasional technical sections. The C63 S comes standard with the pinnacle of AMG suspension tuning, with extended AMG Dynamic driving modes containing re-tuned AMG Ride Control suspension over the base, non-S model. Naturally, mult-link independent suspension is at all four corners. Angeles National Forests' Angeles Forest Highway and Upper Big Tujunga Road brought out the best in this chassis, as it felt incredibly planted and confident while speeding along through these beautiful pieces of tarmac.
Turn-in under braking into technical left-handers, followed by clean exits with a wide-open throttle body were quite easy for this big AMG in Race mode, as were holding a bit of maintenance throttle through long sweepers, then pinning it as we exited onto even longer straightaways. The adjustable AMG traction control really tied everything together nicely. It made easy work of everything we threw at it, making us feel like Maro Engel, or even Lewis Hamilton. Swiftly moving through corners in the C63 S was quite deceiving; we were shocked by some of the speeds this big sedan was maintaining in the corners without a peep from the tires.
This was thanks to having massive tires from the factory, too. The big, mesh-style, 19″ AMG wheels were wrapped in 245/35/19 front and 285/35/19 rear Michelin Pilot Super Sports, which not only looked completely badass, but also ensured there was plenty of contact patch for some high-speed lateral g-forces.
Body roll was non-existent in Race and Sport+, though the chassis was a bit jarring over sharp imperfections and transmitted the most-minute topographic changes in the roads' surface. This was expected with its tiny-sidewall tires and suspension that's firmed up enough to control all of its 3900 lbs. Altering the Custom mode to have everything set to aggressive and the suspension set to Sport remedied this quite well, however.
Comfort mode was an odd place to be for the suspension; it soaked up bumps and undulations well, especially on the highway, though it didn't iron all of them out, and didn't make up for the tiny-series tires in any way. That's ok though, because this is a proper AMG car.
The brakes were very loud for factory, street-going units, though we actually dug this trait. The C63 S sedan does understated, German muscle sedan styling quite well; throwing in loud carbon-ceramic brakes (which are also quite massive) informs passersby (and perks up enthusiasts' ears) that this is no ordinary Mercedes sedan. Thankfully that noise wasn't just noise; the brakes indeed performed phenomenally. They never exhibited any fade during spirited driving, they had great initial bite, and pedal feel was quite good. They did dust an awful lot, but that's a given with performance stopping power, factory or aftermarket. These brakes are a $5,450 option; quite pricey, but also quite impressive performance for a street-going sport sedan.
Exterior
Positives: muscular, elegant styling that's very understated
Negatives: slightly awkward long hood and short rear-end
Generally, we found the look of the Mercedes AMG C63 S Sedan to be very sleek and aesthetically pleasing. Its flared fenders, big mesh-style wheels, big grille, muscular hood lines, and subtle lines everywhere else were everything we could ever ask for in an understated, high-performance sedan. Every angle was fun to photograph, though we did find a couple proportions to be a tad awkward. The long hood and short rear-end looked kind of off-balance, but that's probably for the sake of ensuring decent room in the backseat and a nice-sized trunk.
Interior and Tech
Positives: Excellent quality, beautiful carbon center console, comfortable seats – a very nice place to be
Negatives: small cup holders, barely enough space in the backseat
The C63 S' sleek design went further inside. The interior was quite lavish, and an overall excellent place to be. The Recaro AMG seats were very comfortable and had tons of adjustability (including upper and lower bolstering), and fit this author's tall stature very well. The door trim, dash, and center console were covered in supple soft leather, hard, substantial plastics, and very nice carbon fiber. A very nice design touch was an IWC Schaffhausen clock in the middle of the carbon fiber in the center console. The steering wheel was of a supple, grippy leather, which we preferred over the CLA 35 AMG's alcantara wheel. A lot of the buttons to page through menus, turn driver-aids on and off, and set cruise control were physical buttons, too, which we always appreciate in 2020.
Front cabin room was very good, with a low seating position and high door sills that gave it a very sportscar-like driving experience. We've experienced this in other modern Mercedes. Tall-guy headroom was good despite coming equipped with a sunroof, and the highly-adjustable front seats meant most body types can probably find the most comfortable setting. Rear seat room was pretty good, though it lacked tall-guy headroom, and the door opening was mildly awkward to exit out of. Though, forward visibility was very good, and it didn't feel cavernous.
Adding to the ambience was an excellent Burmester stereo system, that when combined with the C63 S's sound-deadening was crystal clear and didn't require cranking up the volume to hear poorly-recorded podcasts.
Hilariously enough, behind the smaller-than-average cup holders (how very German to have cup holders that are an afterthought) was a cigarette lighter and ashtray; standard in 2020! In addition to its subtle, muscle sedan styling, it certainly ticks the boxes of old school German by coming standard with an ashtray in this day and age. Another afterthought: a manual sunroof cover. The sunroof glass was electronically-controlled, but the cover had to be pulled back and forth by hand. As a friend of our's who previously owned an E63 AMG wagon jokingly put it, "I'm not gonna do that if I'm spending 94 grand on this thing, what am I, a farmer?"
Infotainment and Tech
Positives: Great driver aid tech
Negatives: Does not come equipped with Mercedes' latest MBUX infotainment system
The C63 S' infotainment was pretty good; the digital 12.3" digital gauge cluster was crisp and clean-looking, and the large, crisp center screen was fairly easy to navigate. Bluetooth was quick to connect, and navigation operated seamlessly. It had a little bit of a learning curve to figure out where things were in the various menus, though it wasn't as complex as the CLA 35 AMG's MBUX system. Though, we really wish our tester came with MBUX, as once you get the hang of it, it's really fun to customize and configure. Plus, saying "Hey Mercedes" to quickly page through things is a huge benefit.
Driver-aid tech was very good; our tester came equipped with the Driver Assistance Package chocked full of Active Steering Assist, Active Lane Change Assist, Active Lane Keeping Assist, and many, many more Assists. All of these Assists (alright we're done writing Assist) worked together to make commuting and being stuck in traffic an absolute breeze; it essentially drove itself home from the San Gabriel Mountains to the Long Beach/Orange County area, 30-or-so miles worth of traffic and annoying interchanges. It also had the Parking Assistance Package, which was invaluable in ensuring we didn't curb any wheels, and could always parallel park it like an early-90s Honda hatchback.
Endless Torque, Endless Brakes, Endless Grip, Endless Fun
Alright, we realize saying endless was a tad hyperbolic as well, but rest assure that's the last of it. The AMG C63 S is a brilliant, muscular sedan with a lot to love and very little to be mildly inconvenienced by. Adding up all of its tech, performance, and comfort, it's easy to see why it starts at $75,700. We'd be chuffed to bits to take this out on track and see how much of a handful it is with everything turned off, and indeed find the carbon ceramic brakes' limit. It doesn't possess that connected-to-the-chassis feeling that one gets from a Lotus or Porsche 911, but as an all-rounder with four doors, a large trunk, and 3900 lbs, its brilliant. We could commute back and forth to work, finding little moments to kick the rear end out and reach its screaming redline, every day for years until it falls apart. Plus, we'd get very good gas mileage for a raging V8 along the way: as much as 27 MPG on the highway ain't bad at all.
Check out our POV video!