SoCal Storage That Raises The Bar (And Car) Really High — Westside Collector Car Storage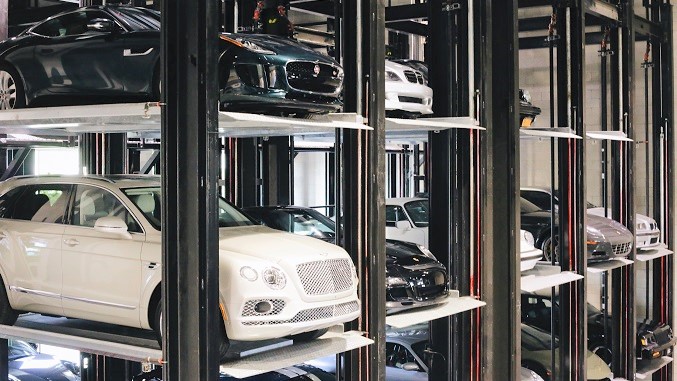 All photos by Peter Nelson
Storage space of all kinds comes with a massive premium in Southern California. Space in general does, actually; our Santa Ana store's rent per square foot would make any shop owner in the Midwest instantly faint.
Because of this, it's especially tough for car enthusiasts.
Plots of residential land are often quite small in the greater Los Angeles/Long Beach/Orange County area, which means properties with garages to keep more than a car or two can be challenging to find or build, geographically and financially. Even the most well-heeled in SoCal encounter this. The epicenter of high cost-per-square-foot is the city of Los Angeles itself, with Santa Monica, Culver City, Beverly Hills, and West Hollywood thrown in as they're engulfed by this second-largest-in-the-US, surrounded-by-mountains metropolis.
Keeping a valuable second, third, fourth, etc. car is not only a space concern, but also often a security concern, especially when it's a gorgeous work of rare art like a vintage Maserati, or high-end Porsche 911 continuation. Matt Farah of The Smoking Tire and his crew at Westside Collector Car Storage have all of this covered however: space, convenience, security, and much more.
We recently paid a visit to this gorgeous facility on the westside of LA last week before their big open house event over Memorial Day weekend. We got some great shots, a nice tour, and asked a few questions. What we found out is that after tons of careful planning, construction headaches, zoning headaches, vision, and attention-to-detail, they built one hell of a facility, capable of intuitively and safely keeping cars of all shapes and sizes (and weights). We could've spent hours taking it all in while snapping photos.
The attention to detail is brilliant: from how the lowest-riding cars can easily make it up and down their ramps, to how the frosted window placement makes the main storage room, or the Cathedral Room, incredibly photographic. Even piping and conduit work throughout the building is aesthetically pleasing. They offer a good variety of parking solutions: the Cathedral Room at this moment still has space available, and they also have a large underground garage (which has really nice lighting too, actually, though unfortunately we didn't have time to get shots down there). The big front door doubles as a drive-thru wash bay with an exit out the back, as well as spot to drop off a trailered car. Bonus: cars can be dropped off discreetly from an enclosed trailer.
The facility has a nice high-end feel throughout, which goes further upstairs where they've created a plush lounge for members to use for social events, on-the-clock meetings, and more. The lounge even includes private whisky lockers for members – not too shabby. Down the hall, they went above and beyond and created a top-notch recording studio for their high-listenership Smoking Tire podcast, making this a great HQ for the Smoking Tire from here on out.
Not just the driveways are low-car-friendly: the lift stalls are, too!
Check out the rest of the photos we took over the to the left, there was some real eye candy within the facility's walls. Have a look at the Smoking Tire YouTube page, too; there's a lot of cool behind-the-scenes content that really demonstrates how far the attention-to-detail went. Also, if you're in Southern California and in search of a solid solution to your storage dilemma, drop them a line! Massive thanks to WCCS for having us out!