Quick Drive: Mazda CX-7s Grand Touring AWD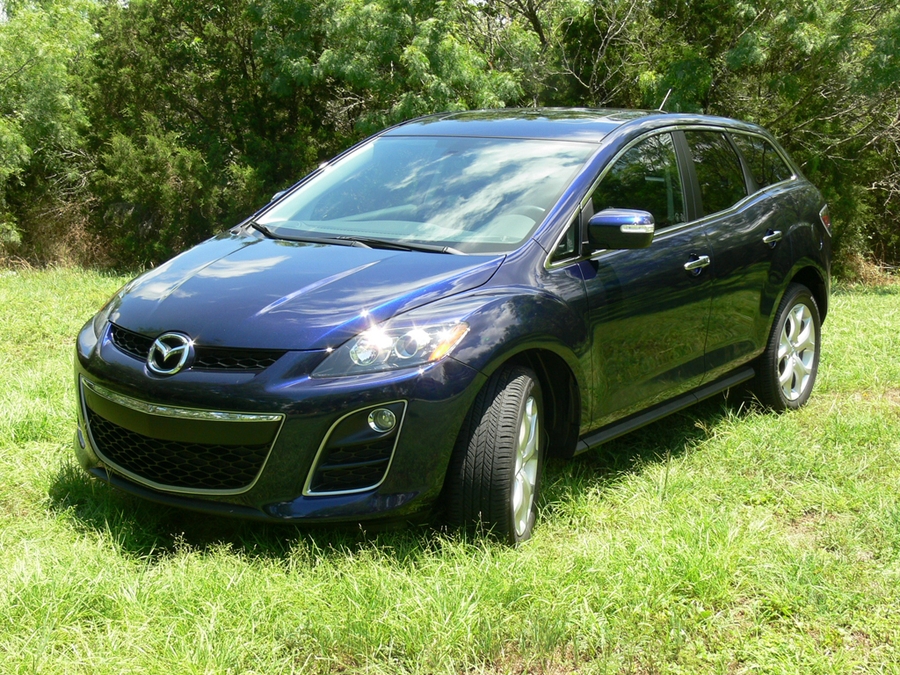 To judge by the CX-7, Mazda is not lying when they constantly remind us of the sporty "soul" that pervades its lineup. The CX-7 is surprisingly enjoyable to drive, with nicely weighted steering and a well-judged ride-handling balance. The firm suspension isn't overly jarring, even on sharp bumps, yet around the corners the Mazda crossover turns in surprisingly well and keeps body roll to a minimum. Even the brakes are perfectly sufficient and don't feel excessively soggy. You won't ever confuse this with an RX-8; the steering is a bit too lifeless and the DISI turbocharged 2.3-liter 4-banger a bit too gutless to really get any adrenaline pumping. For someone who needs the carrying capacity, however, this is a great alternative to "luxury" crossovers that often seem to ignore brake feel, steering precision, and other details that enthusiasts care about.
Unfortunately, Mazda's best engineering seems to have been used on the CX-7's chassis, because the interior shows a rather poor effort. The seats are comfortable and the backseat spacious enough for passengers over six feet, but overall quality disappoints. Our top-of-the-line model was $33,905 as tested. At that price point, you can forgive Mazda for its use of a few plastic dash and console components, but the quantity and variety of low-rent plastics combined with a rather sloppy dash configuration (a huge number of buttons and switches are on the steering wheel) render this interior somewhat off-putting. Nonetheless, for anyone interested in a quality driving experience, the cabin's shortcomings are far outweighed by the impressive chassis.
—T. Brooks Martin

I remember that Mazda's first ads for the CX-7 touted it as a cross between a sports car and an SUV. Allowing for some inevitable poetic license, I'd say those ads were at least half true; the CX-7 really is more fun to drive than most medium-sized SUV/crossovers, thanks both to its well calibrated chassis and its torquey turbo 4-cylinder engine, which provides a usable (though by no means neck-snapping) surge of acceleration on demand. Springing and damping are both relatively firm by SUV standards, though not unpleasantly so, while steering is accurate and well weighted. Roll stiffness, though not truly sport sedan firm, is also much better than average. Taken together, these factors make the CX-7 feel lighter, more responsive, and more willing to turn than many like-sized SUVs we've sampled. Still, it would take a real stretch of the imagination to say that the CX-7 is "sports car-like."
Are there downsides here? There are a few. First, I think some ride and comfort aficionados might complain that a brief but audible "thoomp-toomp" can heard in the cabin whenever the CX-7 crosses particularly lumpy tar strips or expansions joints out on the highway. Even so, the CX-7 is if anything quieter than most SUVs we've tried. Next, I'd say the interior is a mixed bag. The good news is that it's plenty spacious and comfortable. The not-so-good news is that it uses a poorly harmonized mix of materials and shapes that can make the CX-7 feel somewhat chaotically executed (though the individual materials chosen—viewed in isolation from one another—seem pretty decent).
Like T. Brooks Martin, I found the button proliferation on the steering wheel a maddening distraction; I was hoping for a nice, straightforward SUV—not the lunar excursion module. I was also put off by the CX-7's backlit red/blue instrument panel graphics, which proved very hard to read when the car was driven on bright sunny days (the panel illumination can't compete with bright sunlight, while the instrument markings lack sufficient contrast).
Finally, there is the issue of price. Our test sample topped out at a whopping $33,905, which is far above the typical street prices you might see advertized for less sumptuously equipped CX-7s. To my way of thinking, those simpler models might actually give you most of what makes the CX-7 special at a far more accessible price. Up in the mid-$30k range, however, the CX-7 finds itself priced just $1570 below the sticker price for an entry-level Mercedes Benz GLK 350, which is arguably a more desirable vehicle.
—Chris Martens