Quick Drive: 2013 Kia Optima SXL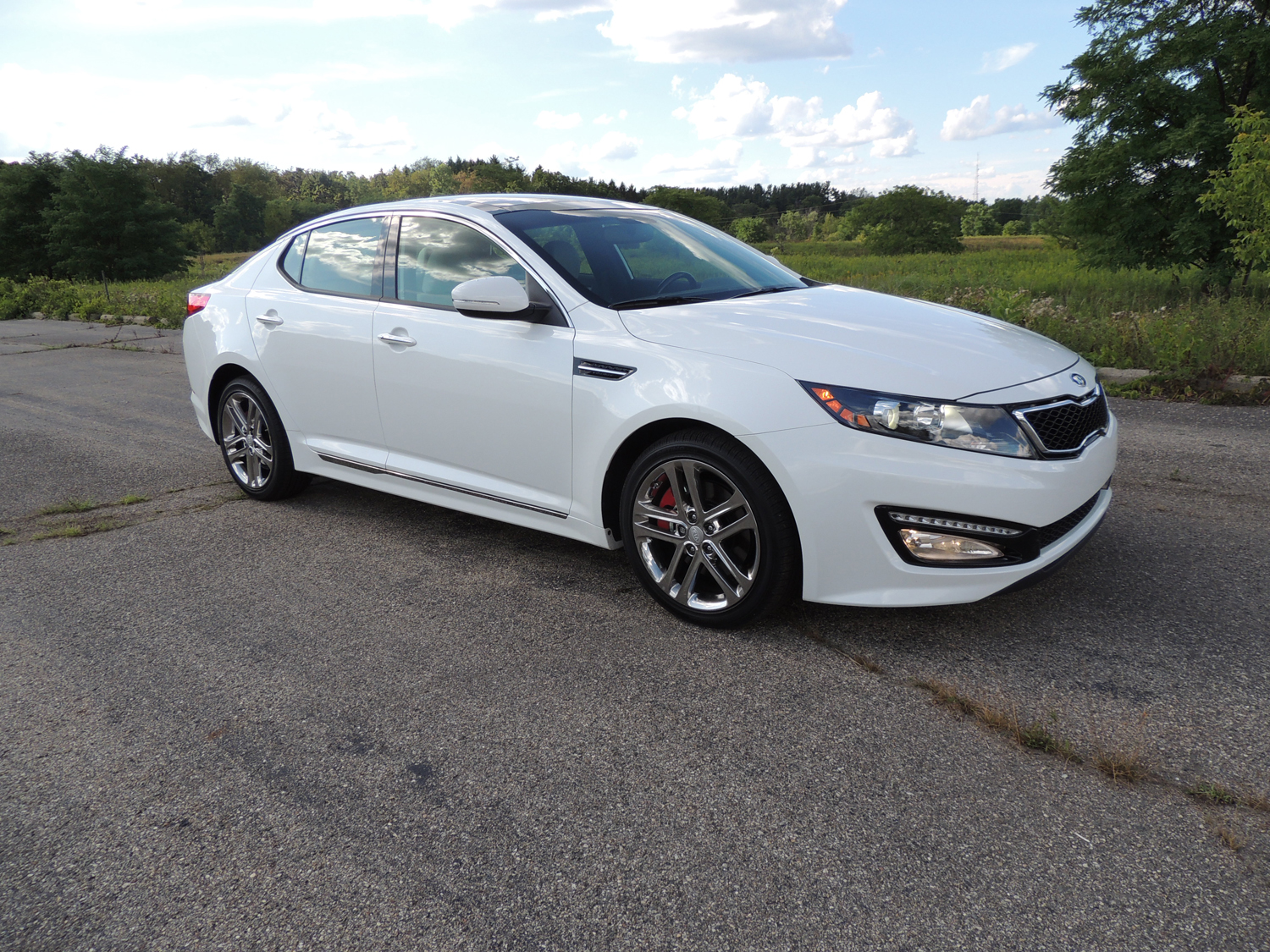 —Ann Arbor, Michigan
The Kia Optima SXL is a handsome vehicle, both inside and out. Our Snow White Pearl tester looked especially classy, and the black and chrome accents didn't make it look too gaudy. Even with the eighteen-inch chrome wheels—a part of the Limited Package that comes with the SXL—it didn't look at all offensive, and actually appeared to be a tasteful use of the shiny stuff. Even the housings for the (power folding) side mirrors look nice on this car. Plus, the Limited gets a set of LED daytime running lights and red brake calipers to help set it apart form the rest of the crowd in a subtle yet fashionable way.
The interior of the Optima SXL is a nice place to spend time. The leather seats are heated in front and back, and the power front seats also have a cooling option included—a really nice feature for those Nappa chairs on a hot summer day. The leather-wrapped shift knob and steering wheel feel nice in hand, and the wood grain on the top section of the tiller sparkles pleasantly in the sun. The paddle shifters on the back of the wheel don't feel particularly substantial, but they are easy to reach and use.
The turbocharged Optima feels quick, and has no trouble at all reaching highway speeds or getting around other cars. Despite having 274 turbocharged horsepower, the power delivery of the 2.0-liter engine feels nicely stable. It doesn't really exhibit lag or peaks when climbing the rev ladder, but rather pushes the car to speed smoothly and predictably. Its tidy delivery of power means that occupants experience smooth acceleration that doesn't sacrifice promptness. Also, when driven around town, the power is really easy to manage, offering civil driving that requires no concentration to get right. Plus, being able to drive the car sanely and smoothly will only help to reach its stated 22/34-mile-per-gallon fuel economy figures.
In the corners, the Optima behaves itself the way a classed-up family sedan should. There isn't a lot of body roll, and what movement there is helps to suss out proximity to the grip limits. Turn-in isn't super sharp, and the steering feels tuned to offer a smoother turning experience rather than a twitchier response one associates with more sport-minded vehicles. The little bit of play on-center feels appropriate, and doesn't require a lot of corrections when cruising in a straight line at high speeds.
So, once again, Kia is proving that it is a brand not to be glossed over by those looking for a high-quality car. The Optima SXL is fairly fast and fun, very comfortable, and extremely rich in content. The one drawback to the Limited, though, is that it comes with a bit of a hefty price tag. Starting at $34,500 before delivery, it includes the Premium Touring Package, Technology Package, and Limited Package, meaning you're not going to have to tack on anything else to be happy with the car. Still, one can get into a turbocharged Optima for a base price of $26,800. At the SXL's base price, you're just two grand shy of a BMW 3-Series. It kind of makes you rethink your priorities, doesn't it?
2013 Kia Optima SXL
Engine: Turbocharged inline-4, 2.0 liters, 16v
Output: 274 hp/269 lb-ft
0-60 MPH: 6.6 sec (est)
Weight: 3385 lb
Fuel Economy, City/Hwy: 22/34 mpg
Base Price: $34,500