Quick Drive: 2012 Fiat 500 Abarth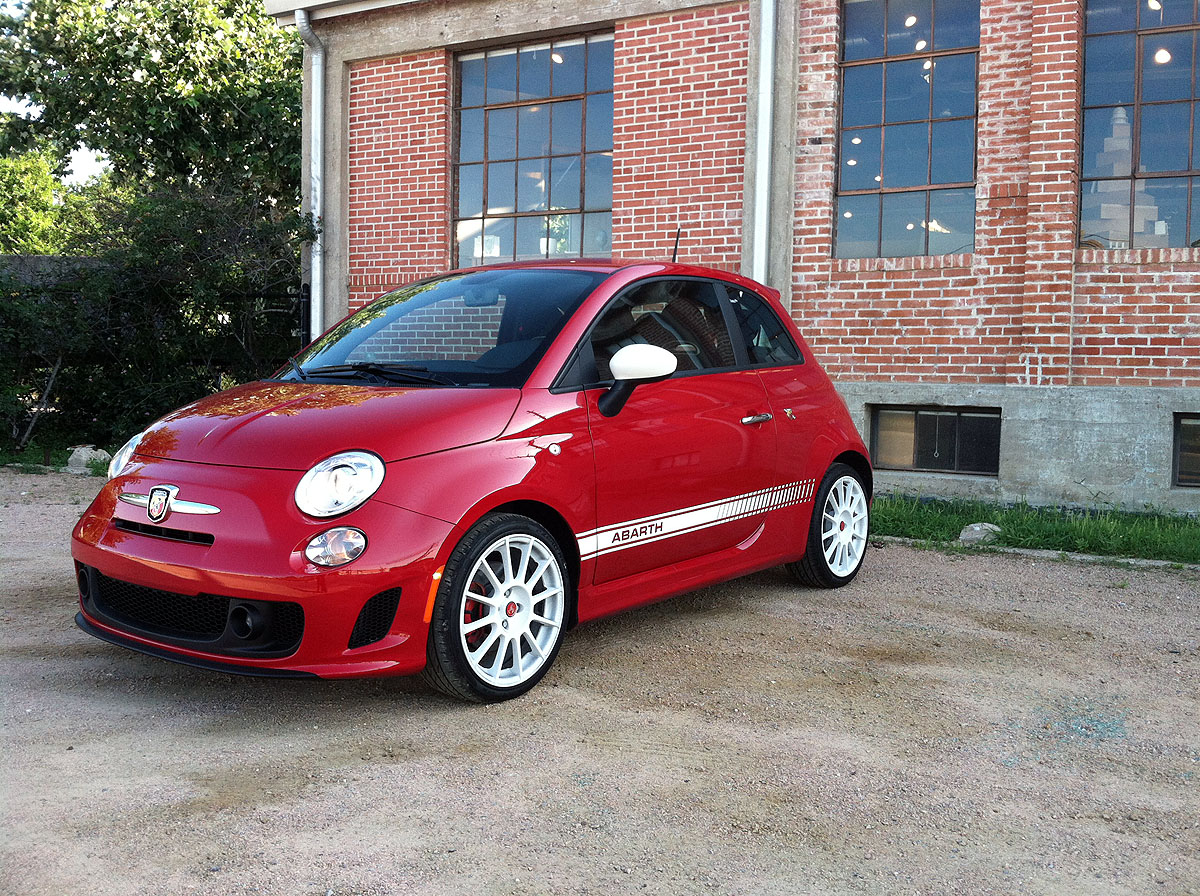 —Austin, Texas
The first time we got our lucky mitts around the chubby steering wheel of Fiat's frenetic 500 Abarth, we were piloting the car through vast expanses of the Nevada desert and on the racetrack. It was a good time. But when it comes right down to it, small hatchbacks like this Fiat, even the rip-snorting Abarth-tuned variety, are likely to spend most of their time closer to the places that human beings tend to live.
With that excuse premise in mind, we phoned up Fiat and convinced them to loan us a 500 Abarth for a week in Austin, where your scribbling author was taking some time to reconnect with Winding Road's southern division. Making our temporary base of operations in Austin's almost-too-hip east side, with tons of city bustle to contend with, a pretty good commute in cross-town traffic, and more than one food truck to seek out, the Abarth was sure to see the worst/best of urban driving.
We'll get the obvious part out of the way first: the
500's basic small-car formula
makes it a terrifically useful thing to drive in and around any big city. Abarth or no, the short overall length and great forward visibility are huge pluses when dealing with parallel parking, congested streets, and narrow driveways. Better still, the ultra-quick turn-in makes dicing with slow-moving traffic a simple thing to do, and the relative hardness of the Abarth suspension didn't bother us too badly either. Considering that neighborhood streets in downtown Austin are often far from smooth, this last bit should be considered especially good news for those considering a Fiat in the garage.
Naturally, the more powerful Abarth was a more compelling drive than the standard 500 on the highway, too. While commuting across the city, we found ourselves traffic-bound on both of Austin's vital north/south highways. Using the excellently judged combination of the Fiat's turbo 1.4-liter engine and five-speed manual transmission, we had no problems putting the car in just the traffic holes we aimed for. To be sure, even a standard 500 is good at this game, but with far less power and torque on tap, the non-Abarth car is less able to impose itself on the herd of commuters.
In fact, though we've often opined that hot hatchbacks in general make for pretty great urban runabouts (assuming fuel economy is not your primary concern), the Abarth may be the best of the current crop. That thick torque band, in concert with the ultra compact dimensions, give the car a leg up in terms of squirting and squeezing through congestion.
When the Abarth was parked we also really started to appreciate the Fiat solution to in-car navigation. The 500's nav system is a unit from TomTom that has been specifically integrated for use in the car. In addition to being able to link up via Bluetooth with one's cell phone, the navi screen has a special docking port just to the right of the instrument cluster in front of the driver. The navi unit can be removed from the port, and stashed in the glovebox, when, for instance, you've parked the car in a slightly dicey neighborhood in search of ridiculously awesome tacos. It also means that you don't have to have the TomTom screen in your field of vision if you don't need it at that moment, which is nice.
On the downside, there are still some software bugs to be worked out with this particular TomTom unit. A few times, after programming our route, the navi system "lost" our car, moving the icon for our vehicle out onto a road that didn't exist in reality, or a nearby road that we weren't really on. The computer was able to sort out the problem after a few minutes in the two cases we experienced, but not until we had been driving blind for a bit, and got off the best route. Not a great experience overall, in this world of increasingly pinpointed turn-by-turn directions, but hopefully something that can be addressed with a software update/download.
We should also mention that the good people of Austin loved the sight of the Abarth. Even in a city where small cars, and other 500s are a pretty common sight, we were the subject of more than a few looky-loos at traffic lights and in parking lots. The styling tweaks that give the Abarth its edge are apparently just enough to whet the public's appetite for cool little cars.
With such a great city driving experience to back up those enticing looks, we say that is a good thing—for the people of Austin and city dwellers everywhere.
2012 Fiat 500 Abarth
Engine: Turbocharged inline-4, 1.4 liters, 16v
Output: 160 hp/170 lb-ft
0-60 MPH: 7.2 seconds
Weight: 2512 lb
Fuel Economy, City/Hwy: 28/34 mpg
Base Price: $22,000