Quick Drive: 2011 Cadillac CTS-V Wagon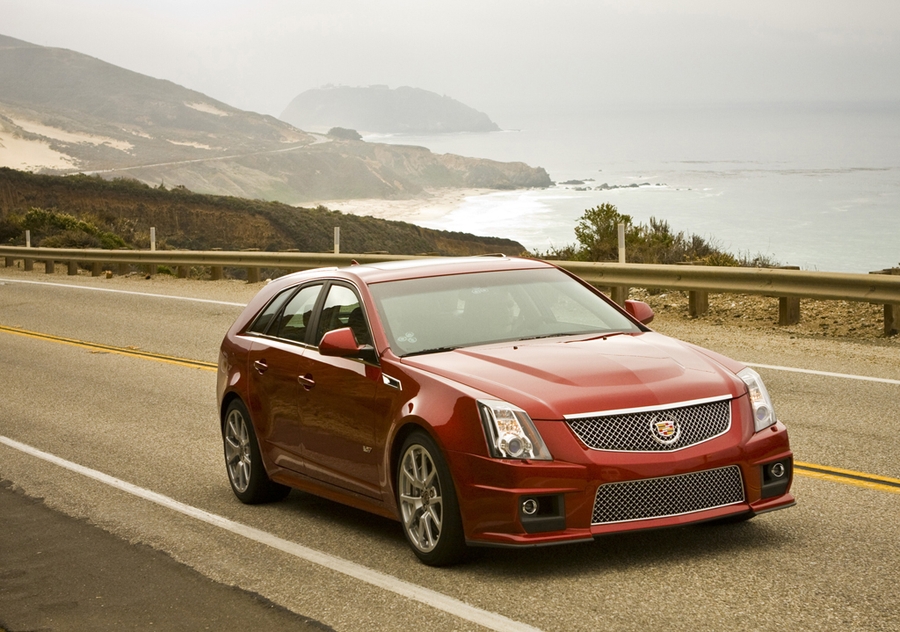 The greatest thing about the CTS-V Wagon isn't the way it performs; it's the reaction it generates on the faces of people you take for rides, pass on the freeway, and cruise by on the street.
In the case of your passengers, the most common reaction is overwhelming joy (though in my mother's case, abject terror). This is followed by a great deal of giggling (or Mrs. Turkus's response, "Brandon, slow down right now!") as you reach some truly obscene speeds.
It's a bit different for people outside the car. With other motorists, the reaction is complete and utter incredulity brought on by the outright speed of the station wagon that just passed them. People on the street tend to whip their heads around upon hearing the bassy V-8 engine note and the subtle whine of the supercharger as you take off from a stoplight.
As if the speed and sound isn't enough, the V Wagon's visual impact takes things to another level. Take a long-roof V, throw on some ruby red paint and menacing black wheels, and the result is a station wagon that is arguably more suited to the devil than Clark Griswold (Wagon Queen Family Truckster it is not).
I'd buy this car for the response factor alone. The speed, value, and utility are simply (huge) bonuses.
—Brandon Turkus, Test Fleet Manager
Not since Mercedes-Benz last sold the E63 AMG wagon here in the US has there been a station wagon quite so apt at earning the praise of the motoring press as this CTS-V. There's no sarcasm in that statement—the V Wagon is genuinely phenomenal—but I have to admit that, as I followed coverage of this particular car at other media outlets, it does seem to be particularly well setup for car hacks.
Let's look at the facts:
1. Car guys (and car writers) love wagons—almost to the point of absurdity sometimes. Certainly we love them more than Joe Consumer seems to.
2. Car writers love, abjectly, massive power and manual transmissions. Please note that we also often don't have to pay for gas, never have to pay for tires, and usually only drive these cars for a few days at a time. Often not enough time to deal with, for instance, driving through Chicago Loop traffic with a heavy clutch, slightly balky shift lever, and 551 pound-feet of torque.
3. Car writers don't actually have to buy the cars they enjoy driving. The V Wagon starts at $63K—our tester was optioned out to nearly $70K. My feeling is that most people who are actually in the market for the functionality of a mid-size wagon, don't have budgets quite that size.
Again, it sounds a bit like I'm poo-pooing Caddy's super wagon, when I don't really mean or want to. Few cars that I've ever driven so perfectly meld a sexy form with functionality and speed that'll have you laughing out loud (or crying out loud, if you're Brandon's mom). To be clear, I don't like this car, I love it.
My point is simply that the CTS-V Wagon gets to be talked about and lusted over fairly out of proportion with its impact on the car-buying landscape. That's okay—the same can be said for almost all exotic, ultra-high-performance vehicles. But let's not mistake the V Wagon as something other than exotic, just because it's got a big booty.
—Seyth Miersma, Editor-In-Chief
It's hard to speak ill of the CTS-V Wagon. Sure there are some negatives, but nothing that doesn't pale in comparison to all the overwhelmingly positive things almost anyone who has driven it has to say about the car. The automatic transmission may rightfully get a few cracks, but (and this is my own conjecture here, admittedly, not having spoken with the folks who greenlighted the V Wagon) for a car that's built not so much to fill a need in the market, but upon a desire to build an icon, the focus should be on the manual-transmission version anyway.
And for as fast and powerful as the wagon is, it's also quite usable. Yes, it may be a bit excessive for some people as a daily driver, but for the power-hungry, it also offers functionality and comfort. The seats are supportive for hard driving, but comfortable for the long haul. When driven at sensible speeds, engine and exhaust noise is really low. The fact that it's a freakin' station wagon means room for all your stuff.
My main argument against the CTS-V Wagon, though, is cost. For $60 to $70K, I'd buy two cars: something sporty that I can beat up on the weekends, and a less expensive, more efficient wagon for daily use. The possibilities of what that combo could be are many, and shopping for two cars at once sounds like a dream come true.
—John Beltz Snyder, Production Editor
Pros
– There may not be a cooler car on sale today, period
– Rarely are wagons allowed to be this sexy—a true triumph for Cadillac styling
– 556 horsepower, 58 cubic feet of cargo volume make a nice combination
Cons
– Umm, probably a bit over-powered and expensive for the heart of the wagon-buying segment (sorry, we had to say it)
– Clutch and gearbox are good, but may start to feel truculent in day-to-day driving
– 14/19 mpg fuel economy will add to cost of ownership, especially with the wagon begging to be driven fast