Quick Drive: 2010 Mercury Milan Hybrid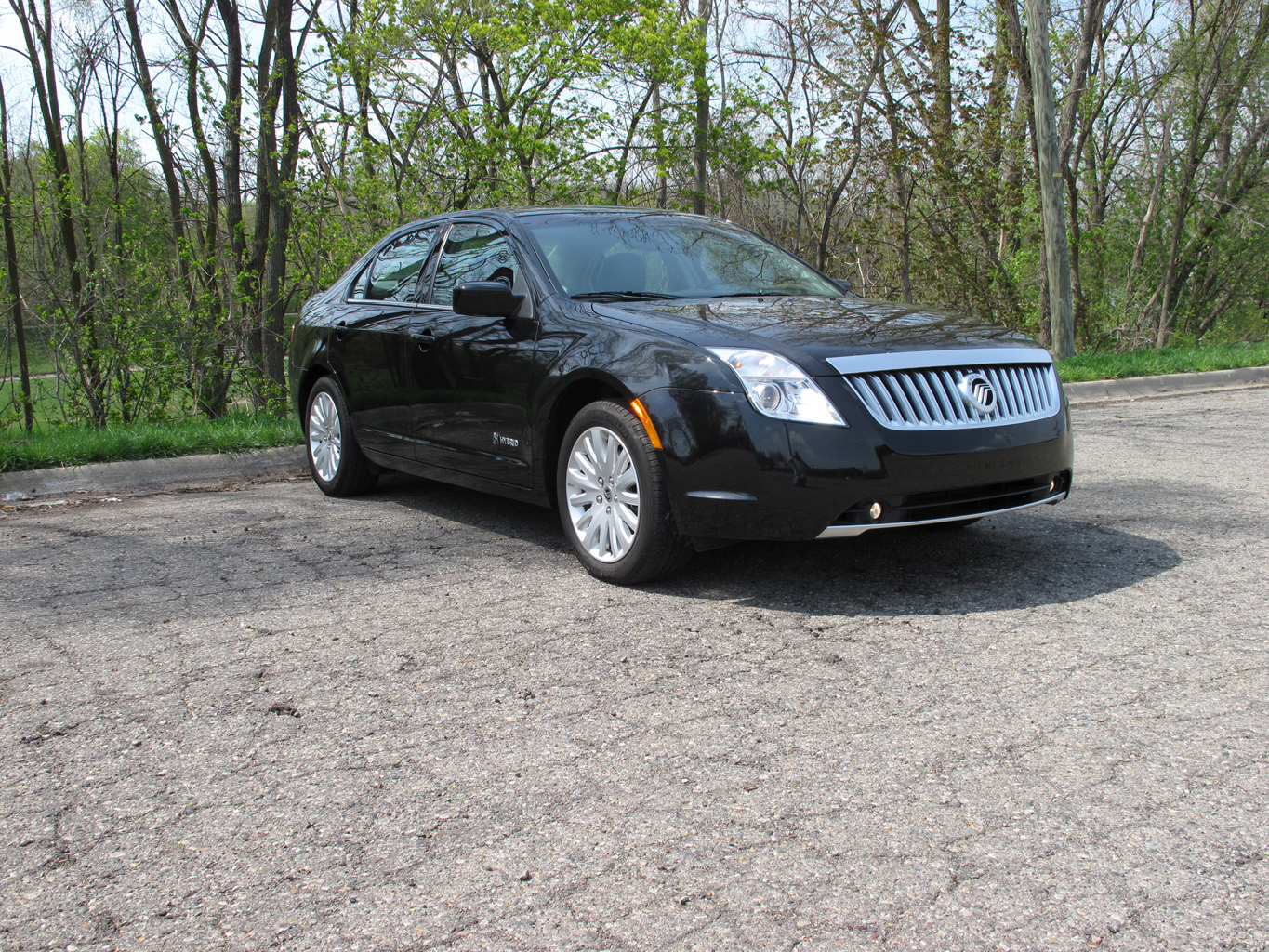 I have never been a big fan of hybrids, which generally aren't too engaging to drive. With the Milan Hybrid, I found something different.
With its Smartgauge reconfigurable instrument cluster, I was bombarded with all sorts of eco-minded information. Average fuel economy, battery power, electric vehicle mode, and accessory power consumption (among other information) were at my fingertips, and within twenty minutes I became a fuel-mileage fanatic. I became obsessed with getting good mileage (and growing my eco-tree, check the gallery), and I found myself becoming annoyed with other drivers who braked too early or unnecessarily, and ruined my hypermiling techniques. It was the most fun I've ever had in a hybrid.
The Milan Hybrid offered a much more involved driving experience, albeit for a hybrid sedan, than I expected. With a suspension that was comfortable, but never disconnected from the road, and steering that communicates well with the driver, the Milan proved to be surprisingly fun around town. In traffic, the Milan happily shut its engine off and ran on battery power, and gave a gentle nudge when switching back over to gas power.
The Milan proved to be a comfortable and entertaining companion on the work commute, and getting around 43 miles per gallon, it was an economical companion as well.
—Brandon Turkus, Fleet Manager
As far as hybrids go, the Mercury Milan is one of my very favorites to drive. This begs the question, "What about the Ford Fusion Hybrid?" And yes, were it my money, I would purchase the Fusion over the Milan, hybrid or not. But that's not really the point here, anyway.
While driving the Milan Hybrid, I always find myself totally engaged in the experience, and not necessarily in the usual way I would be when reviewing a car for Winding Road. That's not to say that I don't pay attention to how it reacts to input or how it carves a corner. There's another whole element, though, when driving a Hybrid, particularly one like the Milan. I don't know if it brings out the eco-geek in me, but I love eking out huge mileage numbers, watching the little leaves grow on the dashboard display. I pay attention to the battery charge, and how long I can keep the Milan in EV mode. I like to sneak silently into my driveway, and scare my wife and dogs when I enter the house (on any normal day, they can hear me coming down the street).
Yes, I could do this to an extent in any other hybrid. But I don't. With the Honda Insight or Toyota Prius, I'm too focused on just trying to meet a decent pace. In a Lexus RX450h or Chevy Silverado, it's barely apparent that I'm in a hybrid. The Milan does the good car thing really well, and it is equally apt at the good hybrid thing. I don't feel like I'm sacrificing, whether I'm putting stealthily through the city or cruising some of my favorite winding roads.
—John Beltz Snyder, Production Editor
Objectively speaking, this car is slow, and heavy, and ill handling for a small sedan. By the standards of current hybrid vehicles however, the Milan does fare a bit better than average in terms of enthusiastic driving. (That's a little like saying that penguins might be a little better than donkeys at flying a plane, but I digress.)
The video game-like display is involving for a time, and does a better job than most info displays at keeping one alert to driving style and fuel economy. My tendency is to believe that this is a system that you'd get pretty bored with after the first couple of weeks of driving, but there's certainly no reason not to have it in place. A lot of good information on offer here, and Ford seems to have a show-stopper with it.
The Milan is slightly more sporting of a steer than Toyota's Prius, but not by so wide a margin that, were I in the hybrid market, I would ignore the facts of the Toyota's more useful hatchback layout, higher residual values, and better fuel economy. That last one is kind of a biggie in this segment—bigger in my mind than the info interface.
Perhaps more to the point, I wouldn't buy the Milan over its Ford Fusion twin. Fusion is about three grand less as standard. The Mercury gives you leather seats, a moon roof, and Mercury styling for that premium. Not enough frankly, to sway me.
—Seyth Miersma, Editor-In-Chief

Pros
Smartgauge instrument cluster presents vehicle data in an attractive manner
Easy to drive economically
Shifts smoothly between gas and EV mode
Cons
You can get the same performance and fuel economy for less money with a Fusion Hybrid
Not as much utility as a Prius
In terms of overall driving involvement, it's still a hybrid