I'd Like to Talk to You About Our Lord and Savior, the Nissan Pike Car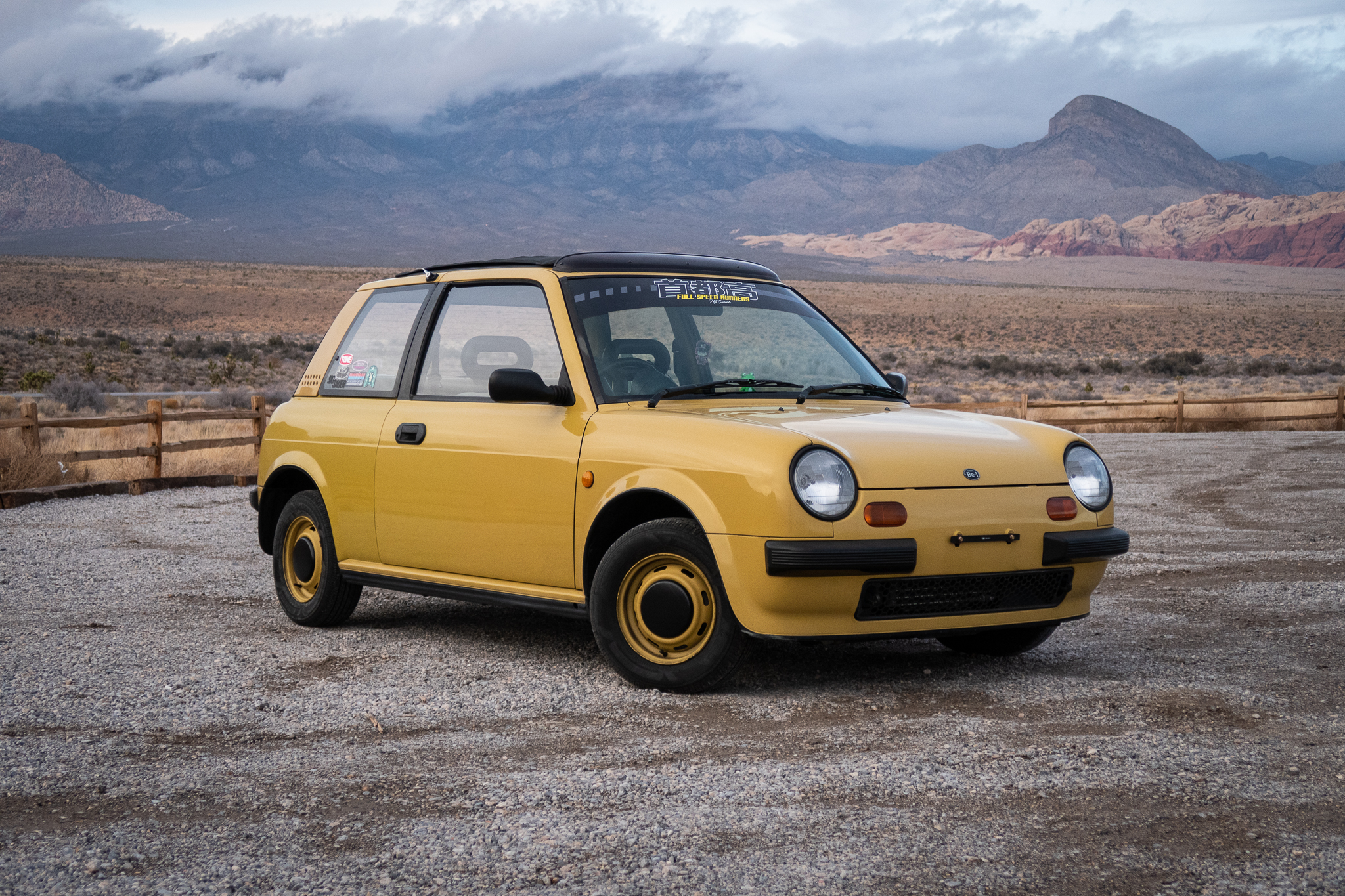 Sometimes, I think I may have entered this world at an awkward stage of car culture. Was I born too late to enjoy the Gran Turismo hero cars when they were affordable and plentiful? Or did I come too early to witness the downward spiral of the Skyline market? It's weird to think I was just drooling over affordable 240SXs in high school, hoping I could score one, only to grow up to watch them lunge into collector car territory, and I know for sure I'm not alone.
No one should be surprised by the rise in value as these cars have started trickling into our ports. The JDM fanbase is damn near a religion nowadays, and the oldest age groups to clamor over these in front of their Playstations have started running into some serious coin. Now, with millennials' newfound purchasing power, our hero cars are being priced in accordance with the experiences they gave our younger selves.
Whatever the case, I take solace in knowing I tip-toe my way through the entrance of this impromptu church of lucky owners. So, while the churchgoers preach their 22B Imprezas or Tommi Makinen Evos, I sit quietly on the back pew, happy and content to even attend with my lesser-known, not-so-badass sliver of Japanese car culture, thanks to my unsung savior, the cheap and cheerful Nissan Pike car.
Since May of this year, I impulsively snatched up the first import car: a 1987 Nissan Be-1, finished in Pumpkin Yellow and topped with a folding canvas roof. The Be-1 was the first of Nissan's quirked-up Pike factory cars, a hipster-chic exercise from the tail-end of Japan's bubble economy era, which dressed otherwise mundane Nissan Micras (akin to the subcompact Versa) in vintage Euro-inspired threads. Leading a new charge in an effort shrouded with uncertainty, Nissan produced 10,000 Be-1s, and I managed to scoop one up from an AE86 Corolla collector in Washington, where the car had lived since 2017.
I had never even heard of the Be-1 until I saw the listing, having fallen smitten with this Europe-mimicking tinker toy that bears more resemblance to a frog than a Fiat. It was definitely an impulse buy, but one I have never regretted since. So, what have I learned so far since this Pumpkin Yellow gumdrop came home?
Right-hand drive isn't scary. Old economy car engines aren't that complicated. And classic car ownership doesn't always have to be a colossal pain like horror stories have led me to believe. As long as you spot a decent example, the Be-1 will make for an unintimidating first crack at import ownership for its everyday practicality and the hilarity that ensues during anything but normal driving.
For instance, may I interest you in a round of apishly sawing at the wheel on an empty road? After all, commuting in a Be-1 as if Miki Matsubara is still on the radio is a slice-of-life anime, but hooning one with an ounce of enthusiasm is straight-up slapstick, thanks to twelve-inch wheels with nearly as much tire sidewall paired with suspension crafted from memory foam.
I'd quip about seafaring, but calling it a boat would be a little hyperbolic. It's more like a small skiff, keeling over from side to side in what has to be the slowest g-force simulator ever made. All Pike cars allegedly corner with that same "eh, you're fine" demeanor to body control, especially the Be-1. You just can't help but giggle at the misery of any rear-seat occupants too lazy to fasten their lap belts as they ping-pong between the side glass at the suggestion of a corner.
Ask me how I know. I have more than one of those stories. Consider a helmet when riding with me. Or perhaps it'll make a good spec race car with enough elbow grease and brain damage.
Fortunately, you're unlikely to flip one despite its marshmallow suspension. It's not like you'll be moving fast enough, anyway. With only 52 horsepower and 55 lb-ft of torque from the 1.0-liter MA10S four-cylinder, a hand-me-down from the Micra and later passed on to its Pao successor, you'll be lucky to merge onto slower stretches of highway. Keep your foot in it, and the car will begrudgingly kiss 68 miles per hour. Throw yourself down a slight downhill as I once did, and you just might touch 86.
Mitsubishi Mirage owners, be grateful. Prius owners may as well have LaFerrari's.
Groomed for its original task of shuttling blue-collar citizens through concrete jungles, moving at a snail's pace is a given. But the Be-1 still has ample (enough) power for parading its vibrant color palette around American suburbs and city centers. So, while I'd be scared to death of taking this on any interstate, I'd happily use it as an errand runner and a mall cruiser; tasks for which it has a great affinity.
The Be-1 technically qualifies as a coupe, utilizing a trunk clumsily opening upward beneath the rear windshield. However, cargo space is still enough to swallow a week's worth of groceries or a few school bags. Rear seats tragically don't fold down, but they're surprisingly spacious and capable of seating six-foot friends with legroom to spare. Behind the rear seat is a handy parcel shelf, and up front is a series of dashboard shelves for placing a Bluetooth speaker, a couple bottles of water, or perhaps a thousand Little Trees air fresheners.
Oh, there's also no A/C, nor does the heater work particularly well in my Be-1. Not that it's some basic spec car with zero options, as it has these options equipped. It's just that none of it works right.
The heater only turbocharges the cold air out the forward-facing vents but somehow gets scalding hot when redirected towards the floor or through the windshield defrost vents. Better than nothing! As for air-conditioning, the compressor rests in the engine bay but is missing the accessory belt that drives it, turning the Be-1's fishbowl of a greenhouse into a broiling hellscape during summers here in Vegas. Tint is in the works.
Now that it's winter at the time of writing, however, life with a Pike car becomes far more palatable, enabling me to drive the Be-1 much more often, including stints to the grocery store, the gym, or dinner plans with friends. Will I eventually find an accessory belt for the air-conditioning? Maybe. But at least I have an excuse to peel back the canvas roof more often.
At least this car makes wrenching relatively easy, even for a lazy dunce like me. Sourcing parts, for instance, is surprisingly straightforward. None of my spares came from Japan but instead from specialists in the United Kingdom and Lithuania. My oil filter and jugs of Motul Eighties hail from none other than the Fortress of Bezos, if you can believe that.
Unlike Skylines and 300ZXs of the time, plus many present-day cars, the engine bay is refreshingly cavernous. In fact, you could glance over the fender and peer right at the asphalt, but that's the perk of any motor with half the displacement of a soda jug. As a result, nearly everything is within reach, save for a few questionably placed service items.
Seriously, someone tell me why the oil filter is behind the damn engine near the firewall. It's not so bad until you notice the bastard filter is perfectly placed for contorting your arm and guaranteeing you spill most of its oil all over your engine bay. Unfortunately, the oil dipstick also rests awkwardly low in the engine bay, meaning you'll have to really eyeball where it goes as you reinsert it. But if you can stomach other quirks that others tell me are constant across many JDM classics, such as headlights drawing enough power to screw with your idle and mild oil leaks with threatening auras, the Be-1 is a sweetheart.
Looking back at this long-winded rambling of mine, I hope others can appreciate the simplicity and ease of owning a Nissan Pike car and that it, in turn, baptizes more eager enthusiasts in the Church of Latter-Day Imports. Of course, there will always be speed bumps down this path, but such is the case with any old car, even the most well-kept examples. But my Be-1 proves affordable classics don't have to be total agony.
So, if you find a Pike car for a reasonable price searching for an old chariot to carry you into your inaugural JDM experience, don't be afraid to pull that trigger. Go ahead. Bask in its hipster weirdness. You'll make everyone's day, including your own. The price may be small, but your smile certainly won't be – even if it is slow as hell.