Driven: Infiniti QX55 Sensory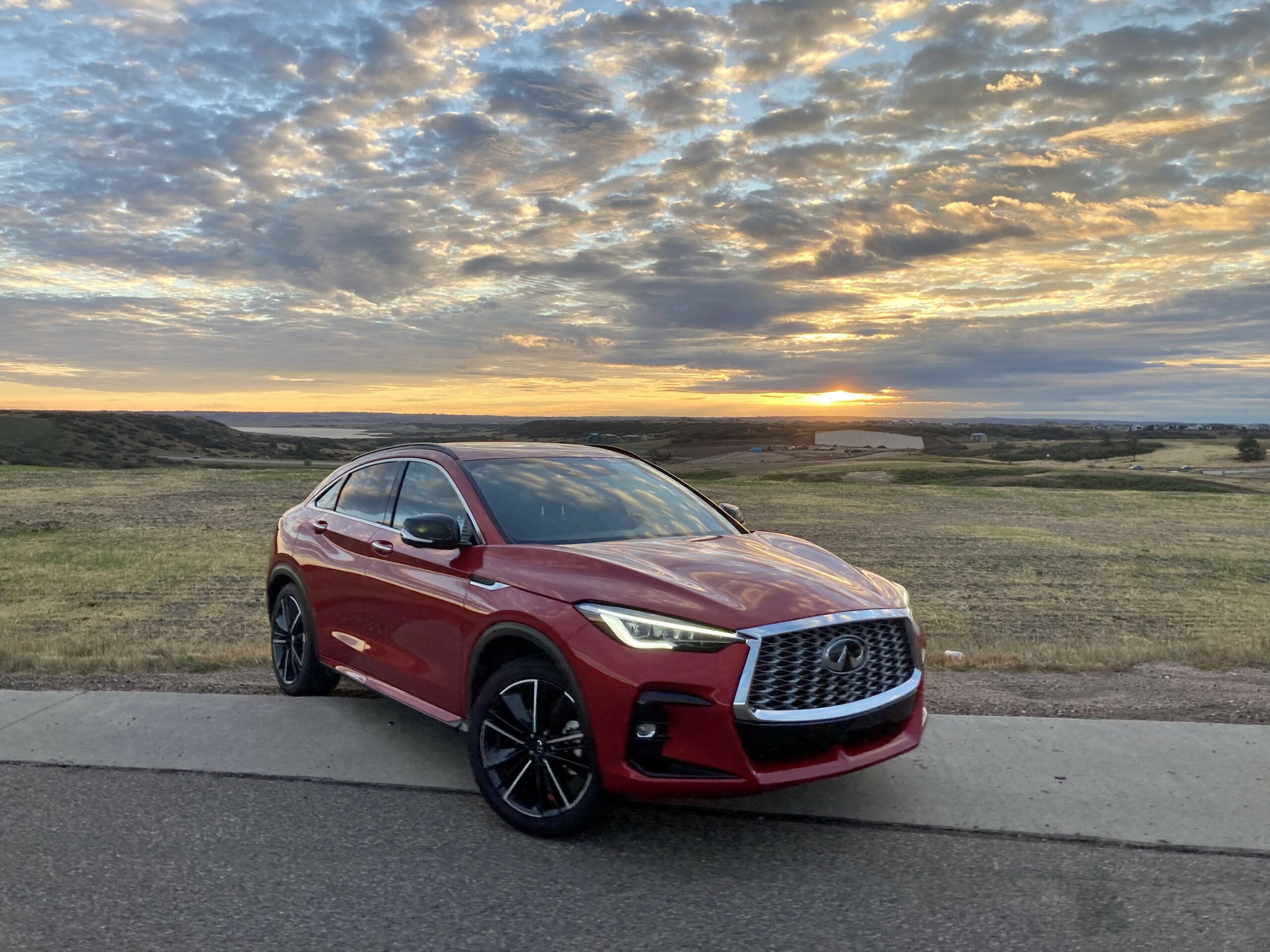 When you're in a job interview, many times the interviewer will start off with the question "So, tell me about yourself." This is the question we're thinking of when we first step into a press vehicle that is new to us, often times doing so before even glancing at the window sticker or press brief. We're interested to see what first impression it gives. What's the styling like? In some cases, how does the engine sound? We look at the choices of paint and materials. It's not until later in the interview when you start to get the résumé-specific questions, "Your resume tells me you're proficient in product research. Give me an example of when you were not proficient in this area." In the case of the 2022 Infiniti QX55, it had a bullet point on its CV that provoked us to ask about first. $60,350? How?
To be fair, our tester was pretty kitted out. The Dynamic Sunstone Red paint on this one is mesmerizing; it genuinely rivals Soul Red Metallic that Mazda is putting on all of its models. Infiniti's red is a $900 option here. This is where normally we would mention how we would option the red paint to improve the experience of looking at yet another "coupe-UV" being introduced into the market. And though the red paint is beautiful, the QX55 is a genuinely attractive vehicle no matter the color. It may have had a cosmetic re-touch after a trunk reduction procedure from its architectural twin, the QX50, but Infiniti's designers actually made that a good thing. The style here cannot be matched by others in the crossover coupe segment. We probably would err toward saving the 900 bucks and go with a standard color when the car presents its styling so successfully.
The feature we were most impressed by in our tester were the "zero gravity" seats designed to minimize pressure points. Their outstanding design proved itself on longer journeys. Passenger comfort in the second row of seats impresses for having a sloped roof fastback design. Plus, trunk space behind the second row of seats suffices for stowing the in-laws' two large suitcases and three carry-ons in a trip to the airport. For help with pulling away from the departure drop-off and merging with traffic, the luxury Japanese automaker puts on display the world's first variable compression turbocharged engine. With an extraordinary patented system the engine can raise and lower the pistons' strokes mid-operation without the driver noticing what's happening.
The engineering to create this variable 2.0-liter 4-cylinder must be applauded. Any news about updated internal combustion engine technology is something all enthusiasts can rejoice. Sadly, even though it cooks up 268 horsepower at 5,600rpm and 280 lb-ft of torque at 4,800rpm, revving out this novel engine isn't nearly as exciting as reading about how it works. We would've rather Infiniti enhanced the luxury driving experience with more sound deadening on the firewall than burdening our ears with some of the most atrocious faux engine sounds we've heard. Infiniti says the compression ratio varies between 14:1 and 8:1 to maximize both torque demands at low rpm as well as high fuel economy requirements when not under load. Estimates are rated at 22 city and 28 highway. Good numbers, but not winning awards when some of its rivals are sipping fuel just as economically with more traditional engine designs. Similarly, competitors have the same if not better power output as well. It could be more easily overlooked if it were mated to a conventional automatic or dual clutch gear set, but like many other Nissan and Infiniti models the QX55 makes do with a CVT.
The provocatively shaped machine does uncover some fun to be had when exploring its lateral capabilities. Its 255/45/R20 runflat tires instill confident road holding mid-corner even though turning in to said corner can feel slightly less assured. This is most likely due in part to the Direct Adaptive Steering, a variable electronic steering system first introduced on the Q50, which over the years has received its fair share of criticism. The leather-wrapped and stitched steering wheel provides zero feel through the ghostly lack of a physical connection to the front wheels. Making matters worse is the placement of the A-pillars. They tend to get in the way when trying to keep a tidy line through a corner. Despite these incongruent interactions with the car's dynamics, it can still provide a smile with how unfazed the MacPherson struts up front and multilink rear feels on some ill maintained roads. It totes Infiniti's latest front biased AWD system and brake vectoring, slowing individual wheels for a more seamless experience when driving quickly. At night, it tries to make up for the obtrusive A-pillars by lighting up the corner ahead with its standard LED headlights that swivel, mimicking the inputs you make with the steering wheel.
Unlike Infiniti's smaller QX30 offering—aka, a Mercedes GLA in prettier clothes—here we have a fully Japanese vehicle with beautiful design, impressive engineering, and a comfortable, amply-spaced interior. At the same time it brings to the stable a less than acceptable speaker-generated engine note, unpredictable steering response, and a stacked dual screen infotainment layout that is more confusing than it is unique. It's a back-and-forth proposition, the QX55. And with our eyes fixated on its CV remark of $60,350, we'd hire a BMW X4 or Audi Q5 Sportback in its place almost any day.