Driven: 2014 Mazda6 GT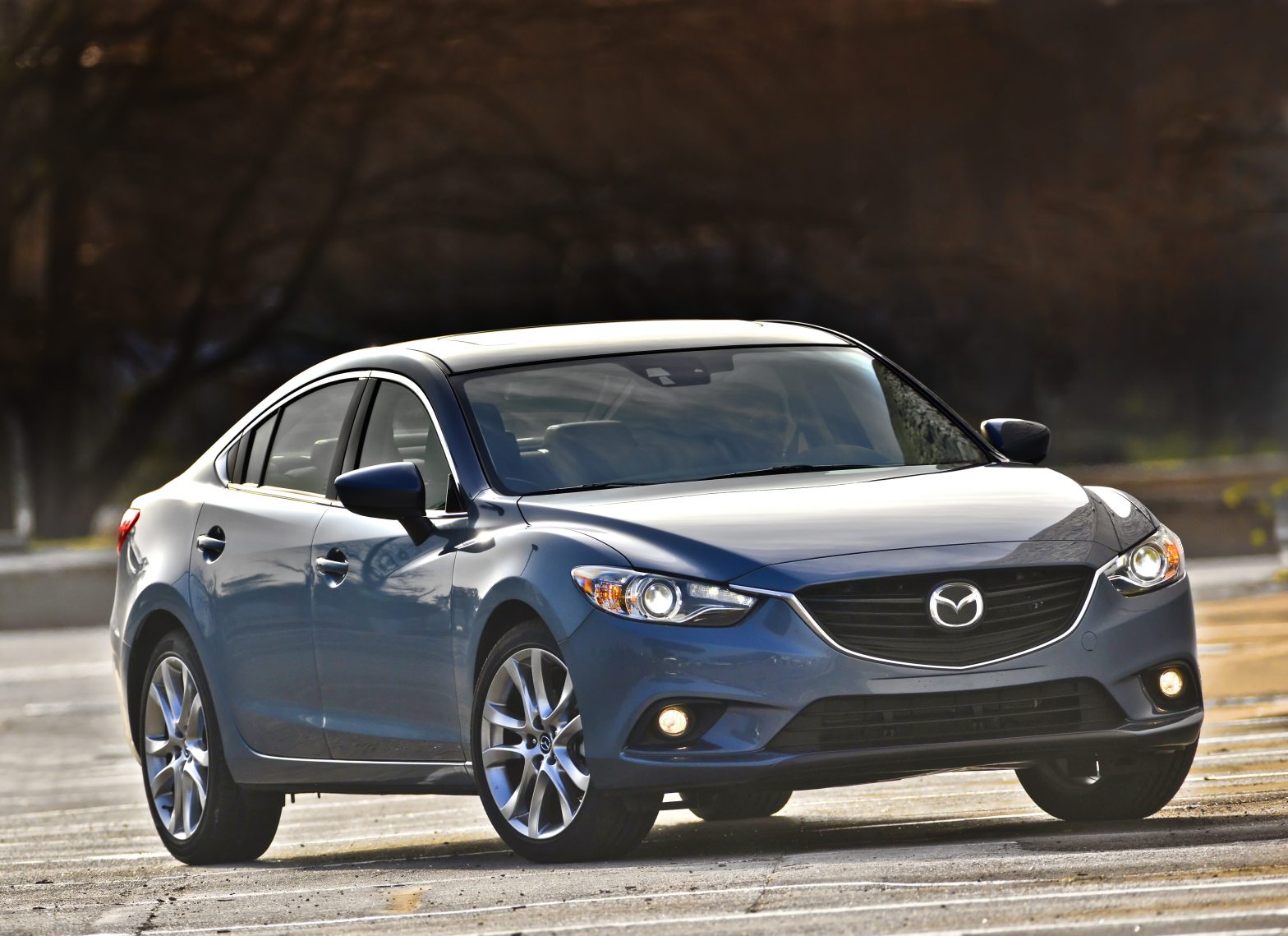 For more information about the Mazda6, including news, reviews, photos, and videos, please visit its master landing page.
—Austin, Texas
There's a divergence going on in the mid-size market. On the one hand, we have Ford, offering up a
tech-laden Fusion
that can be optioned out past $38,000, and offers all-wheel drive and advanced, turbocharged engines. On the other hand, we have Toyota. Its most expensive
Camry
barely cracks $31,000, uses front-wheel drive and an old-school, large-displacement V-6.
This marketplace differentiation is becoming more and more noticeable as new mid-size sedans have arrived on the market. Over the past few years, we've seen new entries from Toyota, Honda, Ford, Nissan, Volkswagen, Hyundai, and Kia. Mazda, meanwhile, sat on the sidelines, biding its time.
Now, for model year 2014 we're seeing the all-new,
third-generation Mazda6
. It seems to skirt the line between expensive, techy cars and thrifty, traditional offerings.
Mechanically, Mazda did very little skimping on this new 6. It was designed with the Japanese brand's Skyactiv philosophy in mind, which for those who need a remedial course in automotive marketing jargon, is the overarching philosophy that dictates how new Mazdas are designed and built. Skyactiv influences everything from the body structure, to the transmissions, to what's under the hood. In the case of the 6, that'd be a new, 2.5-liter four-cylinder.
The aluminum engine uses an even higher-pressure direct-injection system (up to 2900 psi, compared to 1600 psi on the last DISI engine) and race-derived pieces like a large, 4-2-1 exhaust manifold allowing the 2.5 to develop its power more efficiently. Speaking of that exhaust manifold, it's an exclusive Skyactiv item, and required the engineers to specially design the chassis to insure it had enough space.
That, in turn, results in the Skyactiv 2.5 offering up more torque than the 2.5-liter on the last-gen 6, while maintaining a similar torque curve to the 2.0-liter Skyactiv found in the Mazda3. Peak torque sits at 185 pound-feet, and is fully accessible at 3250 rpm. The 2.5-liter develops all 184 horsepower at 5700 rpm. Those aren't stratospheric figures, but they're more than adequate for a mid-size sedan.
And in fact, during our drive, there were only a few instances where we would've wanted more power (usually on extreme grades). If you live in a place that's mostly flat, you'll be very happy with this engine. The new four-cylinder is a sweet, sweet companion. It revs freely, developing abundant and accessible low-end power, all while eliciting a rather pleasant exhaust note. It avoids sounding buzzy or irritating, instead offering a smooth, distinctive character. That's a rare trait for the engine of a mid-size family sedan.
Of course, we'd be remiss if we didn't mention the Skyactiv-D turbodiesel. Mazda has been tight-lipped on the diesel, ahead of its launch in the middle of this year, but we've been told it'll act as a suitable replacement for the second-generation's V-6. The question is, will the public actually opt for a diesel over a gas V-6? We'll find out.
As good as the Skyactiv engine is, it'd be nothing without a pair of excellent transmissions. Available on the 6 Sport and Touring models is a six-speed manual that wouldn't feel out of place on an
MX-5 Miata
.
We spent the first half of our day on a basic Sport model (one of only two manual-equipped testers available) just so we could check out the gearbox in action. The clutch is difficult to get used to, with a rather low, abrupt catchpoint. It took us a few reps to really get a feel for it, but it wasn't so bad that we'd consider it a hindrance.
Once up to speed, though, this transmission is a delight. The throws are short, and swinging between gears comes with a crisp, addictive action. There's not a lot of weight in the shifter itself, which encourages frequent gear changes. The mechanical feel that comes at each gate enhances that quality further. We really can't overstate just how much of a pleasure this transmission is.
As absurd as it sounds, though, the automatic gearbox is better. Wait, wait, wait. Put down your pitchforks, douse those torches, and hear us out. Where the manual transmission is simply a very good do-it-yourself gearbox, the six-speed auto is a legitimate accomplishment.
In choosing what sort of automatic would be fitted in the 6, Mazda's engineers considered the three most prevalent transmission technologies: dual-clutch units, traditional torque converters, or CVTs. All three were found wanting. So what did the engineers do? Well, they just created an all-new transmission.
The system is one of those why-didn't-I-think-of-that things. Much like BMW's original biturbocharged engines used a small turbo at low speeds before switching to a bigger turbo at high speeds, Mazda built a gearbox that functions very differently depending on engine speeds. At low speeds, it's a torque-converted auto. Get moving a bit faster, though, and it behaves like a dual-clutch transmission. The result is quite possibly the best, most responsive automatic transmission we've tested in quite some time.
This marriage of DCT and torque converter delivers a level of responsiveness that has no business being in a mid-size family sedan. It's quick to get up and go off the line, while upshifts are rapid. More importantly, though, is the speed with which downshifts occur. According to the handy chart Mazda provided, dropping from fifth gear to second at 50 miles per hour takes under 0.15 seconds. On the road, dipping past the switch on the gas pedal drops a number of cogs
very
quickly. There's no hesitation, just motion.
In manual mode, shifts are just as fast and responsive. There are paddle shifters on the wheel for a reason, and Mazda has engineered the car so that drivers will enjoy using them. The 6 will happily drop multiple gears with a few flicks of the wrist. As crazy as it sounds, an automatic transmission is really the triumph of this car.
Despite its sporty intentions, the 6 is still an economical car to run. It'll net 25 miles per gallon in the city and 37 mpg on the highways. The automatic transmission actually improves on those numbers, netting 26 mpg in the city and 38 mpg on the highway. Those are hugely impressive numbers for a gas-powered, non-hybrid, naturally aspirated sedan.
While we had plenty of opportunities on our test route to work the 6's new powertrain, we certainly spent more time putting the suspension and steering through its paces. We'll get the bad out of the way first—the 6 uses electric steering. This is where we sigh and shrug our shoulders. Okay, so it's not terrible, but there's still not a huge amount of feedback through the wheel, and the steering is quick to the point of feeling slightly artificial.
Mazda claims the steering ratio of 15.5:1 is close to the MX-5's 15.0:1. That's great, until your realize that the 6 is, in fact, a family sedan and not a two-seat, rear-drive roadster. Having such a fast rack on the MX-5 is great because, by its very nature, the Miata is supposed to be a fast, darty, agile little car. On the 6, though, the steering tends to feel rather weightless and uninspiring. Moreover, the MX-5's fast steering works because there's a lot of feedback transmitted through the wheel. That's not the case with the 6, which delivers much more of its feedback through the suspension.
Speaking of that suspension, it was decidedly more impressive than the steering. It felt good through the bends, with a flat, confidence inspiring handling character. Lateral grip levels were easy to gauge through the seat of the pants, while the overall balance between front and rear was also quite easy to interpret. Much like the
CX-5
, there's an innate tossability to the 6 that makes it a lot more fun to push through the turns than one might originally guess. We got the impression that Mazda wanted us to think the 6 was some sort of four-door MX-5. It's not. But it comes closer to that sort of fun-to-drive character than the vast majority of cars at this price point.
Changes for the third-generation 6 were not limited to mechanicals. Mazda has essentially taken the design from the Takeri Concept and tweaked it to work on a road car. This is a good thing.
It's a very handsome car, and is a quite a departure from the trout mouth that's been so well received on the Ford Fusion. Overall, we're quite pleased with the exterior. It'll look especially good at night, where the LED accents actually give the illusion of carrying the chrome of the grille surround into the headlights.
The cabin is a bit more of a mixed bag. It's all quite logically laid out, and is easy to make sense of. From a driver's standpoint, it's really a great package, as well. The seats are comfortable and deliver plenty of support. Both the cloth and the leatherette options feel quite good as the miles pile on. The steering wheel is nicely sized, although the leather didn't really inspire us to drive harder. We'd hesitate to call it cheap, but it certainly wasn't what we'd call premium.
Our main issues with the cabin are the finish on the dash and the lack of different trims and colors. The dash itself feels quite rubbery and flagrantly artificial. It just feels odd, almost like someone melted a hockey puck and then molded it into the shape of the dash. It really is the worst part of a cabin that is otherwise largely on par with the competition.
The 6's interior is available in either black or beige. Regardless of which is chosen, the dash is black with a dark chrome plastic that feels very much like actual metal. It's just not hugely exciting, and does a poor job of conveying the excitable, fun-to-drive nature of this Mazda. While the car is very "Zoom-Zoom," the cabin just isn't.
The Mazda6 is available in three different trims. Sport is the base and volume model, and is available with either a six-speed manual or a six-speed automatic transmission. Really, that's the only choice to be made on the Sport trim. The manual-trans model starts at $20,880, while the automatic can be had for $22,495.
The next level up is the Touring, which is also available with either the manual or the automatic transmission. It also tacks on dual-zone climate control, nineteen-inch wheels, a power driver's seat, leatherette upholstery, blind spot monitoring with rear cross-traffic alert, Bluetooth, HD Radio, and a 5.8-inch touchscreen display. The manual-trans Touring starts at $23,445, while the auto starts at $24,495. A $2000 Touring Technology pack is available, which adds an 11-speaker Bose stereo, navigation, advanced keyless entry, Smart City Brake Support, rain-sensing wipers, and heated side mirrors.
Finally, the Grand Touring is only available with the automatic. It starts at $29,495, and adds a sunroof, bi-xenon headlights, LED running lights, wheel-mounted paddle shifters, everything from the Touring Tech package, and power seats for both driver and passenger. For an extra $900, the GT can add adaptive cruise control and forward obstruction warning. Tacking on a further $2080 adds the Advanced pack, which includes adaptive cruise, forward obstruction warning, Mazda's i-ELOOP regenerative brake system (which wasn't available to test), lane departure warning, and automatic high beams.
Were we plunking down our own coin, we'd be driving away with a Mazda6 Touring, with a manual transmission and the Touring Technology pack for the tidy price of just $25,445. Quite a steal we'd say.
The 2014 Mazda6 is exactly what we expect from a Mazda sedan: it's fun without sacrificing comfort. It's affordable, but still feels techy and advanced. It's stylish without being in-your-face. We aren't sure how it'll fare in a world dominated by Camrys, Accords, and Fusions, but if Mazda can get customers behind the wheel, we think it'll be a pretty easy sell.
2014 Mazda6 Grand Touring
Engine: Inline-4, 2.5 liters, 16v
Output: 184 hp/185 lb-ft
0-60 MPH: 7.4 sec (est)
Weight: 3232 lb
Fuel Economy, City/Hwy: 26/38 mpg
Base Price: $29,495
On Sale: Now