Driven: 2013 Volvo S80 T6 AWD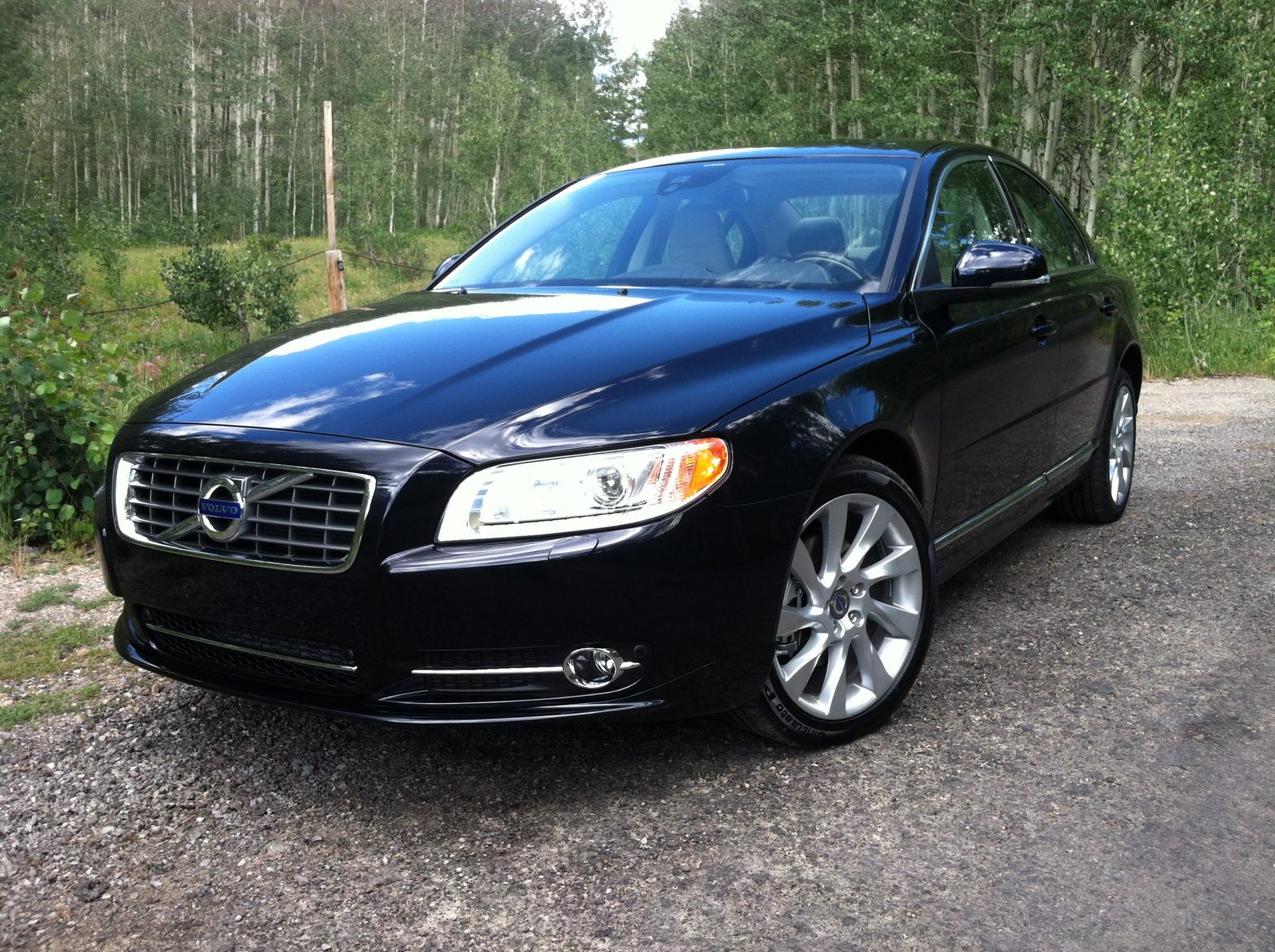 —Park City, Utah
When Volvo invited us to fly out to Utah and drive its
newest S60
in the western mountains, we were pretty excited. A car we really enjoy, driven on roads that were sure to impress—what wouldn't we like. As a nice surprise, the Volvo team had also brought along a few examples of its 2013 S80 T6 AWD, a larger, older brother to the S60 that we liked so well, and a model that we haven't reviewed in years, frankly.
In large part that lack of coverage is down to the fact that this S80 is, essentially, an old model. The second-generation S80 was introduced in 2006, refreshed in 2010, and comes with some not-insignificant changes for the 2013 model year.
For the T6-engined, all-wheel-drive model, this year's S80 gains: rain sensing wipers and headlight washers as standard, a new gear lever and a "sport mode" for its six-speed automatic transmission, two new paint colors (Magic Blue Metallic and Twilight Bronze Metallic), and more. All of the S80s on hand in Park City had been fitted with the Inscription Package, which meant Sovereign Hide leather-trimmed, vented front seats, a leather-bathed dash, and other (mostly leather-based) interior upgrades.
In total this highest-spec S80 interior feels quite comfortable and high-end, while still showing its age versus the newer, sleeker S60 cockpit. The straightforward interior surfaces, along with large pieces of glossy walnut trim, just seem kind of old-fashioned for this executive mid-size segment, which offers truly high design in
Audi, BMW, Infiniti, and Lexus
instantiations.
The front seats of the Volvo felt surprisingly small for this segment. We had plenty of lateral room above the seats for our arms and elbows, but our knees felt strangely hemmed in, and it was a little difficult for us to find a perfect seating position relative to the steering wheel with our heads threatening to brush the roof. Bear in mind, of course, that your writer for this test is six-feet, five-inches tall. Still, big and tall shoppers will want to judge carefully if their body type is a good fit here.
We enjoyed our rather short drive experience in the big Volvo, though far more when we were crushing highway miles than on the few occasions that we dove into the smaller, curvier Utah roads. That's not because the S80 felt unstable, or lacked for grip on tight corners, but rather because the car offered too detached a ride profile to really enjoy the technical bits. Steering effort was one-finger light, and quick turn-in required quite a bit more lock be applied than we'd have liked. Further, Volvo has clearly opted for ride comfort over mid-corner stiffness, or chassis feedback, as the S80 seemed to hover on a cushion of air whist we meandered through hill and dale.
On the other hand, this low-effort handling style matched very well with the very low overall in-cabin noise levels we experienced. Wind rush and tire roar were almost entirely banished from the S80 cabin when we drove at or near 70 miles per hour, and only mildly increased beyond that speed. For better or for worse, the engine note was almost as completely muted, even towards the top of its rev range.
That T6 engine feels plenty potent in the S80, too, in a sedan that is roughly 200 pounds heavier than the S60. Volvo suggests that it'll take about 6.3 seconds to hustle the S80 T6 AWD from 0-60 mph, which is respectable, and we can attest that the pulling power of 325 pound-feet of torque feels robust at nearly every engine speed over 2000 rpm. Even with the transmission slotted into sport mode, this feels like a laidback car, but that's down more to the soft underpinnings and the quiet, not because of a weak engine.
As befits the practical-luxury nature of the Swedish brand, the real attraction to the S80 would have to be its reasonable price tag. Our fully loaded T6 AWD Inscription models carried an as-tested price (including destination) of $51,445. The rest of the segment starts at around $50K for AWD models, before options get added on, and with similar powertrains. (What's more, a quick web search reveals that invoice pricing undercuts the already reasonable Volvo sticker—not surprising for a car this late in its model life.) That's a compelling argument if your car of choice tends toward understated, rather than flashy, and if your driving style is on the conservative side.
This is a car that is feeling its age, and yet is not without some charm and a big helping of new-vehicle value. Volvo's next S80 is likely to be a far more competitive luxury player when it finally pops up, but the current car offers no lack of pleasant motoring for the non-enthusiast driver.
2013 Volvo S80 T6 AWD
Engine: Turbocharged inline-6, 3.0 liters, 24v
Output: 300 hp/325 lb-ft
0-60 MPH: 6.3 sec
Weight: 4053 lb
Fuel Economy, City/Hwy: 18/25 mpg
Base Price: $42,950