Buyer's Guide: Mid-Size Luxury Sedans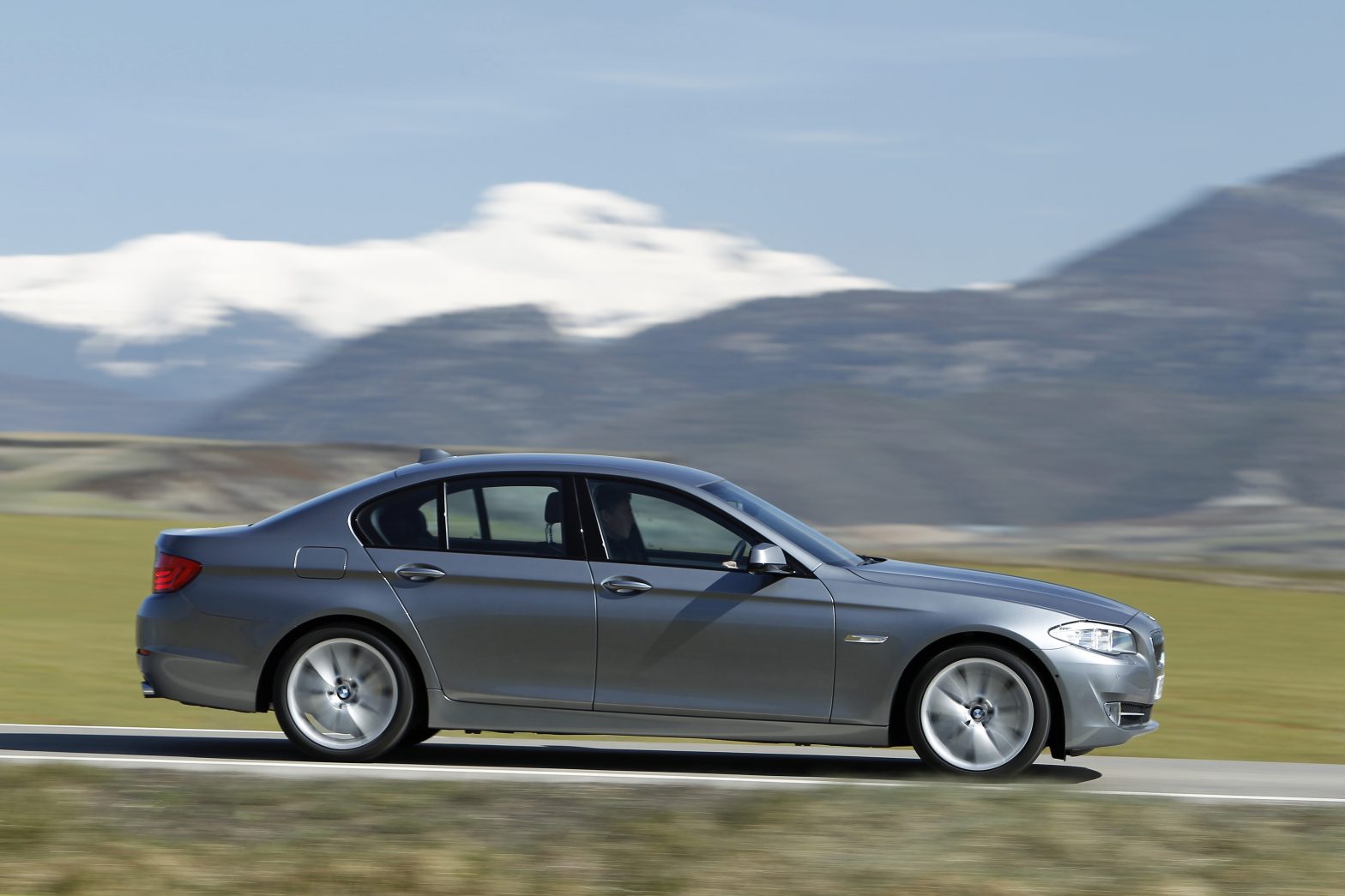 The mid-size luxury segment is nearly always a hotly contested battlefield, and these days are no exception. Over the last weeks and months we've spent a lot of time driving the new (or newish) entries from Acura, BMW, Mercedes-Benz, Saab, and more, so we thought it high time to bring together a feature that lays bare what's on offer. We did refrain from including the—often wildly different—performance models here (AMG, M, V, etc.). That's a guide for a different day.
From engine/transmission/driveline breakdowns, to power, price, and fuel economy; within you'll find, in one place, a lot of what you'll need to know to make an informed decision about your next luxury ride. We are, of course, offering a few of our driver-focused insights as to the models and configurations we'd choose, too, as well as links to deeper content on all of these cars. Dive in.
Acura TL
The Basics
The TL has been newly revised for the 2012 model year with a six-speed automatic transmission replacing the old five-speed, a bump in fuel economy figures across the range, and, critically, an exterior styling change that seeks to fix the controversial appearance of the outgoing sedan.
Acura does not offer the segment-standard range-topping V-8 engine for the TL, but buyers can choose between flavors of V-6. The standard engine is a 3.5-liter V-6 that produces 280 horsepower and 254 pound-feet of torque. All 3.5-liter models are hooked up to a six-speed automatic transmission that offers control via steering-wheel-mounted paddle shifters. The more powerful 3.7-liter V-6 is available only with the all-wheel-drive TL SH-AWD. The bigger six makes 305 horsepower and 273 pound-feet of torque, and comes with a choice of the autobox or a silky six-speed manual transmission.
A base-level, front-drive TL weighs in at 3726 pounds, has a front/rear weight distribution of 61/39 percent, and offers city/highway fuel economy figures of 20/29 miles per gallon. The range-topping, fully loaded TL SH-AWD weighs 4001 pounds (3889 for the 6MT), has a weight distribution of 59/41 percent (58/42 for the 6MT), and manages 18/26 mpg (17/25 for the 6MT).
Prices range from an MSRP of $35,605 for the entry TL, up to an MSRP of $45,085 for the TL SH-AWD with the Advance Package. Full-boat price (with every option box ticked) comes to around $53K. Price for the Winding Road-spec version of the TL would total $44,111 for the TL SH-AWD with the six-speed manual, technology package (standard with 6MT car) and a few odds and ends.
Why You Want It
TL SH-AWD equipped with the six-speed manual transmission is one of the best enthusiast drives in this segment, period.
Exterior and interior styling are very much removed from the conservative norm here, though apparent build quality and material quality don't suffer.
Pricing is pleasantly aggressive for a luxury car, especially versus the all-wheel drive competition—only the Cadillac CTS 3.0 AWD is less expensive in our group.
Why You Don't
Front-drive TLs won't ever offer the sort of sinuous power delivery that is the rear-wheel-drive norm in this segment.
Acura's styling doesn't feel quite as rich or special as that of the European cars.
No V-8 option, and relatively modest power out of its top-level V-6 means TL can't compete on sheer grunt with some of the big boys.
Audi A6
The Basics
Audi debuted its all-new 2012 A6 at this year's North American International Auto Show. The new A6 offers a massive amount of choice for the luxury sedan buyer, with three engines, three transmissions, and two drivelines to pick from—just to start. As if that weren't enough, the A6 Hybrid will be coming to market sometime later this year.
There are currently three engines available in the A6 range: a 265-horsepower, 243-pound-feet-of-torque 3.2-liter V-6, a 300-horsepower, 310-pound-feet-of-torque supercharged 3.0-liter V-6, and a 350-horsepower, 325-pound-feet-of-torque V-8. All three engines make use of direct injection technology. All 3.2-liter cars are front-wheel-drive, while the both up-level engine cars offer Audi's Quattro AWD system. The 3.2-liter V-6 is mated to a CVT transmission, while all of the more powerful engines are hooked up to a six-speed automatic transmission.
The basic A6 3.2 has a curb weight of 3858 pounds and fuel economy figures of 21/30 mpg, city/highway (no weight distribution figures are available). The 3.0T starts at 4123 pounds with city/highway figures of 18/26 mpg, while the 4.2-liter V-8 cars weigh at least 4211 pounds with 16/24 mpg.
A6 pricing has, as you might imagine, a pretty huge range. Base MSRPs for the 3.2, 3.0T, and 4.2 are $45,200, $50,200, and $59,150, respectively. All-expensive-options-added price for the A6 4.2 Prestige is about $63K, and includes bigger, nineteen-inch wheels, and a cold weather package. The WR-spec A6 would run $53,975 for the 3.0T with bigger wheels and summer rubber.
Why You Want It
The newest car in the segment, with three compelling and different powertrains, and arguably the strongest styling statement, too.
Though A6 is really in the middle part of the segment overall in terms of price, it offers good value relative to the all-wheel-drive versions of competitive BMW and Mercedes-Benz cars.
There are a lot of beautiful cabins in this group, but Audi's effort is next-level good. Infiniti M comes close without quite reaching this level.
Why You Don't
Purists will always have a problem with the lack of a rear-wheel-drive option for the A6.
Ride quality is probably not quite as comfortable as is found in the Mercedes and BMW camps.
For those who desire front-wheel drive or really care about a good value most of all, Lincoln, Acura, and Volvo offer more for less.
BMW 5-Series
The Basics
BMW's 5-Series sedan is now in its sixth generation, with the current iteration (known as the F10 internally) debuting in 2009 for the 2010 model year. Worldwide, BMW sells its 5er with more body and engine configurations than you can shake a Hofmeister Kink at, but we in the US get only three engines and two drive configurations. (To stick with our "sedan" theme, we're ignoring the 5-Series Gran Turismo crossovers here.)
The engines offered by BMW for the 5-Series are differentiated by the two-digit suffix you'll find after the "5" on the trunk-lid badge: 528, 535, and 550. There are two inline-six engines to chose from: the 528i's 3.0-liter with 240 horsepower and 230 pound-feet of torque, and the 535i's turbocharged 3.0-liter with 300 horsepower and 300 pound-feet of torque. The 550i has a turbocharged 4.4-liter V-8 with 400 horsepower and 450 pound-feet of torque. The 528i is only available with an eight-speed automatic transmission, while the 535i and 550i can be had with that 8AT or a six-speed manual box. The 528i is a rear-wheel drive only model, but the "xDrive" variants of the 535i and the 550i offer all-wheel-drive ability.
What follows is the curb weight, weight distribution in front/rear percentage form, and city/highway fuel economy figures for all configurations of the 5-Series…deep breath. 528i: 3814 pounds, 49.4/50.6 percent, 22/32 mpg. 535i: 4056 pounds (6MT), 4090 pounds (8AT), 50.9/49.1 percent (both), 19/28 mpg (6MT), 20/30 mpg (8AT). 535i xDrive: 4233 pounds, 52.9/47.1 percent (EPA figures aren't available for xDrive 5ers as of this writing). 550i: 4343 pounds (6MT), 4376 pounds (8AT), 52.5/47.5 percent (both), 15/22 mpg (6MT), 17/25 mpg (8AT). 550i xDrive: 4519 pounds, 53.9/46.1 percent.
MSRPs start at $45,050 for the 528i, moving up to $50,100 for the 535i, and $60,200 for the 550i—add about $2000 to those numbers for xDrive models. Get ready to open your wallet if you want each and every option on your tricked out 550i xDrive, as that hugely spec'd model will cost around $99K (it's fair to say that almost no one would make this combination of choices, though). The WR-spec car would be a 535i with a manual transmission, M Sport package, and the premium packages (yes, we want Navi and nicer audio options in our 5er); and would net out at around $64K.
Why You Want It
BMW's peerless ability to combine smooth ride quality and supple handling are on offer here again. Manual transmissions speak to our heart.
The frugal 528i has some of the best fuel econ in the segment; the bullish 550i has some of the best power. Options are nice.
A truly elegant car with good road presence, this 5er looks and feels like a premium object.
Why You Don't
Near the top of the prices for this class, and slightly more sporting than the refined E-Class, which isn't always what mid-size-lux shoppers really want.
For all of its simplification and refinement over the years, many people still find iDrive too complex for their tastes.
Heavier curb weights and slightly overboosted steering dumb down otherwise great driving dynamics.
Cadillac CTS
The Basics
The current, second-generation CTS sedan has been around since the 2008 model year and looks to hang around the market until about 2013, when its replacement is due. Cadillac keeps adding new model variants, like the Coupe and Sport Wagon, but the heart of the range is still the handsome sedan. Rear- and all-wheel drive configurations are available, as are manual and automatic six-speed transmissions.
The CTS engine lineup consists of two V-6s: a 3.0-liter and a 3.6-liter. The smaller 3.0-liter makes 270 horsepower and 223 pound-feet of torque. The 3.6-liter V-6 is good for 304 horsepower and 273 pound-feet of torque. The 3.0-liter cars come with the six-speed manual as standard, and the six-speed auto as an option. CTS 3.6 makes the automatic standard, but will let you keep $1300 to keep your stick shift if you'd like. We'd like.
The rear-drive CTS 3.0 weighs 3860 pounds and gets 16/26 mpg for city/highway fuel economy, while the similarly driven 3.6 goes 3858 pounds and gets 18/27 mpg. Both of the AWD models weigh 3858 pounds to start. The 3.0 AWD gets 18/26 mpg, while the 3.6 AWD gets 18/27.
CTS pricing is pretty straightforward considering the multiple engines, drivelines, and the four total trim levels (base, Luxury Collection, Performance Collection, and Premium Collection). MSRP for the base, 3.0-liter CTS is $35,345. Getting into a 3.6 Performance (the base trim for the bigger engine) will run $41,745. Add about $3000 to any trim's base price to figure for the cost of the AWD cars. Add up all of the priciest options—chrome wheels, rear seat entertainment, even Recaro seats—and you'll get a fully loaded price of almost $62K. The Winding Road-built car would have the 3.6-liter engine, the 6MT, the optional performance package, and navigation; for a total cost of $45,305. We'd like ours in black, thanks.
Why You Want It
One of the few cars in this section that offer us the combination of the more powerful engine, rear-wheel drive, and a manual transmission.
Cadillac's edgy styling may not be universally appreciated, but it's certainly a front-runner for those who care about razzle and dazzle.
We really like Cadillac's easy-to-use navigation/infotainment system, and the safety net of OnStar.
Why You Don't
Even for an entry-level engine, the 3.0-liter feels a little coarse for Cadillac application, despite decent output levels.
Flashy, chrome-heavy, and busy interior treatment feels very dated compared to clean styling from Audi or Saab, for instance.
Middle-of-the-road driving dynamics dull the advantage of stick-shift availability somewhat.
Hyundai Genesis
The Basics
If you're looking for masses of options, the Hyundai Genesis is not for you—the Korean luxury model has got a refreshingly simple model lineup and features suite. Great value follows with that, too. The Genesis sedan has been around the US since the summer of 2008, with an update in 2010. The sedan has just received a new freshening for the 2012 model year, but we've yet to drive it (look for that info in next month's installment of Winding Road).
The Genesis sedan can be equipped with either a 3.8-liter V-6 or a 4.6-liter V-8 engine. The 3.8 makes 290 horsepower and 264 pound-feet of torque, and the 4.6 puts out 385 horsepower and 333 pound-feet. Both models make use of six-speed automatic transmissions, but they're different units. The V-8 trans is made by ZF and the V-6 unit comes from Aisin. All Genesis sedans are rear-wheel-drive.
Genesis 3.8 has a curb weight of 3748 pounds, and EPA fuel economy figures of 18/27 mpg. The 4.6 weighs 4012 pounds and offers 17/25 mpg.
With most other measurable areas being at least competitive with the rest of the segment Genesis pricing helps give the model an edge of sorts. MSRP for the base Genesis 3.8 is $33,000 and you'll need exactly ten grand more to get into a 4.6. The only cost options you can add to the Genesis 4.6 are an iPod cable, wheel locks, and a cargo tray. Those items, along with $850 for destination make the full-fat car only $44,035. Considering the bargain, that's exactly how we'd spec the WR car, too.
Why You Want It
The Hyundai is absolutely unbeatable when it comes to value. With a fully optioned V-8 coming in at just over $44K.
Lack of confusing option sheets make the Hyundai purchasing process a simple one. Buyers only have to choose engines and colors.
Addition of an R-Spec trim level for 2012 model year gives the Genesis a more aggressive stance, which should hold up well against some of the more conservative competitors.
Why You Don't
Hyundai doesn't have the kind of brand pedigree that the rest of the marques in this class enjoy.
The exterior design lacks visual punch, while the interior doesn't feel as high-quality as other cars in this class.
Lack of all-wheel drive limits the Hyundai's appeal in the Snow Belt, while a hybrid-free lineup means fuel misers are left looking elsewhere.
Infiniti M
The Basics
The third-generation Infiniti M made its debut in 2010 for the 2011 model year. At launch, the sleek and swooping M was available as the V-6-powered M37 or the V-8-toting M56. M's first-ever gas/electric hybrid model, the M35h, has just recently gone on sale. All M models come standard with rear-wheel drive, but the M37x and M56x both offer all-wheel drive.
M37 uses a 3.7-liter V-6 to make 330 horsepower and 270 pound-feet of torque. The M35h combines the talents of a 3.5-liter V-6 and a 50-kW electric motor to produce a net max horsepower figure of 360—torque is given as 258 pound-feet from the gas engine and a peak of 199 pound-feet from the electric motor, but those two peaks don't occur simultaneously. (In other words, you're never able to combine the torque peaks for a full 457 pound-feet all at once. Torque is a moving target here.) Output from the M56's 5.6-liter V-8 is much more straightforward: 420 horsepower, 417 pound-feet. All models make use of a seven-speed automatic with a manual shift mode. M37/56 also get a nifty downshift rev-matching feature on their transmissions.
Here's the breakdown of curb weight, weight distribution, and fuel economy for the M line. M37: 3849 pounds, 54/46 percent, 18/26 mpg. M37x: 4045 pounds, 55/45 percent, 17/24 mpg. M35h: 4129 pounds, 51/49 percent, 27/32 mpg. M56: 4019 pounds, 56/44 percent, 16/24 mpg. M56x: 4226 pounds, 57/43 percent, 16/23 mpg.
Model pricing runs $47,700 for the M37, $53,700 for the M35h, and $59,100 for the M56. Add a little more than $2000 to each of the non-hybrid cars for all-wheel drive. Our reckoning makes the top-end price for the M56x out to be nearly $77K. The mix of price, weight distribution, great torque, and fuel economy would most likely make the Winding Road M a hybrid—surprise! We'd probably shell out some bucks for Infiniti's beautiful silver-powdered white ash trim, along with the packages required to get navigation, and the kick-ass, 16-speaker Bose audio system. All in we'd total $61,725 for our dream M.
Why You Want It
Stunning powertrain lineup. V-8, V-6, and hybrid models are all compelling to drive versus their respective competitive sets.
Cabin materials and design are among our favorites here. Particularly interesting are the unique Forest Air HVAC system and cool wood trims.
Slightly looser driving character for the rear-wheel-drive cars will find a happy audience in those that like to get a little crazy sometimes.
Why You Don't
Infiniti pricing is on par with the German models, without, perhaps, quite the same brand cachet.
Swoopy exterior styling is bold enough that it'll turn away some of the more conservative shoppers.
No manual option. Almost sixty-large is a lot for the "fuel efficient" version—even if the hybrid is a hoot to drive.
Jaguar XF
The Basics
The Jaguar XF's all-V-8 lineup helps one to instantly understand that the British carmaker is only aiming for the top part of this market segment. Certainly, the "base" version of the posh XF competes with the top versions of most of the other competitors here, while the higher-spec Jag would, realistically, only be cross-shopped with the out-and-out performance versions of these sedans.
Starting with the 2011 model year, Jaguar has utilized a two-engine strategy for the XF, both based on the company's direct-injection, 5.0-liter V-8. The base XF uses a naturally aspirated version of the 5.0-liter, which makes 385 horsepower, and 380 pound-feet of torque. The XF Supercharged uses—you guessed it—a supercharger to boost output to 470 horsepower, and 424 pound-feet of torque. All XF models make use of a sequentially shifted six-speed automatic, with paddle shifters (no shift level on the tunnel though, with Jag's rotary dial gear selector). The XF model is only available as a rear-drive vehicle.
The standard XF 5.0 weighs in at 4067 pounds and is rated for city/highway fuel economy of 16/23 mpg. The XF Supercharged is a heftier 4306 pounds and carries EPA fuel numbers of 15/21 mpg.
Jaguar XF's MSRP may be on the higher end of the cars shown here, but considering the power and performance on offer, we're still tempted to say that the car offers good value. A base XF starts off at $52,500 and the XF Supercharged climbs to an MSRP of $67,600. Fully equip the XF Super, and you can certainly spend close to $80K, but the Jaguar website configuration tool is so outdated that we can't come close to a "real" number here. (Note to Jaguar PR reps reading this—it's time for a website update!) Winding Road-spec here would simply be the base car with a few grand spent on the optional nineteen-inch wheels—the NA V-8 has plenty of power, and makes the nose just a bit lighter for good handling manners—for a total of $55,575 (we think).
Why You Want It
Both the naturally aspirated and supercharged engines offer a really nice sound. Power is unmatched in the segment.
The ride is comfortable—if not totally plugged in to the driver—even under aggressive cornering and at ludicrous speeds.
The cabin is also very comfortable, with quality materials throughout. It feels notably upscale and special.
Why You Don't
No manual transmission option offered on the XF. What's worse, the rotary gear selector is kind of on the gimmicky side.
The XF, thanks to those brutal V-8s, is a bit thirsty for fuel compared to others in this segment.
With rear-wheel drive being the only option, northerners might see the functionality decrease in the winter.
Lexus GS
The Basics
This current and third-generation of the Lexus GS is on its way out the door. The automaker revealed a LF-Gh concept at this year's New York Auto Show that points the way toward the future for the model, but for now the end-of-cycle GS is what you'll find at your local dealership. The good news here is that deals should be much easier to come by at this stage of model life. The current GS line is a full one, too, with V-8, V-6, and hybrid powertrains, all- and rear-wheel drive, and three distinct transmissions. Let's go bargain hunting.
The GS350 starts things off, with its direct-injection 3.5-liter, 303-horsepower, 274-pound-feet-of-torque V-6. That engine is paired to a six-speed automatic transmission. Next up is the GS460's 4.6-liter V-8, which makes 342 horsepower and 339 pound-feet. The GS460 gets an eight-speed automatic. The hybrid GS450h mates a 3.5-liter V-6 to an electric motor for a total of 340 horsepower, and is matched with an electronically controlled CVT.
The GS350 has a curb weight of 3795 pounds (3965 for AWD), a weight distribution of 52/48 percent (53/47 for AWD), and fuel economy numbers of 19/26 mpg, city/highway (18/25 for AWD). The GS460 weighs 3945 pounds, has 53/47 distribution, and econ of 17/24 mpg. The big daddy GS450h tips in at 4134 with 51/49 distribution and EPA ratings of 22/25 mpg.
MSRPs for the GS350, GS460, and GS450h read $46,100, $54,570, and $58,050, respectively. The GS350 AWD is $48,050. Add the evocatively named "Package C" (basically all the normal options) to the price of the hybrid, along with some F Sport wheels, and you'll get up to the fully loaded GS price of just over $68K. Our favorite model would be the GS460 with the $3K options pack for a total of $58,390. We'd be tempted to add some cool wheels for a minute, but ultimately resign ourselves to the fact that this is not a car that will be much mistaken for cool.
Why You Want It
One of the only cars in this class to offer a hybrid drivetrain, based on parent company Toyota's excellent Synergy Hybrid Drive.
Clean, understated interior and exterior design is a welcome breather from the current swoopy, organically derived shapes that have come to market recently.
If you care about brand image, then Lexus is a smart choice. Toyota's luxury brand is consistently competing with rivals BMW and Mercedes for the ultimate sales crown.
Why You Don't
Feeling quite dated, especially compared to its Teutonic rivals. There is a new GS on the way, but it won't hit dealers for quite some time.
GS460 feels a bit short on power, and with a nicely equipped model ticking over $58K, it's a bit too close in price to the more powerful entries from Infiniti, BMW, and Mercedes-Benz.
Lackluster steering and a squishy suspension don't do the GS any favors when it comes to driver involvement.
Lincoln MKS
The Basics
Lincoln's MKS is in its very first generation, though the model has been around since the 2009 model year. The more powerful EcoBoost engine was added to the MKS stable for the 2010 model year. The EcoBoost model gets an all-wheel-drive driveline as standard, while the base car can be ordered with front- or all-wheel drive.
As we mentioned, there are just two engines to cover for the Lincoln. The MKS base engine is Ford's 3.7-liter Duratec V-6, producing 273 horsepower and 270 pound-feet of torque. The up-level EcoBoost engine is a direct-injection, biturbocharged 3.5-liter V-6 that makes 355 horsepower and 350 pound-feet of torque. Both engines make use of a paddle-shifted six-speed automatic transmission.
The base MKS 3.7 measures out at 4127 pounds (4276 for AWD) and offers 17/24 mpg fuel economy (16/23 for AWD). The EcoBoost MKS weights 4276 pounds and can return 17/25 mpg, city/highway.
Lincoln asks $41,500 for the front-driver 3.7-liter MKS, or $43,390 for the all-wheel-drive version of the same car. The always-AWD MKS EcoBoost has a starting sticker of $48,390. Lincoln has plenty of toys to option onto the MKS, too. Add on the stylish EcoBoost appearance package, twenty-inch chrome wheels, adaptive cruise control, and more, and you could end up with the highest possible sticker price of almost $61K. A much more reasonable path would be to opt for Winding Road-spec, an EcoBoost MKS with the value-rich Rapid Spec package, for a total of $50,467.
Why You Want It
The large exterior dimensions and bold, squared-off styling are a nice interpretation of a classic American sedan.
EcoBoost car offers V-8-rivaling power with tons of torque and decent fuel economy intact.
High-speed ride is whisper quiet. Excellent available audio (and great tech overall) means you'll have good sound to fill that space, too.
Why You Don't
Despite the large exterior dimensions, seating isn't as generous as you'd hope.
For younger buyers, Lincoln is something of a question mark in terms of brand values/statement.
Frankly, almost all of the MKS goodness can be had in the less-expensive and slightly cooler Ford Taurus SHO.
Mercedes-Benz E-Class
The Basics
Mercedes has offered a version of the E-Class for more than 50 years, and it continues today as an executive sedan with V-6 and V-8 engine options, and rear- and all-wheel-drive layouts. This year included the E350 BlueTec sedan for the United States, featuring a turbocharged diesel engine and greater fuel economy (not to mention a meaty portion of torque). Also available, but not discussed here, are the terrific E350 4Matic Wagon, and the super sporty, 518-horsepower E63 AMG.
Excluding the hardcore E63 AMG, the Mercedes-Benz E-Class features three different engines. The E350 BlueTec's 3.0-liter turbodiesel V-6 produces 210 horsepower and an impressive 400 pound-feet of torque. The standard, gasoline-powered E350 has a 3.5-liter V-6 capable of 268 horsepower and 258 pound-feet of torque. The E550's 5.5-liter V-8 makes 382 horsepower and 391 pound-feet of torque. Each version uses a seven-speed automatic transmission. They are rear-wheel-drive, but both the E350 and E550 have available 4Matic versions, which use Mercedes-Benz's all-wheel drive system.
The E350 BlueTec has a curb weight of 4059 pounds, and fuel economy numbers of 22 miles per gallon in the city, and 33 highway. The E350 weighs 3825 pounds in its standard form, and the 4Matic version weighs 3979 pounds. They get 17/24 and 16/24 mpg, respectively. The E550 weighs 4034 pounds, the E550 4Matic weighs 4145 pounds, and both get 15/23 mpg.
The E-Class range starts at $49,400 for the standard E350, while the E350 4Matic begins at $51,900. The E350 BlueTec starts at $50,900. The V-8-powered E550 costs $57,100, with the 4Matic version fetching $59,600. One could end up paying $90,302 for the top-of-the-line E550 4Matic, which includes Diamond White Metallic paint, navigation, rear-seat entertainment, night-view assist, parking guidance, eighteen-inch, two-tone wheels, 50,000-mile/5-year prepaid maintenance, a whole slew of accessories (including something called a "comfort box"), and more things, many of which no buyer would probably include all together. The WR-spec version of the E550 would include the Sport Styling package (including sport suspension, AMG steering wheel, and eighteen-inch light allow wheels), Premium package (which includes navigation), and drive-dynamic multicontour driver's seat, for a total of $63,085.
Why You Want It
While there is a level of prestige that comes from driving any car in this segment, the three-pointed star still carries more gravitas than the rest of the field.
Comfortable seating, excellent touch points, and refined ride/handling all serve M-B brand values well.
E350 BlueTec is the only diesel in the segment, and a good one, at that.
Why You Don't
Handling defers to "safe and solid" feeling over "sporting." Engines follow suit with power that is adequate but not overwhelming (until the AMG badges start flowing).
Pricing starts out near the top of the segment, with options that aren't inexpensive.
Despite overt quality of materials, we'd like to see M-B get just a little bit more modern in terms of interior styling.
Saab 9-5
The Basics
The all-new Saab 9-5 was launched under Spyker ownership after being bought from General Motors, essentially saving the brand. For the first time, it offers Saab's DriveSense technology, which is basically a form of electronic damping control. DriveSense modes include Comfort, Sport, and Intelligent, the latter of which automatically adapts suspension stiffness to the driving style in real time.
The base powerplant for the Saab 9-5 is a turbocharged 2.0-liter four-cylinder engine producing 220 horsepower and 258 pound-feet of torque. The four-cylinder engines use direct injection and can run on E85 bioethanol. The Turbo6 and Aero models use a turbocharged 2.8-liter V-6 making 300 horsepower and 295 pound-feet of torque. Both the I-4 and V-6 use twin-scroll turbochargers for forced induction. The Turbo6 and Aero models feature Saab's XWD all-wheel drive system. The Turbo4, which is front-wheel drive, comes with either a six-speed automatic or six-speed manual transmission, while the V-6 only offers the automatic.
The base 9-5 Turbo4 weighs 3803 pounds with the manual transmission (no weight distribution available). It gets 20/33 mpg with the manual transmission, and 18/28 with the automatic. With the V-6 engine, the 9-5 starts at 4288 pounds, with the fully loaded car weighing 5442 pounds. The Turbo6 and Aero get 17/27 mpg.
The MSRP for the Saab 9-5 Turbo4 6MT starts at $38,525, with the automatic-transmission version starting at $37,895. The Turbo6 XWD begins at $48,030 and the Aero trim starts at $49,565, but can cost up to $56,345 with optional nineteen-inch wheels, upgraded upholstery, navigation, technology package, and Harman/Kardon surround sound. An ideal WR­-spec 9-5 Turbo6 Aero (which includes the sport chassis) would cost $51,960, as we would include the navigation package.
Why You Want It
The interior design is quite unlike what you'll see in the other cars on this list. The cockpit is very aerospace-inspired and resembles, well, an actual cockpit.
The way the Saab looks sets it apart from other vehicles on the road. Expect a lot of curious onlookers and praise from former Saab owners.
The turbo motors offer up goodly amounts of power when you need it, and still are able to return decent fuel economy figures.
Why You Don't
The low quality of some of the interior materials doesn't help paint the 9-5 as a true luxury car.
Even the base car will seem quite a bit overpriced to many buyers.
Many of the other options feel more effortlessly powerful than the 9-5, especially at the base level.
Volvo S80
The Basics
To say that Volvo's S80 is long in the tooth is almost to do a disservice to long teeth. Still, entering its sixth model year the Swede has seen recent refreshing, and manages to offer just the kind of laidback luxury that most Volvo fans seek out. An unfussy two-engine, two-drive-configuration lineup backs this sensibility up.
The S80 offers buyers a choice of inline-six engines: one turbocharged and one naturally aspirated. The base engine is a 3.2-liter six that makes 240 horsepower and 236 pound-feet of torque, and is equipped exclusively to front-drive S80s. The up-level T6 engine, used in all-wheel-drive-equipped cars, is a turbocharged 3.0-liter I-6 that makes 300 horsepower and 325 pound-feet of torque. Both engines are used via a six-speed automatic transmission.
The S80 3.2 weighs 3761 pounds and returns fuel economy of 19 mpg city, and 27 mpg highway. The more powerful T6 car weighs 4053 pounds and is good for 18/26 mpg. Weight distribution figures are not available for either car.
Prices start at $37,150 for an S80 3.2, while the S80 T6 carries an MSRP of $40,900. Add on all of the Volvo equipment packages, premium metallic paint, and higher-level interior, and you'll get your S80 up to about $55K. We'd most likely opt to add only the Dynamic Package with its sport-tuned chassis, bigger wheels, and xenon headlamps to the S80 T6 AWD, for a total WR-spec price of $43,175.
Why You Want It
Volvo brand values: comfort, safety, and reliability have been borne out in the S80 model.
T6 offers spirited performance that can compete with the likes of 535i and A6 3.0T, but without the price premium.
Like Saab and Acura (and to a certain extent, Hyundai), the S80 is refreshing for not being the slightly austere German norm for this segment.
Why You Don't
Newer, fresher designs certainly exist in the mid-size segment. Even Volvo's own, slightly smaller S60 is probably the more compelling buy here.
No manual transmission or (worse) paddle shift option makes the S80 feel a bit outdated, and not great for the occasional blast of aggressive driving.
If we're opting for a front-driver here, we'd either go for the newer, better looking 9-5 or the less expensive, more fuel efficient TL.