Driven: 2013 Volvo S60 T5 AWD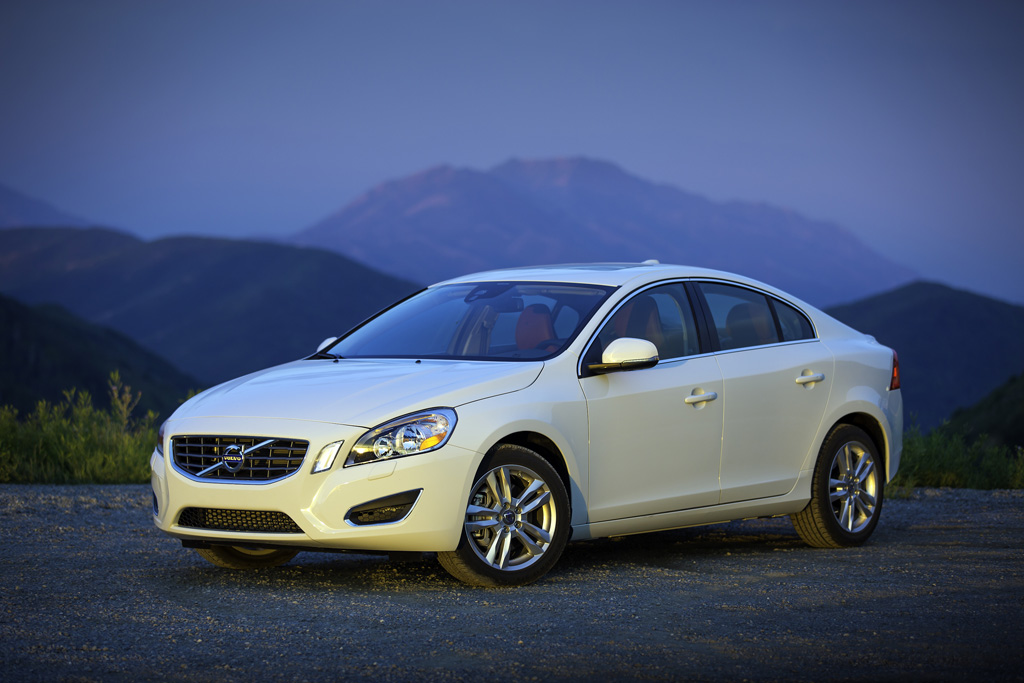 —Park City, Utah
Volvo is finally offering its successful and attractive
S60 sedan
with a combination of all-wheel drive, and turbocharged five-cylinder (T5) power. Though the S60 T5 has previously been available as a front-drive car only, the move for AWD with this powertrain feels like a forward-thinking one, to us and to Volvo (obviously).
From the company's perspective, the T5 AWD car will provide a strong new configuration for a model that has buyers that are clearly concerned with handling and safety in various weather conditions. To date, Volvo has sold 45-percent of S60 models equipped with all-wheel drive, so adding a lower-priced, more fuel efficient version of the car—one with nearly identical levels of available content, too—seems like something that will bring in significant new business. Surely the strong, small-displacement turbocharged cars from BMW, Mercedes-Benz, and Audi makes this a competitive place in the market as well.
From our perspective, the new S60 configuration offers nearly everything that we loved about the original car, but without some of the power that was frankly, a little superfluous. Of course there's nothing wrong with "extra" horsepower, but the S60 T6 always struck us as a vehicle whose engine and handling profiles didn't match entirely. The midsize Volvo offered a sort of medium-soft ride, with relaxed steering, and handling that was fairly sharp but never overly frenetic. The car's beefy engine meanwhile, delivered torque (and subsequent acceleration) that overwhelmed the chilled out nature of the car when one gave it the spurs on an attractive road.
Now with the still-potent-but-not-beastly T5 engine, the moderate and smooth ride and handling balance of the S60 can really shine. On a drive route through Utah and Wyoming that covered 200-plus miles of widely varying terrain—from 75-mile-per-hour sections of freeway, to exceedingly technical mountain roads—we felt encouraged by the S60 T5 AWD to enjoy some of the fun stuff without being power-bullied into overdriving the chassis.
The NVH levels in this new S60's cabin are even lower than in the current car, too. Unless the throttle was completely to the floor, the loudest non-audio system noises we heard all day were the gentle rush of the mountain air around us, and the faintly audible (possibly imagined) whickering of livestock near the road. Nice horsey. Seriously though, this is one silent car.
The steering feel over several road surfaces was more filtered than we had remembered, though not entirely numb. The weighting of the rack was significant at speed, but sort of unnatural feeling, and generally more rubbery around center than we would have liked it to be. In our first stint in the car, and while negotiating long, wide curves, we noticed a sort of surging sensation as the electronic power steering system gave a bevvy of tiny over corrections. Almost as if it were always trying to return to center with just a hair too much force. We'd accept the argument that this setup may give the car more of that "relaxed" feeling to some drivers, but to us it felt a lot like tiny invisible hands tugging at the wheel as we drove wide sweepers.
In any event, straight-line behavior from the steering wheel was just fine. What's more, other than that level of detachment from the road, we actually felt good when steering the S60 through some of the tighter switchbacks we negotiated in the mountains of Utah.
The front end of the car feels more willing to turn in than we'd remembered from our last S60 experience. Grip from the Haldex AWD system feels quite good mid-corner, as well, though there is a bit of a lag in the transition between cornering load and the Volvo taking a set again as the road straightens out. This transition is just long enough to interrupt what would otherwise be a flowing feeling from corner to corner, but isn't startling enough that most drivers will take any notice of it in their day-to-day lives.
What S60 T5 drivers will appreciate every day, is the nicely revised and torquey 2.5-liter engine. The turbocharged T5 is good for 250 horsepower and 266 pound-feet of torque, with an overboost feature that allows for a 10-second burst of 295 pound-feet of torque, in second- through sixth-gear, when wide open throttle is detected. That torque boost effectively gives you the power of the T6 car, when you need it the most, which seems a great compromise to us. The rest of the time, the T5 engine still offers of relative quickness, and no loss of power at the high altitudes (up to 8500 feet) at which we drove the car.
Strategic updates to the T5 engine have netted a faster and more fuel efficient S60 overall. The engineering team have revised the crankshaft, pistons, and piston rings, lowered engine friction overall, and increased compression. The performance results of all of that include a faster 0-60 mph time (6.6 seconds) and improved fuel economy (23/29, city/highway mpg).
We're not as enthralled by Volvo's six-speed automatic transmission as we are by the improved inline-five, however. Though it may well be a product of the adventurous terrain we were driving on, the trans often seemed to be shifting around an awful lot as we went down the road. Both the standard Drive mode, and the Sport mode exhibited this behavior too, which was more annoying than anything, if we're honest. Volvo claims that shift times have been reduced for the six-speed, too, though the difference in manual mode seems subtle, at least.
Perhaps the most brilliant thing about the new S60 configuration though, is the way it seems poised to compete with other base-model competitors in this premium, midsize segment. Audi's A4 2.0T Quattro, perhaps the most directly relevant competitor, has less power, is a few mpg higher in its city rating, and carries a very similar MSRP ($33,400 for the A4, $33,750 for the S60). If you spec your comparative A4 to include the optional automatic (an eight-speed versus Volvo's six-speed, we'll grant you), it climbs to nearly a thousand clams more than the S60. Base model, all-wheel-drive examples from Mercedes, Infiniti, BMW, and Lexus offer similar stories of less power for more money. The paper argument is pretty strong in Volvo's favor then.
Usually at this point in the argument we'd talk about how those other low-end premium cars offer a bit more driving satisfaction in return for their higher asking prices. But the fact of the matter is, with some reservations about the Bimmer and the Audi, all of the cars in the competitive set are pretty mild to drive, too, making the dollars-and-cents argument far more compelling, even for driving geeks like us.
Here's the truth: take any car at all over the brilliant roads that we drove in the great American West, and, unless you're numb to fun altogether, you'll have a great time. Do so in a car as good looking, comfortable, and satisfying to drive as the S60 T5 AWD, and you're likely to remember it for life. We think that Volvo has a successful second chapter to its S60 story here—bottom line.
2013 Volvo S60 T5 AWD
Engine: Turbocharged Inline-5, 2.5 liters, 20v
Output: 250 hp/266 lb-ft
0-60 MPH: 6.6 sec
Weight: 3702 lb
Fuel Economy, City/Hwy: 23/29 mpg
Base Price: $33,750
On Sale: August 2012