Driven: 2013 Mercedes-Benz SL550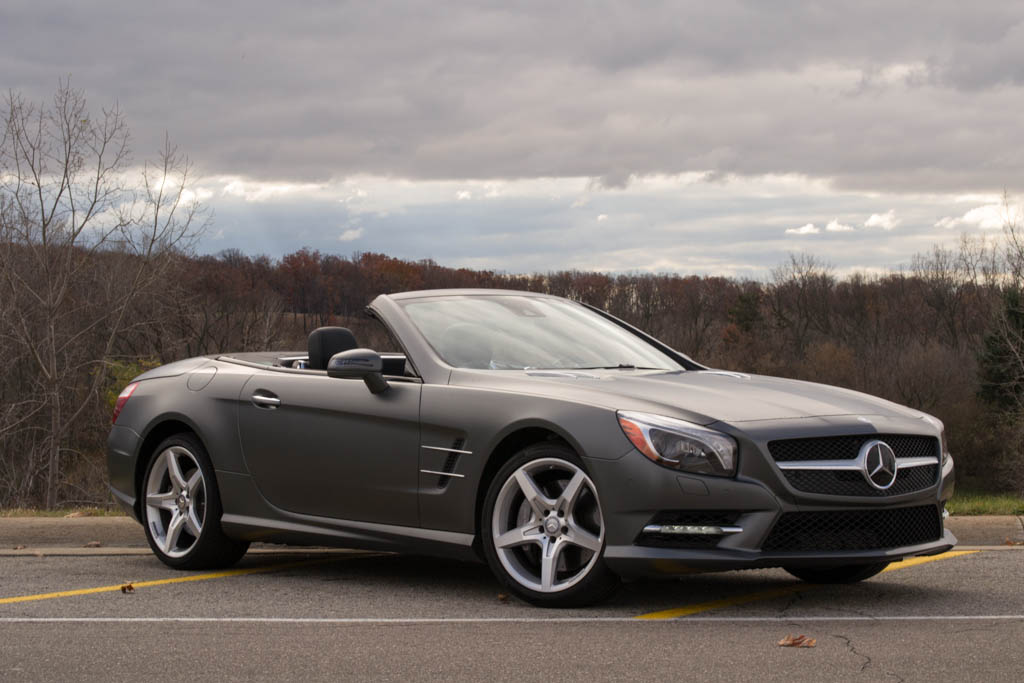 —Lake Orion, Michigan
What is money? Seems like an obvious answer, right? It's green and white paper that we all obsessively try to collect. That's money. The thing is, though, that's a little bit too cut-and-dry of an answer. Money is a sky box at the Super Bowl. Every year. Money is an Ace Of Spades mimosa. Money is using Rolexes as stocking stuffers. Money is getting something that's already cool, and taking it beyond. Sort of like the matte gray Mercedes-Benz SL550 you see above.
During this author's nearly three-year tenure, we've had no more ostentatious of a car in the office (that's including the Aston Martins, Ferrari, and Porsches), thanks in large part to that stealthy matte gray paint job. This is more than just a skin-deep car, though. It's the 2013 SL550. With respect to the awe-inspiring SLS AMG Roadster, the SL is the flagship. It's the car that comes to mind when someone says "Mercedes-Benz convertible." And it's an indelible sign of wealth.
For 2013, the SL has been given a pretty hefty going over, and in the process became more of a polarizing piece of design. We'll admit, from the front, it's not a hugely beautiful car. To be honest, it looks like someone took a shovel to the face of the last SL. The lights give it an almost cross-eyed look, and the grille is overlarge. But the most heinous thing is just the upright stature. There's no sleekness or curviness to it. The upright fascia isn't becoming on what's supposed to be an elegant roadster. It's square jaw is just off-putting, making the SL look more Schwarzenegger than Klum (it should be noted, though, that European pedestrian safety standards are playing an increasingly large part in the designs of modern European cars, and that this upright look will only become more common).
On the bright side, the SL tends to being going forward a lot of the time, so there were no pedestrian standards to muck up the design of the back of the SL. It's a classic, handsome look, with the attractive LED taillights sharing their shape with the past couple generations of SL. The profile is equally good looking. Despite the new face, the SL's proportions are just as eye-pleasing as ever. A long hood and a short deck will never look bad.
The interior, as is to be expected of a $132,000 Mercedes, is beautiful. The black leather that covers the seats is soft and supple, while the black Ash wood trim classes up the interior in a way that carbon fiber or piano black trim just can't. The metal pieces feel as if they're hewn from solid aluminum, particularly the tiny shifter and each of the steering wheel spokes.
Major driver touch points were just what we expected on a slinky two-seater, with a meaty, flat-bottomed steering wheel, finished in fine, perforated leather. A pair of paddles sat behind it that were nice when we used them, but were generally unnecessary (we'll talk about that in a moment). The seats were adjustable 324 ways (or so it seemed), allowing us to really find an appropriate driving position with ease.
The view over the long matte hood is an impressive one, while the A-pillars do little to obscure line of sight. Even with the top up, visibility is quite good. Call it a benefit of a hardtop convertible, but we barely had any issues with blind spots. Speaking of that top, it can be raised and lowered rather quickly. It's not as cool as some of the newer vehicles that can raise/lower their roofs while moving (the ultimate way of saying "I'm awesome" while behind the wheel), but we'd feel comfortable adjusting the roof at a traffic light.
We'd be remiss if we didn't mention the sheer level of tech in our tester. When we had the top up, we had plenty of time to play with MB's cool Magic Sky Control. It's a feature we've written about before, and one that continues to impress us each time we encounter it. It's got to be just a matter of time before Mercedes gives a normal hardtop a similar treatment in lieu of a traditional sunroof. We've also got some great things to say about Bang and Olufsen's BeoSound stereo. Simply put, audiophiles will love it.
Now, the heart and soul of our little Silver Arrow is a 4.6-liter, biturbocharged V-8. It churns out 429 horsepower and 516 pound-feet of torque, allowing the SL to sprint to 60 miles per hour in a scant 4.5 seconds. Wait, that's not fast enough for you? Good, because if there isn't some sandbagging at work here, we'll eat our stinkiest pair of Pumas. After a week of driving the SL, we wouldn't be surprised to see it crack 60 mph a few tenths faster.
So yeah, it's fast. Here's why. As if that 516-pound-foot figure isn't impressive enough, 100 percent of it is on tap at 1800 rpm. Run hard, peak torque will run out at 3500 rpm. Let's repeat that: 516 pound-feet of torque is available from 1800 to 3500 rpm. Not surprisingly, off-the-line acceleration is impressive. The big, optional 19-inch rubber had little trouble hooking up when we mashed the gas pedal, and with a bellow from under the hood we were pinned back in the leather seats.
Initial acceleration is addicting, but it was the mid-range punch and the run up to redline that were most exciting. Of course, by this point we were going
quite
fast. Yes, this is the slowest member of the SL range, but honestly, we can't really see why anyone would need an
SL63 AMG
. The 550 would do a fine job of making the careless carless.
Of course, the benefit of opting for an SL AMG might be the sound. Truth be told, that was the one area we found somewhat underwhelming. With the top up, it's clear there's some power available, but the noise is demure in character. Put the top down, and the volume increases predictably, but the spine-tingling note that we associate with a Mercedes V-8 only really arrives when you beat the snot out of the biturbo 4.6.
As potent as the engine is, it may come as a surprise that we were more impressed with the way it sipped fuel. Mercedes has really nailed the fuel economy systems in its vehicles, and the SL is no exception. It's rated at 16 miles per gallon in the city and 24 mpg on the highway, with a combined rating of 19 mpg. It's not a hugely impressive number until you experience the way this car can go from being caned to just cruising. In fact, we spent the majority of our time with it in Eco mode, only switching off when we really felt like pushing hard. The throttle response is still reasonably sharp in Eco, but it feels more manageable and easier to modulate in regular driving.
Channeling power to the rear wheels is a seven-speed automatic. While not a dual-clutch transmission like the AMG cars, this one is fast and responsive when put in manual mode. It's rare for us to find a full auto with a tolerable manual mode in (take the
Mercedes ML63 AMG
, for example), but the SL's gearbox is a winner. Better than the manual mode, though, is when it's left on its own. Left in Eco mode, it does a fine job of swapping cogs. Upshifts are barely felt and downshifts are easy to elicit with a little extra boot. Sport is fine for speeding things up, but more often than not we just switched to manual.
Perhaps the shining star in the SL experience is its ability to blend a smooth, refined ride with an ability to tackle turns with more aggression than its size or weight would indicate. This is down to the SL's Active Body Control system (a worthwhile $4090 option). ABC is a fully active hydraulic suspension designed to quash negative handling characteristics like roll, squat and dive.
In Comfort mode, it smoothens out even the harshest of imperfections. The result is one of the smoothest-riding sports cars we've tested in some time. There's little to no vertical motion on undulating roads, resulting in a character that feels planted and poised. Furthermore, impacts are rarely transmitted to the driver, even on some of the harsher roads we experienced around southeastern Michigan.
Switch over to Sport mode and the SL is transformed. Roll, squat, and dive are almost completely nullified. On tight, winding roads, the SL feels agile and pointy, changing direction in a highly stable manner. Even mid-corner bumps do little to throw the 550 off its game. It's not prone to rotation, though, feeling just a little bit too planted. This characteristic also doesn't lend itself to a high degree of feedback through the chassis. The SL's handling potential is clear from the first bend, but it's not easy to determine where the limit is.
This is confounded by the electromechanical power steering. It's very nicely weighted, with the heft building progressively as the wheel turns. Feedback on center isn't abundant, though, and doesn't improve especially through the turns. It's not a particularly bad thing. We sort of treated this as a reminder that the SL is, at its core, still a big, comfortable cruiser.
And that's kind of the overarching theme of the SL550. As impressive as its speed and agility are, they're trumped by the way it feels traveling, at speed, down a stretch of highway. It's quiet, poised, and comfortable in a way that few vehicles can mange. It is a cruise missile of a car, designed purely to get you and a lucky passenger to your destination as fast and as comfortable as it can manage. It is a brilliant, brilliant piece of machinery, and is worth every penny of its six-figure price tag.
2013 Mercedes-Benz SL550
Engine: Biturbocharged V-8, 4.6 liters, 32v
Output: 429 hp/516 lb-ft
0-60 MPH: 4.5 sec
Weight: 4001 lb
Fuel Economy, City/Hwy: 16/24 mpg
Base Price: $105,500
As Tested: $132,045