Driven: 2013 Chevrolet Malibu Eco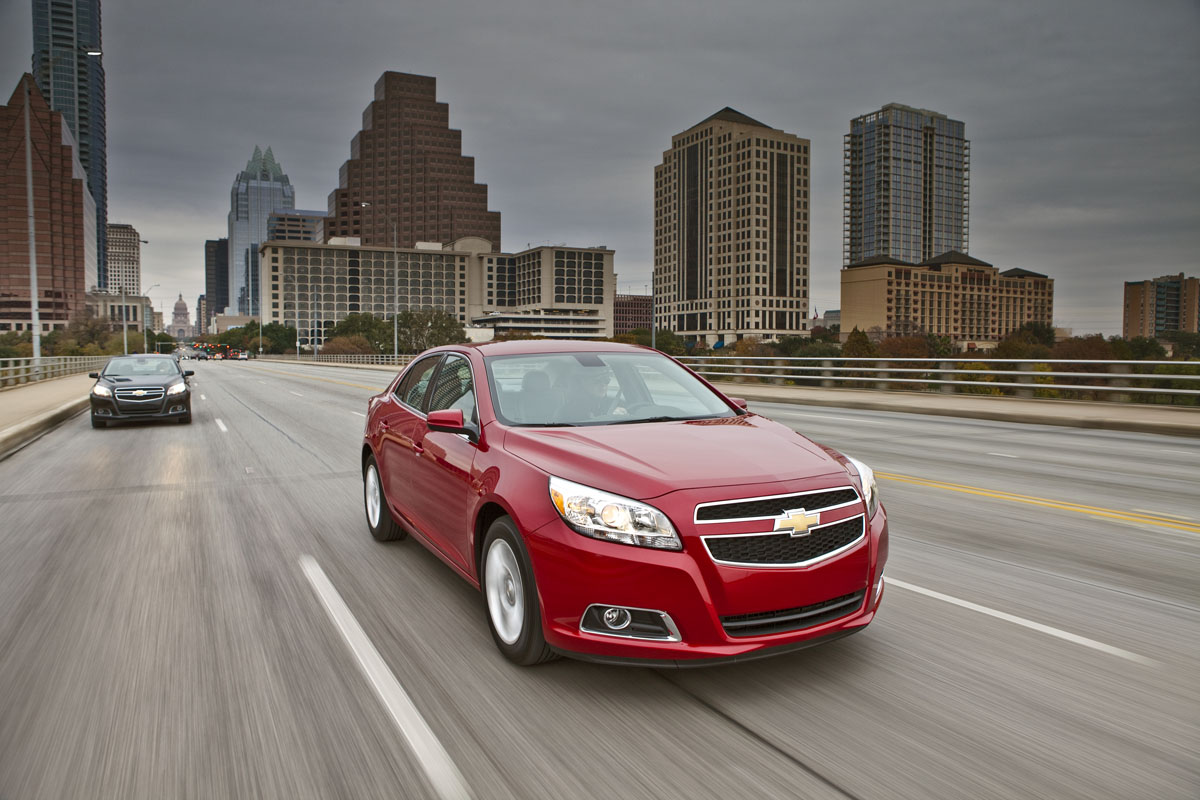 —Austin, Texas
So, you want to buy a hybrid sedan. Fair enough; let's do this.
Before we get to talking about the new, 2013 model year Chevrolet Malibu Eco though ("Eco" being shorthand for "mild hybrid" in this new Malibu-speak), let us narrow down the field for you a little bit.
Within the mainstream portion of the segment—a piece of territory populated exclusively by American, Japanese, and Korean automakers—Nissan, Ford, Toyota, Hyundai, and Kia all make mid-size hybrid sedans that compete directly with Chevy's Malibu. (We'd like to make the argument that Volkswagen's Passat TDI competes, and wins in this group, too, but we'll stick with hybrids for the time being.) All of the cars here offer either 2.4- or 2.5-liter four-cylinder engines, augmented with mildly different flavors of electric motor. Of the competitive set, Nissan's Altima hybrid is the easiest to cut, as its 33/33-mpg ratings, city/highway, are far and away the least compelling. A hybrid sedan needs to achieve kicking mpgs, first and foremost. Next out is the Ford Fusion, which, despite being a car that we're fairly fond of (and one due for replacement any second now), paces the field in terms of maximum starting price.
You can take your pick from the Hyundai Sonata and Kia Optima hybrids; both offer class-leading economy on the highway (40 mpg), competitive pricing, and perhaps the first and second most interesting styling in this conservative batch of vehicles. The Sonata's slightly lower price keeps this from being a total coin flip. The Hyundai stays.
And, of course, Toyota's Camry gets a shot at the Malibu Eco—who are we kidding, it's the Malibu that'll have to work to beat up on the top-dog Camry. Not only has Toyota dominated the hybrid conversation since there's been a hybrid conversation, reports from all quarters have proclaimed this brand-new Camry Hybrid as the best version of the entire revamped Camry lineup.
[Read our review of the 2012 Toyota Camry]
Brass tacks: Both the Camry (43 city/39 highway) and Sonata (35 city/40 highway) hybrids beat the Malibu (25 city/37 highway) in terms of fuel economy. Both the Camry ($25,900) and the Sonata ($25,795) just pip the Malibu ($25,996) in terms of base price, too.
So what, if anything, should/will make this new Malibu stand out to you? How can a reasonably resurgent Chevy hope to compete with the numbers game so stacked against its gas/electric warrior? Chevy's answer, one that should interest the typical Winding Road reader, we'd guess, is that the Malibu is a better, more engaging, less hybrid-like car to drive.
Chevy's eAssist powertrain, a lighter weight, less expensive solution than full hybrid systems like Toyota's, will never be class-leading in terms of fuel economy, but it does offer a driving experience that is more like a traditional gas-only powertrain. With more torque on hand, especially, acceleration felt strong for the class, and quite linear in its application when compared with the straining of most hybrids. The Malibu's stop/start system is exceptionally smooth, too, with virtually no noticeable "jump" when the motor starts up. All of that lets you more or less forget that you're in a hybrid at all, when driving the Eco.
Better still, the Malibu doesn't feel completely lost when the roads under tire begin to twist. We felt a light dose of steering feel when piloting the Eco over some of our favorite Hill Country roads—not so much feedback that Evo drivers should be concerned, but enough to rate highly within the hybrid class. Likewise, turn-in and overall mid-corner control felt better than expected, when we cornered at speeds that approached fun-but-not-aggressive. The car's low-rolling resistance Goodyear tires weren't quite as painful as we expect from that genre of rubber, as well.
Certainly, though, the Malibu Eco's biggest single strength, especially in the realm of what we perceive to be hybrid-buyer wants and needs, is the exceptionally refined in-cabin experience. Tons of aero work, noise isolation engineering, and the aforementioned tires go a huge distance to making the Eco a super-quiet cruiser. Step on the throttle with authority, and you will hear proof that there's an actual engine under the hood—a fact that you might dispute when cruising in sixth gear at 70 miles per hour. Sit back, turn up the stereo system through the fancy MyLink infotaiment interface, and get your commute on; you've just found the Malibu Eco's sweet spot.
Helping to create that sweet spot is a six-speed automatic transmission that operates with a great deal of smoothness when left to its own devices, without being particularly fond of being shifted by the driver (via a tunnel-mounted up/down lever). Just leave the trans in D, guys. We were quickly trained by the rather thrashy (when we could hear it) note of the engine at high revs to back off the gear selecting.
Interior fit, finish, and design are a cut above the last-generation Malibu, and it certainly won't disgrace itself against the newest competitors. The sweep of the dash is rather dramatic, especially because of the ice-blue backlighting, and there seems to be a solid selection of interesting cup holders, nooks, and crannies with which to accommodate the stuff of your life. Chevy loves the little cubby that it designed in behind the flip-up central touch screen display, and, despite the mechanism feeling kind of flimsy to us, we think this space shows real promise. After a few hours of driving, we found the hidden compartment to be pleasantly warmed by the fronting electronics, offering perhaps the perfect space with which to keep your drive-thru breakfast or lunch warm on the way back to the office (it's pretty obvious we're hungry as we write this, isn't it?). Never eat a cold Egg McMuffin again.
If we're totally honest, we think that the Chevy Malibu Eco exists because it has to, and not because it offers a truly unique proposition to hybrid shoppers. Chevy-for-life types will happily take what Malibu is offering here, and previous Malibu hybrid drivers will absolutely see progress in this new model. What's more, we fully expect the non-hybrid Malibu to present a rousing challenge to the gas-only mid-sizers. But the Eco uses less-well-conceived hybrid tech, to achieve worse-than-average hybrid fuel economy, and for just about the same money as its toughest competitors. The slight bonus to driving engagement vis-à-vis the hybrid set doesn't make this Malibu anything like a driver's car, despite being far less of a penalty box than gas/electrics past.
2013 Chevrolet Malibu Eco
Engine: Inline-4, 2.4 liters, 16v and electric motor
Output: 182 hp/172 lb-ft
Weight: 3620 lb
Fuel Economy, City/Hwy: 25/37 mpg
Base Price: $25,996
On Sale: February 2012