Quick Drive: 2012 Honda Pilot Touring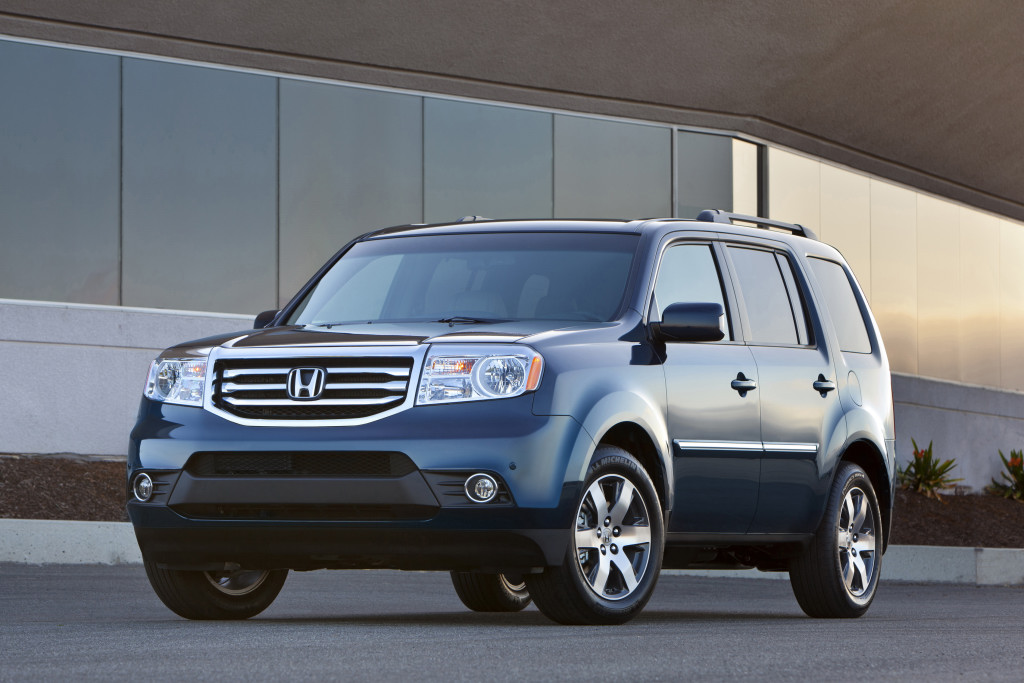 The problem I have with the Pilot is that there isn't anything really remarkable about it. Its 3.5-liter V-6 is uninspiring, providing just enough grunt to not feel slow. Mid-range power was its strongest trait, with both low-end shove and high-end power feeling simply average.
The ride/handling balance is tipped squarely in favor of comfort. The Pilot delivers decent highway stability, but lacks the outright handling ability of a competitor like the
Ford Explorer
. There's too much body roll and brake dive, and when pushed hard, the Honda just doesn't feel overly confident. For comfort though, the ride delivers better results. The secondary ride is quite good, doing a fine job of soaking up imperfections in a smooth and controllable manner. We'd like a bit tidier primary ride though, as the Pilot tended to feel floaty at times.
I'd be remiss if I didn't mention the Pilot's biggest calling card—eight-passenger seating. Front seat passengers are well catered too, with plenty of space between driver and passenger. The second row also isn't a bad place to spend time, although we'd love to see an optional captain's chair package from Honda, as we'd rather sit back in the third row than cram ourselves into the middle of the second row bench. The third row itself isn't bad, although it's slightly more cramped than the already uncomfortable Ford Explorer. Indeed, it is easier to get into and out of than the Ford.
The biggest issue with the Pilot is that Honda already has a great eight-passenger vehicle, called the
Odyssey
(stop laughing). It's more comfortable, more economical (18/27 in the base, and 19/28 in the loaded model, compared to 17 city and 24 highway miles per gallon for our tester), and when loaded out it packs more equipment for an easy-to-swallow price increase. Do yourself a favor, buy the van.
—Brandon Turkus, Online Editor
With respect to my Online Editor, and his machinations toward the minivanification of the American Driver, I'd like to point out that many of our esteemed readers might consider buying a minivan something closer to torture than doing themselves "a favor." You guys can feel free to weigh in here, if you think I'm wrong. That the Pilot lacks for dynamic charm when compared with newer, smaller, or more powerful SUVs is no stretch, but please believe that it's a fair bit more rewarding to drive than a selection from the, admittedly more practical, pleasure barge category.
More, I actually like the execution of the Pilot, which harkens back to the last era of Hondas, before they went mostly squirrelly on interior redesigns. The cabin has big, good-to-grab-onto shapes and textures, chunky stalks and buttons, and a general Tonka toy vibe that feels pleasantly robust, if a wee bit simple.
With that said, Brandon's not wrong about newer SUV competitors like the Explorer. That Ford, in particular, has it all over Honda's big SUV in terms of creature comforts, power, and handling. Only the certain-to-be-punitive eighth chair separates the Honda in a positive way. From a driver's perspective we'd even suggest that the smaller and less expensive Mitsubishi Outlander—itself a bit of a throwback SUV—might be a more entertaining choice. Let's just leave this talk of minivan buying for when we're really sure we need to go there.
—Seyth Miersma, Editor-In-Chief
Pros
Soaks up the bumps very nicely
Fuel economy is, thanks to the V-6, above average for an eight-passenger anything
Pilot's cabin, though a bit toy-like, is a pleasing place to cruise
Cons
Horsepower from the 3.5-liter V-6 is less than competitive with newer SUVs in this class
Handling and inputs are numb, even for this segment
Your average minivan has a bigger TV for the kids, if you're into that sort of thing