Driven: 2011 Aston Martin Rapide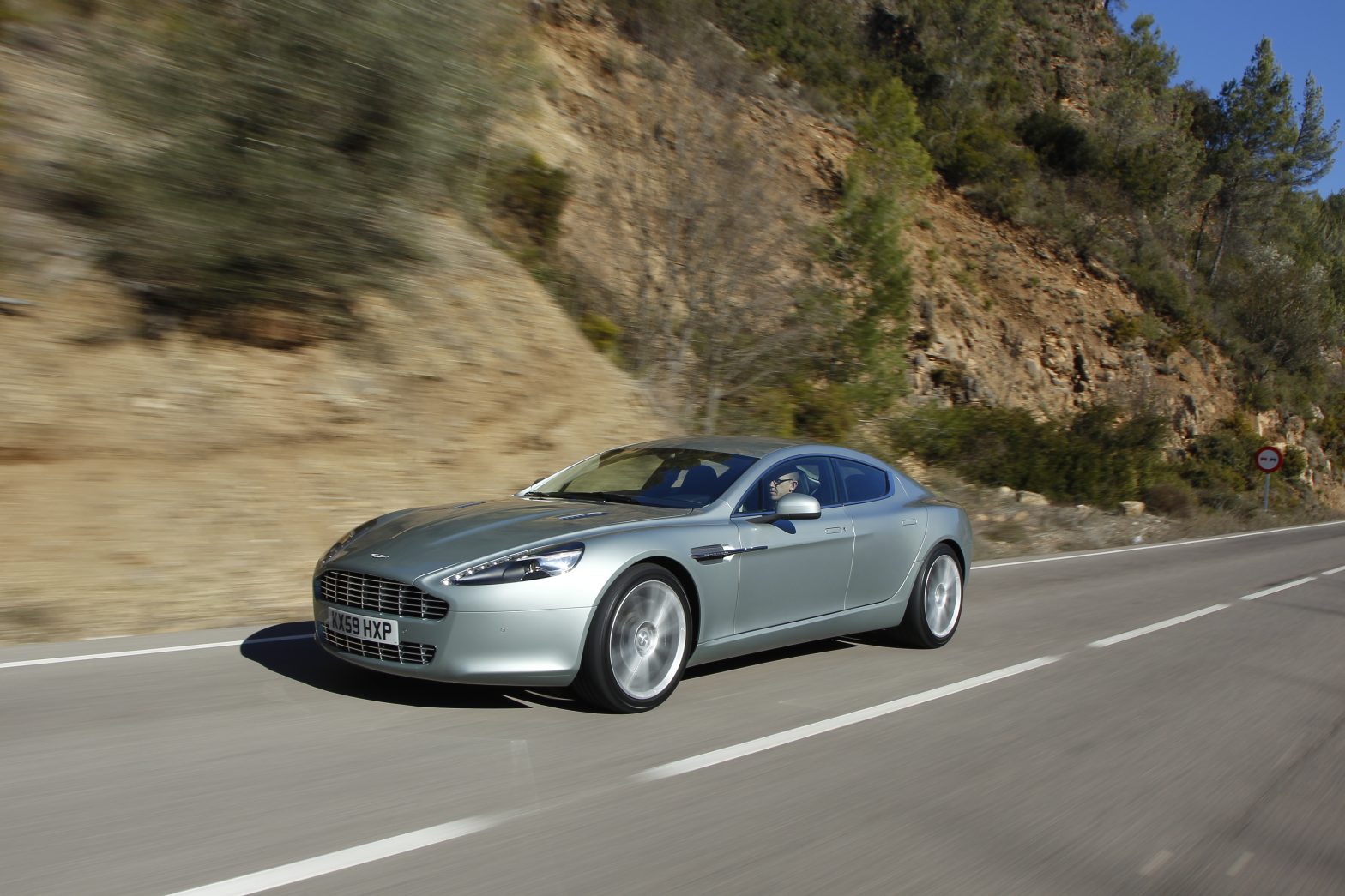 Few companies are as enthroned in their heritage and trying to diversify as is Aston Martin. The (count 'em) four-door Rapide is finally here, and it could be a hit.
—Valencia, Spain
Remember the days before world economic downward spirals and Bernie Madoff-styled pyramids? When it seemed like car companies couldn't build enough big $150,000-plus bullet cars to meet world demand?
Here now, with seemingly horrendous timing, but hopefully just in time for the re-explosion of drunken unregulated profits, is the grossly overpriced Aston Martin Rapide. It is the most important business case ever built by the company in Gaydon, UK. And, yes, it is grossly overpriced at an outlet-sounding starburst figure of "just $199,950!" (really $201,300 after tipping various tax people—more than twice the pre-option list price of a Porsche Panamera 4S).
Thankfully, it is grossly just as satisfying to drive all day until the 23.9-gallon tank goes bone dry. Twice.
At the first viewing of the Aston Martin Rapide concept at the January 2006 Detroit North American International Auto Show, we were promised "about 480 horsepower". The well-used Ford-derived "AM10" 6.0-liter V12 monster grindhouse (still not direct-injected, by the way) gifts the Rapide with 470 horsepower at 6000 rpm, joined nicely by 443 pound-feet of torque peaking at 5000 rpm. The acceleration effect of all this on the estimated 4,387-pound sports sedan is a 5.1-second clocking to 60 miles per hour. That actually, in this rarified company, could be seen as slow.
Example given: the $132,600 494-hp Porsche Panamera Turbo with 4.8-liter turbocharged V8 is "officially" said to hit the European 100 km/h (62.14 mph) in 4.2 seconds. Then add the Sport Chrono Plus package with torque overboost, bring the car to the U.S where we rate forward progress to 60 mph, and leave it all up to Launch Control, and that time plunges to just 3.8 seconds. And several real world tests have now achieved 3.4 seconds. This is just to say that we'll bet our whole collection of lapel pins that a properly set up Rapide will knock out back-to-back 4.4-second runs at least. From the driving of the new wonder sedan, the seat of our collective pants tells us it will be not so slow after all. And frankly it's several seconds prettier to look at than any version of the Panamera.
The Rapide is a heavy borrower from the "VH" bonded aluminum chassis-based DB9, when we talk of everything under the skin from the A-pillar and bulkhead forward. Out back, the limited-slip differential modified from the DBS, a wise choice given the new mass and size of the car we're driving and its ability to top out at a damn-your-speed-limiter 188 mph. Body-wise, all panels are newly formed pieces, the front quarter panels being of composite materials.
Aston Martin boss Ulrich Bez, the German version of hanging out with a talkative Bob Lutz when it comes to sound bites, has adopted strongly the stance that his Rapide is unique in that it is the only four-up sports sedan of its kind developed from a sports car (the DB9). We'll get to the good and less good of all that in a moment, but he has a point.
Most reporting has dwelt on the Rapide vs. Panamera Turbo cage match. The main section of the Panamera, fast and good-driving as the car is, has been adapted to fit from the Györ, Hungary, factory's other product, the Cayenne SUV—not a sports car. Other ballparkers, such as the $133,700 Maserati Quattroporte Sport GT S, $80,000 (BARGAIN!!!) Jaguar XFR, and $97,950 Mercedes CLS63 AMG, are technically all souped versions of civilian-trim models. One newbie that comes pretty close to the Rapide, once all specs on the sheet and philosophies have been weighed, is the $112,000 503-hp Jaguar XJ Supersport with the same supercharged V8 from the XFR.
We could bring into the debate also the future Audi S8, or even an A7 RS version; a possible concept Essence-derived Infiniti Q56 R- or V-spec sedan, maybe even a Lamborghini Estoque (if that ever happens) or a Fisker Karma. But the right threesome for a proper duke-out right now would be: Rapide vs. Panamera Turbo vs. XJ Supersport.
So far as everyday comfort during real road trips for four living adults, the Porsche and the Jag can sincerely say that they make it easy. The Rapide surprisingly, however, thanks a lot to three inches of added headroom over a DB9, though not exactly easy, can fit two healthy adults of six-feet in height back there without any problems, and drive like that for medium-long trips. You're socked in pretty snugly, but it does feel good. Over six feet, or a keen sufferer of clinical claustrophobia? You're on your own to decide. Getting in and out in the back seats is awkward, albeit doable. Just duck your head well getting in and bring up your knees equally well getting out. Such are the prices we pay for living with the sexiest execution of this swoopy sedan style yet attempted.
In the front of the cabin, we're growing a tad too used to the universal Aston carry-over dashboard unit. It looks good, of course, the button-ful transmission interface basically works, and the overall fit and finish remains exquisite, we'd say the best ever for the company. That last bit could be taken badly as Rapide is the first Aston ever built outside of the U.K. (in this case in Graz, Austria, by Magna Steyr). Having four Recaro seats in the cabin—the rears are equal parts Aston design and Recaro parts—is pretty nifty.
Rear seats up, the Rapide boasts easily the worst cargo space in this four-door class at 11.2 cubic feet. Seats down, it gets closer to the competition at 31.3 cu. ft., but the seats-up champeen of the whole class is the Jaguar XJ SS at 17.7 cu. ft., while seats down the Panamera trounces all at 44.2 cu. ft. of usable space. Given that it's also a large hatchback-style car, Jaguar has put a BMW 5 GT type of sliding, separating wall between the rear seats and rearmost cargo space, so anything placed back there won't fling itself forward under hard braking. The cargo space itself is hidden from sight with the tail shut, too, thanks to the built-in rear shelf of the hatch.
All this practical chatter sounds odd in this context, no? Astons are for a man running off to cheat on a woman with other women who also believe that they are the only ones he loves. He throws a weekend bag into the cabin and is off in a plume of lies. But Aston got us into this discussion first by building the four-door hatch sedan, okay? We feel funny talking about cargo space, too.
One other immediate criticism of the Rapide (and then we'll get to the whys of loving the thing so much, we promise) is inarguably minimalized visibility fore, middle, and aft. Design director in Gaydon, Marek Reichman, has led in creating the sleekest member in this far-upper segment partly by having an overall height that is 2.3 inches lower, at 53.5 inches, than the next rival, the Panamera Turbo. The A-pillar is very thick, while the sun visors need to be tiny, and consequently give tiny help in blocking sun, with no help at all through the side windows. The B-pillar is very thick, and so looking over the left shoulder helps little. Then the rearmost upper creates one of the all-time great blind spots. Unhappily there are no standard onboard cameras to help out (they are offered exclusively as Works Service bespoke options). A final area where Aston has fallen a bit short, too, is by continuing in Rapide to use one of the very worst onboard sat-nav systems, borrowed from Volvo.
But then you open those four "swan" doors—that really do look like majestic swan wings—and most all is forgiven.
In the end, as ever with any imperfect Aston sex-bomb costing crazy monies, you buy one simply because you absolutely must have an Aston, and/or in the Rapide's case, a V-12. This is very similar to a Ferrari mindset, but then they're not trying to build a four-door. So, why should we condone all this in the Rapide?
Because the car drives brilliantly, that's why. It moves like a sports car with only two seats and two doors. The new ZF six-speed Touchtronic 2 sequential automatic mounted on the rear axle and with steering wheel paddles, once you're simply in go-forward and damn-the-torpedoes mode, is brilliant with the Sport button poked on. (No manual six-speed is to be offered with the Rapide.) This is the Aston with the tightest steering ratio so far, at 15:1, to somewhat account for the longer wheelbase, and it results in a large car driving and reacting like a smaller car. Actually like a DB9 only better, since additional work has been done on tempering occasionally rude kickbacks we've felt on the DB9 through the steering column during weight shifts and drives over undulating surfaces.
Next to the Sport button for the gearbox and throttle, there's an Adaptive Damping System button that switches everything to a more rigid (or less so) setting at all four corners, and this is a smooth deal on smoother and also straighter roads. The five-way adjustable Bilstein units of the two-mode ADS with double wishbone structure fore and aft, make the Rapide a real stealth machine on these dicier Valencia back roads.
And then, as with every Aston, we have the trick of exploding the dual exhaust pipes (supplied by Unipart in the UK) at about 3800 rpm, and therefore the hunt is on for tunnels in the area just to amplify the reverb. That Sport button¬—now renowned by all as the "fun button"—opens the bypass on the sport exhaust right from idle, so there can be more racket sooner. We just wish it actually added power and hustle, too. Pushing the thing hard to find as much of these two ingredients, however, is great fun up near 6000 rpm, what with the DBS' Graziano limited slip differential as our ally, the grippy twenty-inch standard Bridgestone Potenzas, and the really solid stopping from the compound steel/aluminum brake platters with Brembo calipers—15.4-inch six-caliper front, 14.2-inch 4-caliper rear.
Aston ought to make an "S Black Edition" of this four-door, since wringing just 470 hp from one of the industry's last port-injected V-12s, a distinctly politically incorrect dying species, seems a bit too normal. We already get 510 hp from this engine in the DBS and the exceptionally great V12 Vantage, after all. We're spending almost $202,000 base price before any Works Service personalization enters the billing. We expect more from this intensely sexy machine for which the wait has been long while Aston figured out whether or not it might survive in a post-Ford world, as well as where on Earth it might build this ambitious Rapide.
Under all this hard light, however, and as we hope we've emphasized enough, once on your way forward, the Rapide is a true and rapid driver's car—in many senses truer than any competitor you may care to mention. It leaves a few key bits to be improved, yes, and several others that are compromising but should be left as is. Every fundamental of an excellent super-premium build is there, as is every sensation of luxury the millionaires might whim.
And just look at it.
Aston Martin estimates no more than 2,000 units built per year in Graz, Austria, a number which from now on will represent one third of total production. North American Rapide deliveries, expected to be around 500 in a full year, begin at the start of May.
Added fun: Aston boss Ulrich Bez and a team of three other pro drivers will attack the Nürburgring 24-hour endurance race this May in a basically stock Rapide, stripped down as close to the minimum 3,086 pounds as possible while remaining mechanically stock. The industry as a whole needs more moxie like that from its leaders.
2011 Aston Martin Rapide
Engine V-12, 6.0 liters, 48v
Output 470 hp / 443 lb-ft
Top Speed 188 mph
Weight 4387 lb
0-60 MPH (est.) 5.1 sec
Base Price (est.) $199,950
Price as Tested (est.) $215,000