Driven: 2010 BMW 550i Gran Turismo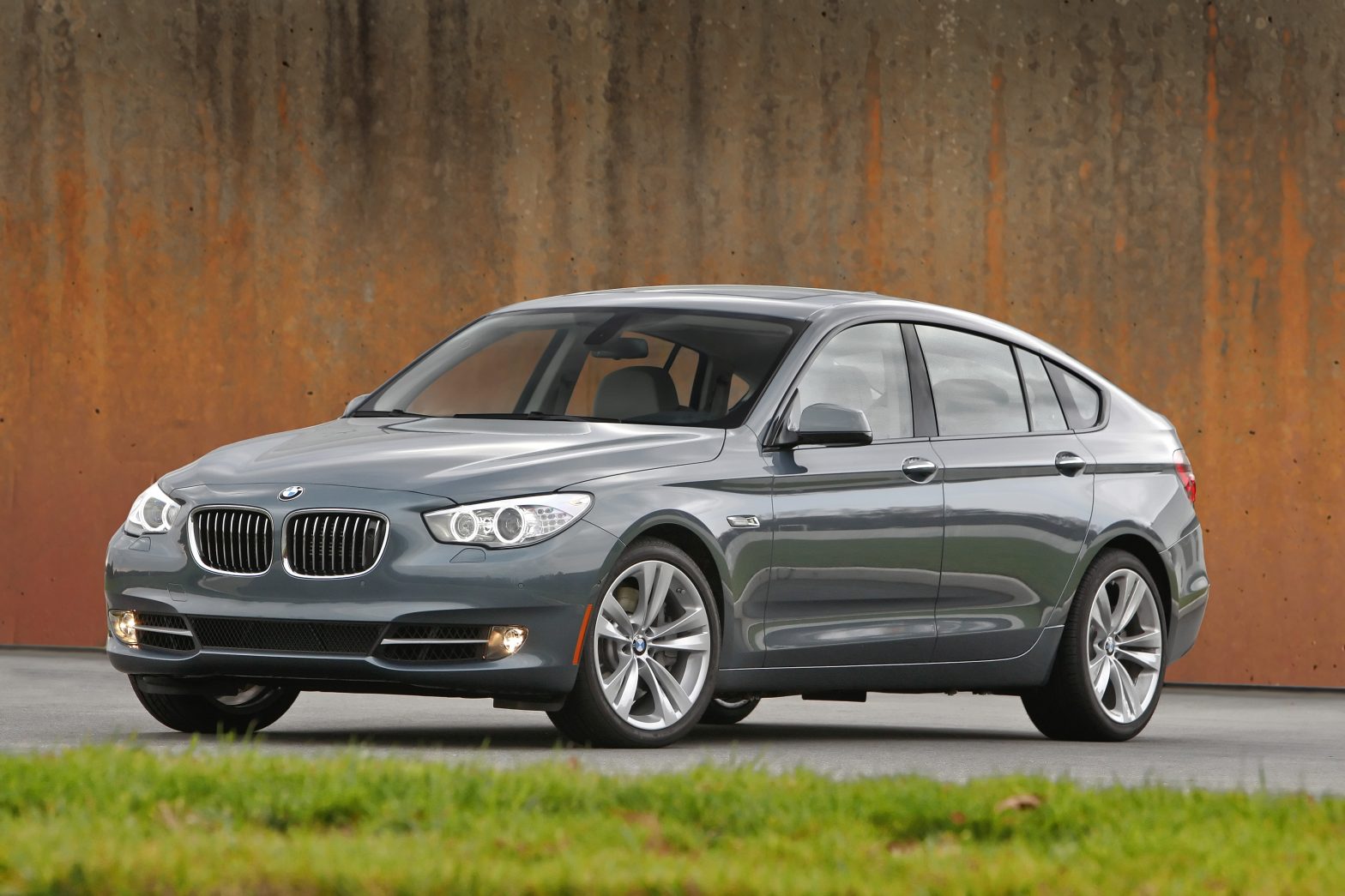 —Palisades, New York
During our drive through the woodsy, hilly roads of southern New York and northern New Jersey, there was one question that kept cropping up during every conversation about the new BMW 5-Series Gran Turismo: "What is this thing?" The initial concept for the 5GT started under the nomenclature "Progressive Activity Sedan" and BMW's product planning folks told us that this vehicle is a new, futuristic blend of the traditional definitions of what a sedan, hatchback, wagon, and crossover are. The 5-Series Gran Turismo was designed around the idea of grand touring (after all, "gran turismo" is Italian for "great traveling") and it modernizes the traditional GT values to offer premium comfort, style, function, and performance for four people.
Before we even had the chance to drive the 550i GTs that BMW had provided for us to test during this unseasonably warm and beautiful weekend in early November, we were chauffeured to dinner one evening, giving us the opportunity to fully experience the rear seat luxury that this car has to offer. In its standard form, the rear compartment of the 5GT is a three-seat bench with manual adjustments for both the seat backs and bottoms. It's comfortable and spacious—far better than any X6 we've climbed into. Cars equipped with the luxury seating package ditch that bench for a unique, two-bucket, power-adjustable seat arrangement with a fixed center console, and it is easily the nicest, most comfortable, most luxurious BMW rear setup we've ever sat in—even nicer than the 750Li we had ridden in earlier that day. For comparison's sake, the 550i GT has about two more inches of rear headroom and six more inches of rear legroom than the X6, and there's one-tenth of an inch more rear headroom than the 7-Series, with rear legroom falling directly in the middle of the short- and long-wheelbase 7s. Heated and cooled rear seats are on hand, as well as power sunshades for the windows. It's a very luxurious place to be, and we'd be more than happy to ride across the country in the rearward cabin of the Gran Turismo. Up front, the driver and passenger are treated in a way very similar to the 7-Series, with the same overall layout and refinement. It's ultra premium stuff all the way around.
So in terms of passenger refinement, the 5-Series GT is on par if not better than the X6 and 7-Series cars it falls in between, and when it comes to functionality, the 5GT wins in every regard. Though it may be somewhat strange to behold at first, the hatchback configuration of the Gran Turismo is very easy to operate and offers all different sorts of storage solutions. The lower portion of the rear liftgate can be opened to provide a sedan-like trunk—a sound-proof, smell-proof, and weather-proof lid separating the boot from the passenger compartment. In this mode, 10 cubic feet of space is available. Opening the full liftgate increases this to 15 cubic feet, and folding the rear seats (power-folding seats are available with the luxury seating package) creates 60 cubic feet of usable space. It's cavernous—even offering slightly more cargo capacity than the current 5-Series wagon.
To further toughen the argument for the X6 and 7-Series, it's safe to say that the 5-Series GT is a superior driver's car, too. The first iteration available in North America will be the 550i, using BMW's much-loved twin-turbocharged, 4.4-liter V-8, producing 400 horsepower and 450 pound-feet of torque. And though the 550i GT is a very heavy car—4938 pounds—it's narrower than a 750i and closer to the ground than an X6, helping it feel substantially more nimble through the bends. Sprints to 60 miles per hour happen in just 5.4 seconds, and overall acceleration is very, very smooth, and not just in full-throttle runs from a standstill, either. The new ZF eight-speed automatic transmission doesn't jump around between gears too much, and the transitions are hardly noticeable. Full torque thrust is available from 1750 to 4500 rpm, reducing the need to downshift during jaunts from 40 to 70 mph, and when coupled to rear-wheel drive, it's a slick way to quickly get up to highway speeds. This was immediately more noticeable along the hilly roads of lower New York, where long stretches of different elevation changes were present. The automatic box was always responsive, more so in Sport mode, and never intrusive. We never felt like we had to force the tranny to kick down and power was always on hand for steep hill climbs.
If you've ever driven the new 7-Series, the 550i GT won't feel worlds different as far as cruising dynamics go, but when the roads start to get more interesting, the 5GT is better able to handle extra grunt through the bends. A crucial aid in this regard is BMW's Integral Active Steering, which allows the rear wheels to angle up to three degrees to the left or right. (The rear wheel angle depends on the simultaneous direction of the front wheels.) Coupled with active roll and damping control, the 550 does not exhibit any float during cornering, and with the drivetrain in sport mode, straight-line cruising is solid and stable—there's no feeling of waftiness or disconnection to the road. What's more, steering feel is quite good. The driver feels very connected to the front two wheels, with sharp turn-in and relatively good feedback through the rest of a turn. In highway or around-town driving situations, the steering does not have any on-center deadness, or feel heavy and unmanageable for low-speed maneuvering. It's a very good steer, this 550i GT.
Our test car rode on sharp-looking twenty-inch wheels, wrapped in sticky 245/40 front and 275/35 rear tires. Tire noise is remarkably absent for such large shoes. A near-perfect 50.8/49.2 fore/aft weight distribution, the ride quality of this car is really superb. Braking power is spot-on with good levels of feedback through the brake pedal, and even during repeat hard stop tests, we noticed very little in the way of overall brake fade or front-end chatter. The whole driving experience of the 550i GT is extremely refined, though still very involving—more so than a 7-Series and without the raised-up feeling of the X6.
After the initial launch of the 550i GT, BMW will be offering a 535i variant, using a new inline-six engine (named N55 internally), which ditches the current (N54) twin-turbo setup in place of a single, twin-scroll turbocharger mated to the new eight-speed gearbox. Power numbers will be the same as the current twin-turbo six (300 horsepower, 300 pound-feet), but max power will be delivered earlier on in the rev range, allowing for better acceleration while reducing fuel consumption. Expect to see Gran Turismos fitted with BMW's xDrive all-wheel drive system around the same time.
Final pricing hasn't been released as of this writing, but with the 550 starting in the mid-$60K range, it will be cheaper than both the X6 50i and 7-Series, more luxurious, and better to drive. The automaker is hoping to gain new conquest sales from consumers looking for something more interesting and usable than standard sedans (E-Class, Jaguar XF) but we can easily see BMW owners optioning down from larger 7-Series and more unusable X6 models. Sure, it keeps the money within the same dealership, but it's an odd situation for the automaker to find itself in. Cars equipped with the two rear bucket seats offer a unique experience unlike other vehicles in the automaker's portfolio, but initial forecasts predict that only about 30 percent of 5GTs will be optioned that way. Don't hold out too much hope for the next-generation 5-Series wagon to make it to American shores, either, as the GT's form and function will surely be up to snuff for the consumer set.
As enthusiasts, we see a lot of potential for the 5-Series Gran Turismo. It's not only functional, but really great to drive, too; and since the majority of BMW buyers are in this same mindset, we don't see it struggling to move from dealer lots. It's an interesting concoction of genre bending, and we give it a big thumbs-up.