Driven: 2010 Acura TSX V-6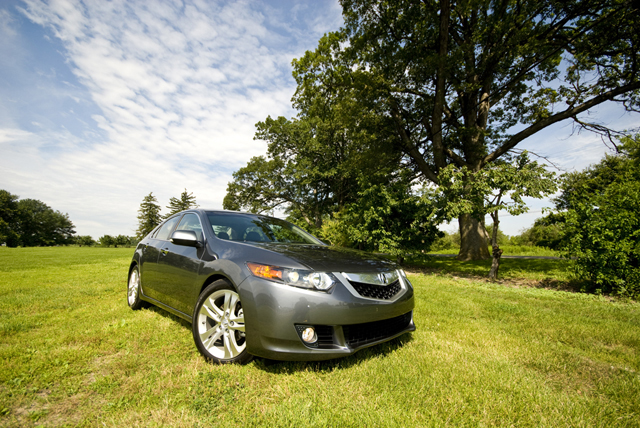 —Washington Township, Michigan
Long before a V-6 was ever in the cards, Acura told the world that its four-cylinder TSX was perfectly equipped to do battle with entry-level luxury sedans like the Audi A4 and BMW 3-Series. Sure, it had the looks, the technology, the interior refinement, and the size, but when it came down to performance, the 201-horsepower, 2.4-liter inline-four running through only the front wheels just couldn't hold its own. So in a segment full of six-cylinder (and turbo four) engines and rear- or all-wheel drive, the TSX sort of became the bargain basement choice in the class.
Acura is hoping to change all of that in the 2010 model year, because the TSX now gets a 3.5-liter V-6 which produces a healthy 280 horsepower and 254 pound-feet of torque, all starting at a price point of just $34,850. For those keeping track, that's much more powerful than the BMW 328i, Audi A4 (2.0T and 3.2), Mercedes-Benz C-Class, and Lexus IS250. What's more, the TSX is cheaper than a few of these stable-mates, as well. But before Acura claims a victorious checkmate, we must remember that the TSX is still only offered in front-wheel drive; and when we hit the open country roads in and around southeast Michigan's Macomb County, a whole barrel of flaws were exposed.

After a few hours of driving around a series of backroads, it became crystal clear that the front suspension—though revised to handle the weight of the V-6—was not properly tuned to handle the power running through the wheels it supports. On more than one occasion, the front tires chirped as we pulled away from a stop (under moderate throttle with the traction control on) and then torque steer guided the way through first and second gears. After experiencing these problems over and over again, we pulled aside some Acura engineers and asked when the TSX would be getting the all-wheel drive option that it sorely needs; not only to save the front suspension dynamics, but to even better have it compete within the entry-level luxury segment where every other contender has available all-wheel drive. The Acura folks looked slightly to the left and responded with, "That isn't in the cards for the TSX," simply because they want the V-6 TSX to still slot below the base TL in their lineup. We really like Acura's Super-Handling All-Wheel Drive system, and we think it's a damn shame that the TSX won't benefit from this technology.
But we aren't ready to completely write off the TSX's driving dynamics as horrible. Far from it, in fact. Tuning the front suspension allows for crisp, tight steering which, if anything, makes the torque steer a bit easier to overcome. The brakes are good with minimal front-end chatter during hard stops, and when traveling quickly down long stretches of road, the TSX stays planted to the ground with minimal body roll. Fitting the V-6 model with larger eighteen-inch wheels helps out in all of these areas, too.
The only transmission available is a five-speed automatic with wheel-mounted paddle shifters, though Acura says that they're working on bringing a six-speed tranny to the TSX soon. The added gear will be much welcomed, as the current five-speed unit isn't geared as well as it should be, and when you allow the transmission to shift on its own, it doesn't hold each gear long enough to use the most of the 280 available horses. Even so, there's a robust 254 pound-feet of torque available, but in true Honda/Acura fashion, the torque isn't incredibly noticeable because it peaks too high up in the rev range.
The TSX's interior hasn't changed much from the four-cylinder model, and we think it's quite a fine cabin to spend long periods of time in. The seats are comfortable and supportive, there's ample rear legroom, and the high-quality dash and trim materials both feel and look great. As you would expect, this wouldn't be a proper Acura without loads of intuitive technology features, and the TSX is a tech-geek's paradise, with lots of buttons, knobs, and a very intuitive navigation interface. In fact, we feel the Acura's interior is a bit more fitting of the term "luxurious" than the cabins of the Lexus IS, Infiniti G, and even the BMW 3-Series, as big of a faux pas as that may be to mention.
The TSX is a sharp-looking, clever, luxurious car offered at a low price point, and the V-6 is quite powerful, but without proper suspension tuning or an all-wheel drive option, Acura will still have a hard time selling this as a true 328i competitor. It's not as enthusiastic to drive as other cars in the class, and we don't believe that the price point is lower enough to warrant it as a good purchase decision over an Audi A4 (even the less-powerful 2.0T is a more thrilling drive, and it starts at just $31,000). Adding a V-6 to the TSX line is a smart decision, and we can see a lot of people liking it, but for our money, we'll stick with the cheaper 2.4-liter four and six-speed manual combination, because while it may not be that great of a driver's car, the four-pot TSX continues to be a pretty good value for the money. Some things never change.