Driven: 2009 Honda Fit Sport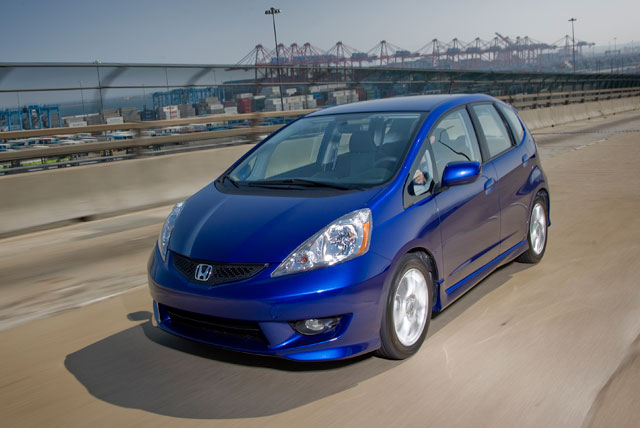 —Ann Arbor, Michigan
Even though the original Fit debuted in 2001, we Americans were deprived of the little Honda that could until it finally arrived Stateside in 2006. After years of successful sales in Japan and Europe (where it sold as the Jazz) the folks at Honda decided to see how the diminutive hatchback would do in the bigger-is-better United States auto market. At that time, a gallon of regular unleaded still cost less than three dollars and consumers were lined up for miles waiting for new crossovers and sport-utilities to hit dealer lots. Not even Honda had anticipated that the Fit would sell roughly 80,000 units each year in America.
If this revamped Fit is to continue as the class-leader in a segment that is more important than ever, it must not only trump the outgoing model, it will need to have quality and refinement standards that one-up other small car offerings.
The 2009 Fit is offered in three flavors: base, Sport, and Sport Navi (essentially the Sport model with a navigation system and stability control). All models use the same 1.5-liter four-cylinder engine from the outgoing model, although power has been boosted to 117 horsepower (up by eight) and 106 pound-feet of torque (up by one). Ringing in at 2534 pounds, our manual transmission Sport Navi test car rang in at 63 pounds heavier than the previous top-trim Fit Sport, with the minimal boost in power compensating for its extra weight. The new Fit is the same height as the old model, but the wheelbase has been lengthened by two inches (to 98.4), overall length is up by 4.3 inches (to 161.8), and the front and rear tracks have been widened by 0.8 and 0.6 inches respectively. This, combined with larger sixteen-inch alloys on the Sport and Sport Navi give the Fit a more planted feeling on the road and make it noticeably more stable in turns. (The base Fit now benefits from fifteen-inch steel wheels, as opposed to the outgoing model's fourteen-inchers.)
The adjustments to the Fit's dimensions also have benefits inside. Cargo volume has swollen to 57.3 cubic feet with the second-row seats folded flat—a gain of 15.4 cubic feet—and additional compartments now reside under the second-row seats, creating safe storage for smaller items. Honda's lovely Magic Seat system allows the second row to fold with ease, and redesigned rear headrests let the second-row bench fold completely flat—even when the front seats are set as far back as possible. The rear compartment is more passenger-friendly as well, with increased head- and legroom and a modest increase in rear hiproom, too. Overall passenger volume is up nearly one cubic foot, and the thinner pillars and larger windows give the cabin an airy, spacious feeling. Both front and rear seats are more supportive than the outgoing Fit, with better bolstering on the bottom cushions and higher-quality materials, though we still found the front seats to be a bit short for our legs. Nevertheless, sitting in a Fit is more pleasant than in a Toyota Yaris, Scion xD, or Nissan Versa. We do prefer the edgier appearance of the xD's center stack, but find that the Fit has better stereo and HVAC controls. A major improvement is the addition of a standard telescopic steering wheel, something that other competitors in this segment fail to offer. The steering wheel itself seems to be ripped right out of a CR-V, and its added thickness and small diameter is indeed welcome. One of the biggest compliments we have for the Fit is how wonderful its steering feel is. In fact, this author feels that the Fit's steering is more responsive and enjoyable than in the new-for-2009 Acura TSX.
The five-speed manual transmission in our test car worked well, and the clutch pedal is easy to modulate, resulting in solid gear engagement. We would prefer shorter shift throws, but we're sure that there will be plenty of aftermarket options to alleviate such qualms. We also drove a Fit Sport with the five-speed automatic and wheel-mounted paddle shifters—the only five-speed unit in its class. The automatic feels quicker off the line than the manual, and the paddle shifters are surprisingly engaging to use. We prefer the stick-shift setup, however, as it allows you to really make the best use of the Fit's 117 horses. In an ideal world, we would prefer more low-end torque, as we found ourselves having to downshift more than necessary to have adequate speed while exiting turns on twisty backroads.
During our test, the Fit's suspension did a good job of softening Michigan's many potholes while still giving a tight, sporty feel. The Fit uses MacPherson struts up front and a torsion-beam out back, with the Sport models benefitting from a seventeen-millimeter rear stabilizer bar. The Fit's brake pedal is a bit soft, and it seemed like we needed to push down farther than usual to achieve proper stopping power.
We were able to drive the Fit alongside a Scion xD and found the Honda to be the more enjoyable choice. Even though the xD has more power—128 horses and 125 pound-feet—our test Scion's four-speed automatic did not adequately manage the engine's power, and both automatic and manual Fits were more engaging drives. The Honda's longer wheelbase and lower ground clearance also help it to feel much more attached to the road than the xD, and the superior steering feel make it our choice for spirited, small-car fun. The Fit's fuel economy numbers fall right in line with that of the xD, too—27 miles per gallon in the city and 33 mpg highway with either transmission. As a bonus, we find the Fit to be among the most aesthetically pleasing cars in its segment. Honda executives say the Fit's design is "aggressive yet friendly," and we'd have to agree.
The 2009 Fit hits showrooms in September, with prices starting at $14,550 for a manual-equipped base model (the automatic will cost you $800 more). The Fit Sport will ring in at $16,060, and the Navi will command $17,910 (the five-speed auto adds $850 to the price of a Sport and Sport Navi). Honda is expecting the mid-grade Fit Sport to account for nearly 70 percent of total model sales, and with its class-leading interior refinement and overall fun-to-drive charisma, we don't see Honda having any trouble moving their anticipated 80,000 Fits per year.
2009 HONDA FIT SPORT NAVI
Engine: Inline-4, 1.5 liters, 16v
Output: 117 hp/106 lb-ft
Weight: 2534 lb
Cargo Capacity: 57.3 cu ft
Fuel Economy, city/hwy: 27/33 mpg
Base Price: $17,910