Driven: We Drive the 2009 Mazda6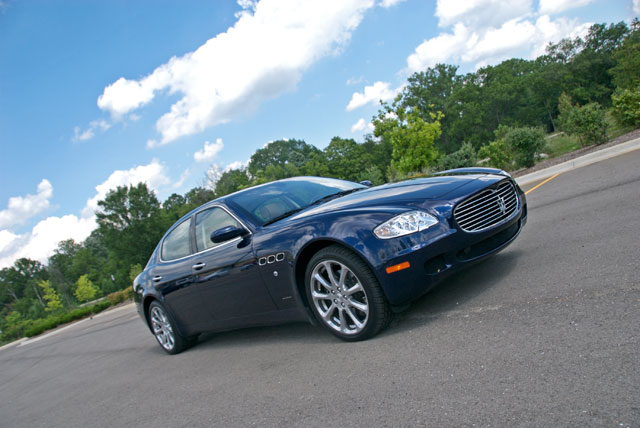 By Chris Paukert
Hard as it may be to fathom, we automotive journalists get things wrong every once in a while. Despite perpetually cheering for the 2003-2008 Mazda6's ragtag charms and dynamic excellence in a crowd of somnambulant sedans, it never really sold. Nevermind that it was a wieldy package and fun to grab by the scruff on winding roads, it languished on showroom floors while far duller drives poured out of showrooms like so many bags of rice. Heck, we even heartily applauded the availability of a segment-best three separate body styles (sedan, wagon, and touring), as well as a genuine high-performance variant, the Mazdaspeed6. Still no dice. Great handling and a multiplicity of formats are evidently no substitute for outright size and power in the family sedan stakes. Not that we're bitter or anything.
Apparently feeling our pain, Mazda officials at the 6's stateside launch daubed egg from the assembled motoring media's faces, and in true Japanese fashion, they apologized. In fact, they were refreshingly forthcoming and crystal clear about why the Mazda6 failed to crack the ranks of the Toyota Camry, Honda Accord, Nissan Altima, and Chevrolet Malibu. According to Jeremy Barnes, director of product and corporate communications, shoppers rejected the outgoing 6 for the following reasons: 25.1 percent of consumers passed because of quality concerns, 16.5 percent felt that it didn't offer adequate power, and 15 percent passed due to size reservations (read: it wasn't big enough).
Which brings us to the altogether shapely thing you see here. A quick glance at the spec sheet of this car suggests that Mazda has soundly thumped at least two of these issues, size and power. Of graver concern to us is whether the bolder new 6 manages to preserve the company's "Zoom-Zoom" fun-to-drive mantra in their bid to woo the Great American Consumer.
By the tape measure, the 2009 Mazda6 stretches 193.7-inches long (up 6.9 inches), 72.4-inches wide (up 2.3 inches), and rides on a 109.8-inch wheelbase (up 4.5 inches). Despite casting a larger shadow, the new 6 is anything but visually ponderous. Its RX-8/CX-7–informed front fenders lend it a voluptuous and imposing presence, and a high bustle yields both a class-leading 0.27 coefficient of drag and segment-best trunk space (16.6 cubic feet). The car is so shapely that we had to ask Mazda's design head, Franz "Hollywood" van Holzhausen if the 6's tumblehome (the inward arch of the side glass) is more steeply raked than its competitors. It isn't, but the aggressive greenhouse has a certain concept-car quality that initially led us to suspect tight head and shoulder room. Critically, this is a sedan that looks great even in base trim, with sixteen-inch wheels that don't get lost in their wheelwells, LED taillamps, and elegant projector headlamps that lend a premium aura. Better still, with a clean shape devoid of aerodynamic tack-ons and chrome frosting, we expect for time to wear handsomely on the 6's shapely hips.
Inside, this Mazda's look is similarly one of modernity and sophistication. A quantum leap forward from the outgoing model, the 6's furnishings now rank up at the top of the segment for material quality, panel fit, and feature count. Although a few hidebound dealers are likely to carp, woodgrain is nowhere to be found, nor are fillets of increasingly trendy carbon fiber-look material. Hooray! Instead, base cars receive a tightly dimpled "matrix" finish, with uplevel models getting very attractive gloss black trim with undulating silvery threads. While that last bit may sound a bit contrived, it's attractively executed and provides a nice tie-in to the exterior's curvaceous forms.
As all models are comprehensively equipped, there are only a handful of option packages available, including an intuitive navigation system with a large seven-inch display, moonroof, and Bose stereo suite. We've never been fans of blind spot detection technology, and could do without Mazda's first-in-class system that is standard on Grand Touring models or available bundled with the otherwise desirable convenience package (which includes niceties like Xenon lamps as well as Bluetooth phone and streaming audio). The blind spot system isn't a bad setup as far as these things go, and it's defeatable, but when disengaged, a distracting amber warning light in the gauge cluster is triggered that is uncomfortably similar to a "check engine" lamp.
Crucially, the 6's rakish exterior hasn't hurt interior space at all, and this sedan is bigger inside than most of its competitors, particularly in back. Up front is likewise a happy place to occupy, with comfortable, supportive seats and intuitive controls that rival the best in class for feel. A large starter button is mounted uncharacteristically low in the center stack, but at least Mazda has finally jettisoned its ridiculous keyless credit-card access system in favor of a more traditional fob.
It's worth highlighting that life inside the 6's cockpit is luxury car hushed—it's the quietest car Mazda has ever made, with commendable isolation from wind, road, and drivetrain noise. Even the HVAC unit is less obtrusive than before, and it's eighteen percent more powerful, a useful improvement as the previous system was chided for its underwhelming performance. If anything, enthusiasts will wish for a more vocal exhaust note, but that will have to be addressed in the aftermarket.
As is de rigeur for this segment, the Mazda6 is available in both four- and six-cylinder flavors, with the 2.5-liter four producing 170 horsepower and 167 pound-feet and the 3.7-liter V-6 generating a whomping great 272 horsepower and 269 pound-feet. (For those that keep tabs on such things, that's two more ponies and just eleven pound-feet fewer than the dearly-departed Mazdaspeed6.) Pricing for the four-banger "i" model starts at $19,220 while the V-6 "s" will command $24,800 (both prices include destination charges). There is no gas-electric model, an omission that could hurt potential sales among those who like their cars ringed by a green halo whether they actually plump for the hybrid or not.
The inline-four comes with a six-speed manual that is predictably the most involving driver's car, with nicely spaced pedals and a short-throw shifter with particularly smooth gate-to-gate action, along with an easy-to-modulate (if overlight) clutch pedal. A perfectly sensible five-speed automatic with manual gear selection mode is also available. With either transmission, power is adequate, although the 2.5-liter doesn't always sound pleasant near the top of its range. On the subject of revs, can someone please explain this growing trend toward tachometers that have no redline indications? This bit of fashion-over-function puffery can't end soon enough.
In truth, the V-6 is the more agreeable option for both commuting duty and interstate travel, with plenty of torque down throughout the rev range and a particularly obedient six-speed automatic that behaves well during enthusiastic driving. This gearbox readily holds cogs when asked and snaps off crisp shifts when big throttle inputs are summoned. If there's a demerit here, it's that the transmission's software doesn't always oblige with downshifts that would send the needle into the tach's nether reaches. Regardless, Mazda's Active Adaptive Shift control logic (on loan from the RX-8) is more responsive than the systems we observed in the Camry and Accord that were on hand for comparisons. The SportShift push-pull manual selector feature on the gearshift lever is a useful bit of kit, but no paddles are available—a curious omission for a vehicle with a self-proclaimed sporting temperament.
Predictably, the V-6's class-leading power figures come at the expense of fuel economy, with figures falling from the four-cylinder automatic's solid 21/30 city/highway miles-per-gallon split, to a middling 17 city and 25 highway. We would love to see the six-cylinder available with a manual transmission as it was in the previous generation, but low take-rates have probably iced that combination for good, in much the same way that the touring and wagon are now no longer part of the program.
With all of this added size and content, you would expect for the 6's driver engagement and tossability factory to suffer, and you'd be right…but by the narrowest of slivers. Despite its increased size, this new Mazda is stiffer—bending rigidity climbs by 39 percent and torsional rigidity is up by 17 percent, due in part to a 30 percent increase in high-strength steels. The basic architecture employed is familiar fodder: double-wishbones up front and a multilink arrangement out back, although the suspension has been retuned and some parts are new. The newfound chassis solidity allows the tweaked setup to better go about its business keeping everything on the level. Amazingly, torque steer is not an issue.
More encouraging still is word that despite the 6's substantial increases both dimensionally and in overall refinement, it is only modestly heavier than its predecessor. The high-volume four-cylinder automatic model is just thirty-five pounds heftier, and the result strikes us as bulking up at the gym, not at the buffet. Overall, the 6 delivers a well-controlled experience with a class-appropriate level of ride comfort (even on eighteens), good transitional responses, and well-controlled pitch and yaw.
Hammering along and around Los Angeles' legendary Mulholland Drive, we were able to test all of the Mazda6's faculties without triggering any David Lynchian scenarios. Our Michigan-based staff always relishes getting the chance to drive in exactly these sorts of volcano-formed environments, as they pack more varieties of curves, elevation changes, and scenic vistas into a few minutes' work than the entire road network around our offices for a couple of hundred miles.
As stopping is perhaps the most important component in such driving, we became concerned upon learning the brakes discs are carryover fare (11.8-inch vented fronts, 11.0-inch solid rears). We needn't have worried, as a bigger master cylinder and brake booster helped them deliver easy-to-modulate, fade-free performance that caused no expletive-filled moments.
If there's a sour note in this car's handling portfolio, it's that there isn't quite enough starch in the steering. Oh, it has good accuracy and on-center feel for a front-driver, but it all feels a bit too slow (2.9 turns lock-to-lock) and fails to weigh up appreciably at speed, something that's particularly noticeable during intense corner-to-corner workouts. Even still, Mazda boasts that the new 6 has a turning circle that's 3.3 feet smaller than the previous car, making it the tightest of any midsizer.
Mazda has clearly discredited the size and power detractors while sticking to its driver-oriented knitting, but has it adequately dealt with the quality bugbear? Only time will tell, but officials maintain they are confident that their new baby will score markedly better on quality surveys, including those that rank design annoyances alongside of actual failures (J.D. Power is notorious for dinging automakers for things like excessive brake dust in the name of "quality"). Mazda has logged over one million test miles on U.S. roads and reevaluated every step of their production process in order to ensure higher quality. Officials are confidently targeting a 65 percent improvement in Power's Initial Quality Study, a bogey that would put the 6 ahead of its Japanese rivals.
Mazda says it hopes to release at least 100,000 6s into the wild each year, which would be around a twenty percent improvement on the roughly 80,000 units that they managed to shift of the old car. That's still a drop in the bucket compared to the 420,000 Camrys, 350,000 Accords, and 250,000+ Altimas that belch forth on to America's roads each year. Assuming Mazda can make good on its quality goals and gas doesn't skyrocket to $10 a gallon (taking the midsize segment along with it), if the new 6 isn't selling 120,000 units annually inside of three years, we'll eat our Pilotis.
This time you can trust us—Mazda has nothing to apologize for.