Driven: 2008 Mitsubishi Lancer Evolution MR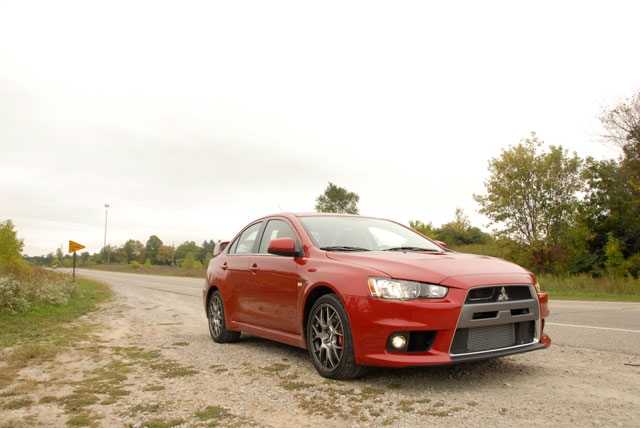 Over the past couple of years, we've noticed a trend that more and more performance cars are steering away from traditional manual transmissions in favor of high-tech dual-clutch setups. For 2008, the top-dollar Mitsubishi Lancer Evolution MR features a six-speed paddle-shift transmission, and while some of us would rather have a stick and a third pedal, there's no denying that this tranny is really, really good. Still, at nearly $41,000, some of us would rather just stick with the softer Evo GSR, which has the same performance specs but at a lower cost.

Chris Paukert
Editor-in-Chief
What more needs to be said about the Evo? This MR boasts the same limpet-like grip as the GSR that we sampled a while back, but also benefits from Mitsu's shatteringly effective twin-clutch transmission. While I'm a diehard manual transmission guy, the fact that this is such a fast-reacting system and that it boasts an extra gear ratio would be enough to make me consider stepping up to MR specification. Either way, I prefer the Evo to the Subaru WRX STI (this, from a diehard hatchback/wagon guy).

Having said that, $40k+ feels like an awful lot of money for a car that shares the bulk of its discount interior with the humble Lancer (for the record, I get the same feeling regarding the heavily-optioned STIs). That pricing puts it into competition with more luxurious vehicles from both the Japanese and Germans, though point-to-point, I suspect that the MR would lay waste to them all. And if four-seasons use is a must, this surely is the pick of the performance litter. Still, at $40k, I'd have a hard time not cross-shopping the superior refinement and addictive I-6 power of the BMW 135i, even if that meant treading very lightly on the options list. Two very different cars, yes, but both bring their own unique brand of excitement to the table.
Steven J. Ewing
Production and Test Fleet Manager
This car is a blast and is my preferred choice over the new-for-2008 Subaru STI. Not only is it better-looking, but it drives with a sense of urgency that the STI just can't produce nowadays. I love the Recaro seats and the way that they mold to your body. The rest of the interior, though, is a little cheap and chintzy, especially for a car that compares to the BMW 1-Series in price. Granted, I'm not going to find anything luxurious in the STI, either.

The problem I have with the Evo MR is the fact that our test car rings in at over $40,000. This is insane, seeing as how the Evo GSR we had a few months back was around six thousand dollars less. The dual-clutch transmission in the Evo is quite good, but it's not good enough that (1) I would sacrifice a manual gearbox and (2) pay out an extra six large.
Nate Luzod
Art Director
The Evo MR is so unbelievably fun to drive, so confidence-inspiring, so brilliant that it almost warrants a Get Out of Jail Free card when it comes to the interior. Inside is sufficient. Beyond that – who cares?

I'm head over heels for the redesign though it's neither elegant nor beautiful – it does portray precisely what the Evo is about. Looking at it dead-on, the grill practically says: "Let's go get that license revoked, bitch." Doing just that would be all too easy. A jab to the throttle and a flick of the right fingertips and you're more or less exploding from a standstill, maneuvering around those less-fortunate non-Evo drivers with precision that almost makes it seem like the car is hardwired to your brain.

It's a rare occurrence that I prefer paddle-shifting over a manual, but the steering-column mounted, extra tall paddles really speak to me. My only gripe is that the steering wheel in this particular model felt "slippery," which is unsettling with respect to how this car must be driven. Nothing a few bucks and trip to Pep Boys wouldn't fix, though.
Seyth Miersma
Senior Editor
There are only a handful of sports cars that I would ever consider ordering without a manual transmission (where available), and thanks to Mitsubishi's phenomenal twin clutch Sportronic sequential tranny, the current Lancer Evolution is one of them. As much as the Evo GSR and its five-speed manual feel like the purer choice here, the MR's Sportronic six-speed simply does a better job of wringing every ounce of potential from the stunning vehicle. Even in the not-all-the-way-hardcore Sport mode (S-Sport is really best utilized on the track), the dual clutch unit holds a gear until the very top of the redline, kicks down aggressively through the range, and generally has the ability to make even the most conservative of drivers feel (and sound) like a total badass. Best transmission ever?
2008 MITSUBISHI LANCER EVOLUTION MR
Engine: Turbocharged inline-4, 2.0 liters, 16v
Output: 291 hp/300 lb-ft
Transmission: Six-speed automatic
Fuel Economy, city/hwy: 17/22 mpg
Price as Tested: $41,515