Driven: 2009 Volkswagen Routan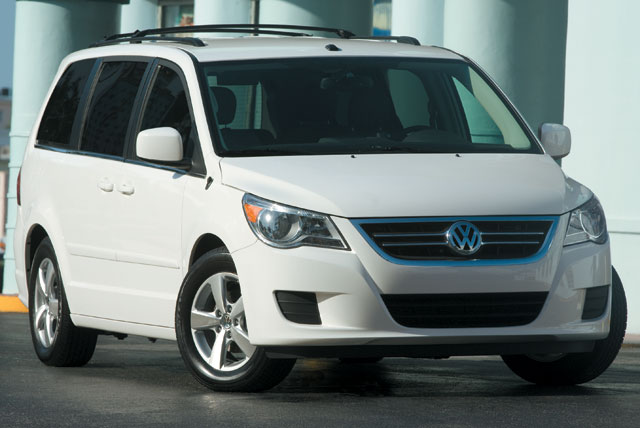 Badge engineering. This is the common practice in the automotive industry of taking a vehicle designed for one brand, and tweaking to work for another. But is this a good thing or a bad thing? We all know examples of the Chevy that is also a Pontiac or a Ford that is also a Mercury with little but trim differences. That cynical approach to marketing has led to a tarnished reputation for badge-engineering, among the pundits at least. The term even sounds pejorative.
Realistically, though some Lexus models are pretty closely related to Toyotas, yet they manage to be distinctive cars for different markets. And some Audi models don't seem too far removed from Volkswagens, yet they look and feel rather different. Some badge-engineered cars are actually pretty good — which would seem to be what matters.
Which brings us to the badge-engineered Volkswagen Routan minivan. For the 2009 model year, VW partnered with Chrysler to get back into the segment that some would say VW invented. While many had hoped that VW would return with a Microbus-influenced retro machine, that's not what we're getting. What we do get is a pretty nice minivan with some distinctive VW touches.

In case you aren't familiar with the latest generation of Chrysler/Dodge minivans which debuted for the 2008 model year, let's review. Chrysler has typically tried to lead the field in consumer-centric feature innovation, and this new generation sports 35 new or improved features. Most of these trickle down to the VW Routan, ensuring that VW is pretty much state of the art in the minivan feature wars (i.e., dual DVD screens, second- and third-row sunshades, multi-configuration center console, rear view camera, remote start, photo and music hard drive, 506-watt amplification, purse hooks, storage bins, cargo nets, etc.). Chrysler developed a new 4.0-liter, 253-horsepower engine (with 17/25 EPA mileage) to maintain pace in acceleration. Chrysler also decided not to make this new generation much larger, so the Town and Country, Caravan, and Routan are relatively compact (a fact which may suit importation to Europe better).
To remain competitive, Chrysler had to offer fold-into-the-floor seating in the second and third rows. In Chrysler lingo, that's Stow 'n Go. To innovate, Chrysler decided to offer a second rear seating option, called Swivel 'n Go. With Swivel 'n Go, you can't fold the second row into the floor (the third row drops into the same rear floor well as with Stow 'n Go), but you can turn the second row seats around 180 degrees to face rearward (club seating). This facilitates conversation, and allows a small table to be placed in the center for family eating, card-playing, or impromptu spitball fights.
For the VW nerds in our audience, Swivel 'n Go will sound suspiciously like a VW feature found in their previous vans, making VW's selection of Chrysler as a partner seem even more logical. So, here's where things get weird: the Routan doesn't have Swivel 'n Go seating. Huh? Well to be honest, Swivel 'n Go doesn't offer the adult-sized club seating room that past VWs have, so maybe VW decided it wasn't worth it. Perhaps not as strange sounding, but strange nonetheless, the Routan also doesn't offer Stow 'n Go.
At first this seemed the likely byproduct of internecine corporate negotiations. At least until you hop into the Routan for a drive. One of the first things you'll notice is the front seats. They're unusually comfortable for a minivan, with nice shaping and big side bolsters. The excellent cushion firmness and fabric selection mean you don't have to opt for leather to get a comfortable seat (though you can if you wish). It is almost as if VW loaned the GTI seat design team to the Routan engineers.
As you look around, you'll also notice that the dash is more Euro-curvy than in the Chrysler twins, and that colors reflect a bit of Euro-flair (and impracticality — our test Routan had "Ceylon Beige" plastics that were the color of buttermilk and we'd bet would show family dirt within a few minutes).
When you hit the road, the Routan feels more solid and more planted than the Chrysler. It has the weight and seriousness more akin to a Mercedes-Benz than any other minivan we've driven. The class-leading Honda Odyssey feels a bit more nimble, but not as luxuriously anchored. The Routan has a driving feel we think many minivan buyers would like.
At this point, we were thinking, "Okay, VW is aiming at a more sophisticated, adult audience and so, instead of all the trick seating features, they went with a quality theme." It seems stereotypically German to focus on quality materials, quality design, quality engineering. And that's what VW seems to have done.
We found just one little wrinkle in this formula. VW has done nice adult-friendly seating on the Routan up to a point. But apparently someone told VW that only Americans with small children own minivans. So VW left out the ability to slide the center seats back for adult-level legroom — a feature that Chrysler, Honda, and Ford (on the Flex) offer.
Badge engineering is all about giving the market real choices, and if the VW Routan were the same as the Chrysler Town and Country or the Dodge Caravan, then we'd be looking down our noses. But we thought it was almost enough different to make sense for a niche in the market. Fix those middle seats and drop in a diesel and VW might be taking orders.
2009 VOLKSWAGEN ROUTAN SEL
Engine: V-6, 4.0 liters, 24v
Output: 251 hp/259 lb-ft
Transmission: Six-speed automatic
0-60 MPH: 8.9 seconds
Cargo Capacity: 144.4 cu ft
Weight: 4621 lb
Fuel Economy, city/hwy: 17/25 mpg
Base Price: $33,200