WR TV: 2014 Nissan Juke Nismo RS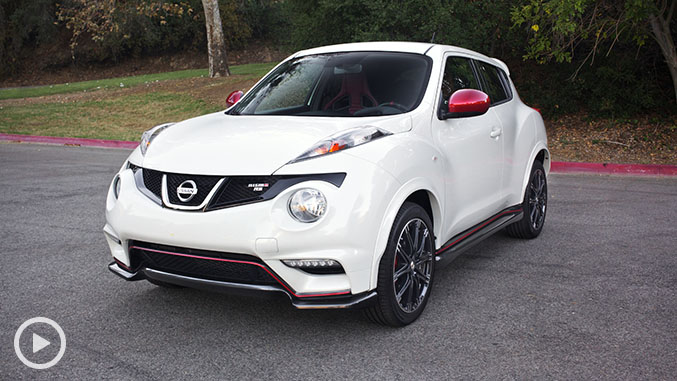 This week we've got the keys to Nissan's sporty crossver, the Juke Nismo, here in the uprated RS trim. We don't normally think of crossovers as the sort of vehicle that one might consider taking to a local autocross or track day, but after a week with the Juke Nismo RS it's clear that the engineers from Nismo weren't content to just give the Juke a bodykit and wheel makeover and call it a day.
Powered by a 1.6-liter direct injected and turbocharged four cylinder motor that's hooked to a six-speed manual gearbox which sends power to the front wheels, the output 215 horsepower and 210 pound-feet of torque is more than enough to move the 2900 pound compact with an adequate amount of haste. Torque steer is evident when you drop the hammer from low speeds but, much like its progressive understeer characteristics at the limit, it is manageable and predictable.
Given the implications suggested by its outward appearance and aggressively bolstered Recaro buckets, it is welcome news that the RS trim also includes exclusive engine and transmission tuning, uprated brakes and exhaust, and a limited slip differential. Along with the Nismo-tuned suspension, steering and a solid short-throw shifter, the Juke Nismo RS is a substantially more engaging driving experience that one might give it credit for at first glance.
Externally, the Juke Nismo is differentiated from the standard model by more aggressive front and rear fascias, Nismo-exclusive front and rear LED accent lights, red side mirrors, a signature red accent stripe that runs along the rocker panels and fascias, and a set of 18-inch alloys wrapped in summer tires. The RS model also adds red brake calipers to the mix.
Inside, Nismo gauges, shift knob, and an Alcantara-wrapped steering wheel remind you that this Juke has aspirations beyond the daily commute.
Loaded with options like a 5.8-inch touchscreen display with navigation and a Rockford Fosgate audio system, the Juke Nismo RS came in at $28,345 – a reasonable sum considering how well equipped it is, but also nearly $3000 more than a similarly outfitted
Fiesta ST
. But if ground clearance and a higher perspective of your surroundings in your sporty hatchback is high on your priority list, the Juke Nismo RS make a solid, if slightly curious, option.
Have you subscribed to the
Winding Road Magazine YouTube channel
yet? We post new videos like these every week, so give a us click if you want to make sure you don't miss any of the latest clips.