Third Look: Changing Minds with the BMW X5 xDrive35d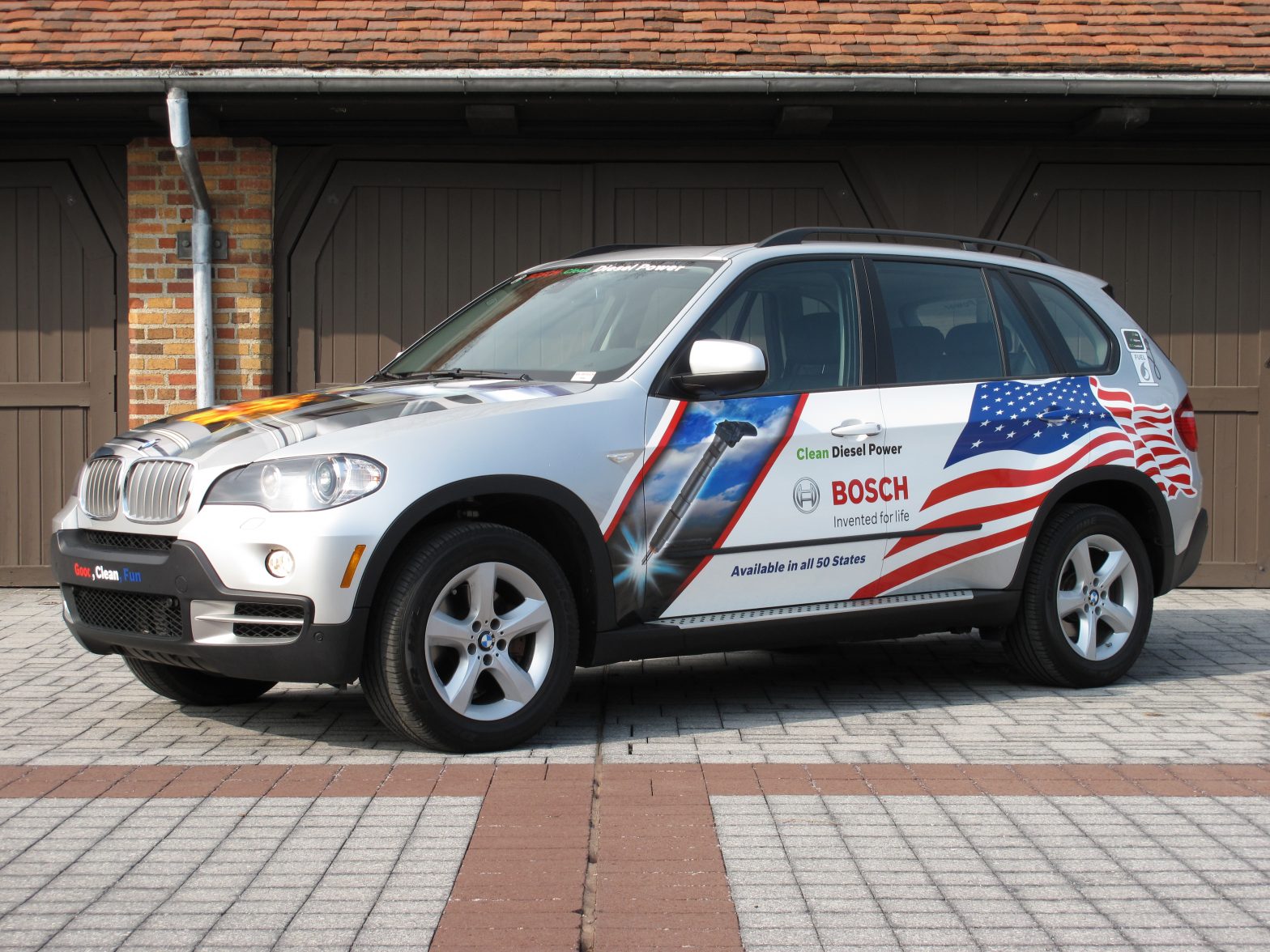 Although we have covered the 2009 BMW X5 xDrive35d previously, the Robert Bosch Group saw fit to loan us one of its models to test. As the Bosch vehicle was decked out in an un-missable, pedestrian-amusing, stars and stripes motif, we thought that this particular X5d would be the perfect vehicle for gauging public opinion about diesel in and around Metro Detroit.
So, over the weekend, we hit the highway with two friends, one still in college and the other an engineering graduate from Kettering University. The college student remarked that the 3.0-liter diesel engine sounded like the it was knocking at idle, and had to be informed that modern diesels still sound very different from a standard gasoline engine, even though they're now quieter and more refined than ever before. After shuttling some friends around town, many opinions were changed.
The passengers, neither of whom was very familiar with diesel technology, were shocked at the outright speed of such a big vehicle. The fact that at 65 miles per hour, the throttle can be nailed and 425 pound-feet of torque were almost instantly accessible blew them away. Both are driving enthusiasts, but are so used to rowing their own gears and having to drop down for highway passes, that they couldn't believe how eager the big Bimmer was to get up and go.
So as not to draw the attention of the cherry-top Michigan State Troopers, we soon settled down to a comfortable 70 mph cruise. The X5d went from wowing with outright power to wowing with comfortable highway manners.
From the comfort of the cabin at cruising speed engine noise was nearly non-existent. Combining so little engine noise with the natural amenities of a modern BMW is a recipe for a good car, and by the end of the trip, the passengers were possessed with a new found appreciation for diesel.
Afterwards, we cruised through the campus of Oakland University and stopped to talk to students and staff, many of whom were curious as to why a BMW was decked out in the afore mentioned livery. Many said they would never consider a diesel powered vehicle, while a smaller group said they thought diesels were limited to heavy-duty pickup trucks and semi-trucks. Others said they wouldn't have known it was a diesel had it not been plastered over every body panel.
With the exception of the general diesel clatter, many students and faculty were impressed with the X5d. Since most have only ever seen diesels in big pickup trucks, the luxurious X5d seemed to be a bit of a shock to their system. With the exception of the body wrap, it received relatively lavish praise from the uninformed masses.
Slowly, it seems, but with more and more opportunity for exposure every day, Americans are starting to wise up about the merits of diesel power. A good start for the Motor City.
2009 BMW X5 xDrive35d
Engine: Twin-turbocharged diesel I-6, 3.0 liter, 24v
Output: 265 hp/425 lb-ft
Weight: 5225 lb
Top Speed: 130 mph*
Fuel Economy: 19/26 mpg
Base Price: $51,300
*Electronically Limited