The Best Gear To Organize Your Race Trailer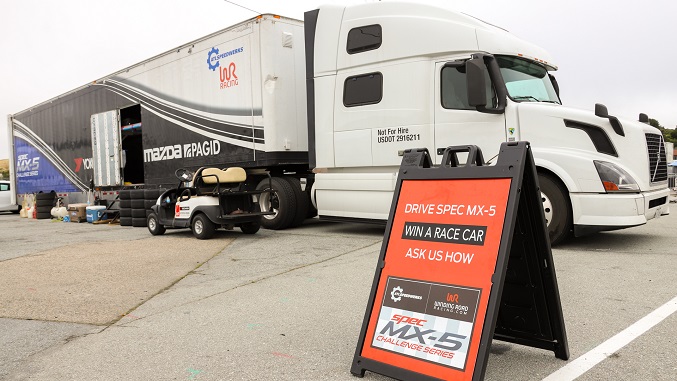 As the first wave of cool, fall air hits many parts of the country, you might think of planning some off-season upgrades to your towing rig. We have a few favorite items that keep our pro trailers organized and we thought we share them as an inspiration for you and your crew.
Organize Your Cleaning Supplies
Pit Pal Universal 2 Shelf w/Roll Towel: We keep all of our cleaners (glass, rubber, insect, wax) in one rack on the door of the trailer. Easy to access and by putting everything in one place we don't have to run around looking for that missing can of E9. This rack is a favorite because it has a holder for those all-important towels and nitrile gloves. You can stock this shelf with our Race Car Cleaning System.
Stow Your Jack
Pit Pal Jack in The Pouch: Your floor jack takes up space and can become a projectile. We store ours in the Jack-In-The-Pouch right next to the trailer door, easy to access, easy to stow away and takes up minimal space.
Consolidate Your Maintenance Items
Pit Pal Combo Storage Cabinet: It is a pain to run around looking for oil or Brake Kleen or SRF or WD-40 or tape. We put one or two of these (depending on trailer size) on or next to the trailer doors. Then we can find most of the stuff we need for maintenance.
Store Your Folding Chairs in a Small Space
Pit Pal Collapsible Chair Holder: This rack uses the space above your trailer wheel well to keep your chairs handy and prevent them from taking massive space on the floor or in the gooseneck.
Make Sure You Know Where Your Pressure Gauge Is
Pit Pal Large Tire Pressure Gauge Pouch: Put this holder on your pit cart or on a frame member inside your trailer. Always return the gauge and you'll never miss it when you need it. We put a second one on our golf cart or Taylor-Dunn.
We at Winding Road Racing have deep, thorough experience in keeping equipment as organized as possible. We know the pain of not finding what you need, with little time to do so. These are products we've used ourselves; feel free to call us at 512-994-0656 or shoot us an email at [email protected]  Check out all of our Pit/Garage products and equipment at WindingRoadRacing.com.