The Best Race Car Cleaning System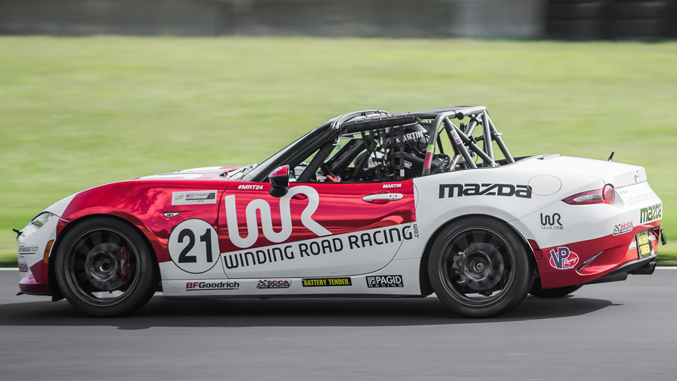 This week's Best Of article is written by Karen Graf, M.O.C.D., our staff expert in clean surfaces. Karen received technical assistance from team entomologist Mary Martin, M.D., and vinyl installers Juliann Pokorny, Tim Barber and Mike DeCesaro.
Winding Road Team TFB has to keep its cars looking good at the track for sponsors and spectators. The team has found a combination of products that address most of the issues they run into. We bring those products to you in one all-conquering bundle.
The brief for this bundle starts with limited water supply at the track, so the team wants everything to work without water. Their product checklist is based on this process:
Step 1: Clean light dust and dirt when drivers go off course with Sonax Multistar.
Step 2: Clean streaks from rubber thrown up by other cars with Mother's R3. Pro tip: this stuff is practically magic if you massage the rubber streaks to loosen them up after spraying with R3. Remember to wear nitrile gloves (which you really should have on for all of these steps).
Step 3: Apply cleaner for the bugs killed on long straights. We've found that Sonax Insect Remover works well.
Step 4: Remove any tar and adhesive residue that is left after steps 1-3 by using a solvent that won't destroy vinyl. We use Citrol spray, because it works and is easy to apply lightly. You may need some elbow grease for this step. Pro Tip: don't ever use Brake Kleen for this step, unless you want to destroy vinyl laminations and incur the wrath of your team owner. Not that we would know.
Step 5: Clean windows. Sonax glass cleaner is formulated to work on both glass and Lexan, so you only have to bring one type of cleaner.
Step 6: Dry wash and wax to make everything, including chrome, shiny. We use Motul E9 spray, which is a one step system, to save time. Once you get used to its creamy consistency, and learn that it miraculously disappears after gentle polishing, you can deliver a shine like a pro in minutes.
We include a set of microfiber cloths so that you can properly apply all this great stuff.
We have a bundle with all these items available here.