Review: 2020 Toyota GR Supra 3.0 Premium — Sharing Is Caring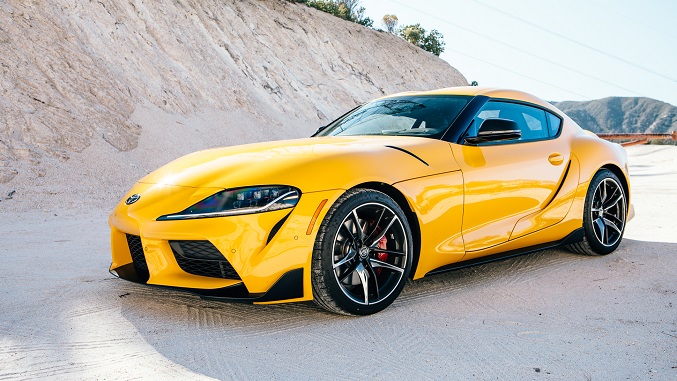 All photos by Christopher M. Fowler
Sharing is truly caring in today's new car market.
Manufacturers who team up to engineer and produce cars that are challenging by today's safety and emissions standards, as well as just general consumer demand, should be commended for their efforts. While the fruits of their assembly lines may not have that extra touch of signature brand uniqueness that some discerning buyers might be looking for, it's just refreshing to know that manufacturers care about enthusiasts, and are producing something, especially in the sub-$60,000 price range.
There are two aspects of the market and car culture that unfortunately give them some push-back, though: our current SUV and crossover craze, and the harsh, lambasting culture of the internet.
We are of course talking about the 2020 Toyota GR Supra 3.0.
The main reason for all this lambasting: it's built in the same Austrian factory as the 2020 BMW Z4. One would think that taking a lot of what BMW is good at, and combining it with a lot of what Toyota is good at, deserves praise, but oh, like we've stated before, the mysticism of non-experience.
Toyota recently gave us the keys to a 2020 GR Supra in beautiful Nitro Yellow, fully optioned out to the tune of $58,138. Wildly enough, just before the Supra showed up, we had a whole week with its Osterreichisches Geschwister possessing a BMW badge, the M40i trim to be exact. Having a clear, un-interrupted ability to compare the two was pretty cool in hindsight. The Z4 was a tad faster, more luxurious, possessed inherent convertible fun, and looked more understated, but had its negative characteristics. Mainly in the handling department. The Supra did not possess any of these negative characteristics, though, had a few minor ones of its own.
The Supra has its share of luxury and tech amenities, and when fully optioned out, it doesn't quite scratch the $60,000 price tag. On the other hand, the Z4 fully optioned out jumps to a hair over $73,000. With its Driving Assistance, Premium, and Executive Packages, the Z4 is more targeted towards those who favor luxury and convenience over a more connected driving experience. This isn't a bad thing of course; it all comes down to who the intended market is.
Though if driving dynamics are a consumer's #1 priority, the Supra wins.
Because of this, the Supra ended up being our preferred chassis iteration. It has a ton going for it, and the fact that it shares a ton of parts with the Z4 is only a good thing; it possesses almost all of the Z4's positives and none of the negatives. Here's why we think it's one of the most fun cars on sale today.
Underneath the hood of the 2020 Supra is BMW's B58B30C 3.0-liter, single twin-scroll turbocharged Inline-6 engine. Producing 335 horsepower and 366 lb.-ft. of torque, its ability to shove the 3,461 lb. Supra along via the rear wheels is quite good, and warrants a 0-60 MPH time of around 4.0 seconds. Other reviewers have been able to do sub-4-second launches with a bit of finesse and launch control enabled, but any schlub (like us) can come quite close to these times with the Supra's composed-yet-thrilling acceleration, and with absolutely no finesse whatsoever. The engine revs so smoothly, produces such a nice tone, and has such a fun power band, that it was incredibly hard to not launch it at every stop light, and generally not wheel it around like a total prick.
One particular scenario we could re-do all day long in the 2020 Supra: Downshifting and trail-braking into low-speed corners, then sling-shotting right out of them with a touch of oversteer. This was always a thrilling experience, and a testament to the superb engine, sharp-shifting 8-speed automatic gearbox, strong brakes, and excellent suspension all working harmoniously. Other spirited situations that felt brilliant behind the wheel: pitching it into a low-speed, 2nd gear corner and letting the rear end slide out and stay there with barely any fancy steering wheel work, as well as slicing through a tight canyon road's Bus Stop-like succession of corners with razor sharp precision (track reference: the Daytona Road Course Bus Stop). There were many others, though people would probably get bored of our lengthy, pedantic descriptions. We found it quite predictable and controllable with all nannies, such as traction and stabiliy control, turned off; a testament to Toyota's engineering.
The Supra was always a giggle-inducing experience. It takes off like a rocket and does so without any drama. The only Sturm und Drang that accompanied the engine were the thrilling aural and physical sensations of hearing the 3.0-liter inline-6 rev out with an accompanying shove back into the seat.
There was no drama to the ride and handling, either, which was to be expected as the Supra possesses Toyota's Adaptive Variable Sport dampers, and double-joint MacPherson front and multilink rear suspension. With either Standard or Sport mode engaged, (that's right, just 2, well, technically 3 modes, which we found a tad refreshing compared to the BMW's 5 or so) the ride was never harsh or jostling. They worked incredibly well with the Supra's short wheelbase and great overall chassis rigidity, providing a planted, enthusiastic, and above all sharp-handling ride. Body roll was non-existent on the street, freeway on-and-off-ramps, and some of the best canyon roads that Southern California has to offer. In fact, we barely ever took it out of Sport mode; the suspension was only set to standard for the harshest, most bombed-out Los Angeles streets we encountered.
The 255/35/19-front and 275/35/19-rear Michelin Pilot Super Sports were an excellent choice by Toyota. This is a pretty substantial amount of grip for the 3,400-or-so lb. Supra, and they always felt phenomenal and confidence-inspiring (as expected). They were a nice compliment to its massive brakes, too: 4-piston, 13.7-inch rotors up front and single-piston, 13-inch rotors out back. While we didn't get a chance to test the Supra on track, we can say with a bit of confidence that they'd hold up just fine after some all-day-long, middle-pedal-action at any of California's famed tracks with just a simple fluid upgrade.
The mode setup that we found to be the most appropriate for a fun, engaging driving experience, albeit without being obnoxious (the Nitro Yellow paint checked that box just fine), was fine-tuning Sport Custom Mode. We set everything Sport except the engine, which we left in Standard to avoid the obnoxious burbles and crackles that filled the exhaust note every single time we let off the throttle. Sure, burbles and crackles are great for a spirited canyon drive or on-track fun, but it got to be a bit too much cruising along slow, stop-sign-filled city streets.
The excellent driving dynamics were accompanied by a sporty, driver-focused interior. Despite the fact that we barely fit at 6'3" and long-torso'd, it was wonderfully comfortable, with excellent seats and nice, supportive, leather-covered interior pieces. Head clearance was ok; we'd have to recline the seat a bit to accompany a helmet on track. The interior also provided great spots to brace our knees during some high-speed corner carving.
Sure, the interior screamed BMW, but this surely is not a bad thing. The stereo system was great, all buttons had a substantial push, and the gauge cluster was crisp and quite aesthetically pleasing. Storage wasn't great, but since it's a pretty focused sports car, who cares? Blind spot monitoring was nice to have, though the left and right rear-quarter was easy to get a glimpse of from the driver's seat.
The Supra is not entirely free of a downsides, however. One mild annoyance was how the roof comes down onto the windshield and side windows, creating a cocoon-like setting for driver and passenger. Sure, it makes for great exterior aesthetics, but having to peer underneath it all the time as a tall driver got annoying after a while. Also, the amount of wind buffeting above 40 MPH with the windows down was painful. This little beast is designed for windows-down performance driving fun (on the road and on the track), and sunny day cruising – this was a bit of a bummer.
Despite its design causing some ergonomic drawbacks, the exterior appearance is quite beautiful. Toyota has received a lot of flak for their production design of the Supra, but we find it to be a brilliant next step after the venerable Mk4. The ducktail spoiler and front nose are a great homage, and the mildly-extravagant design language ensures onlookers that this is a wild, fun-loving sports car that might not be for everybody, but it sure is a lot to those it's marketed towards.
Other reviewers have described it's haunches, hips… whatever you'd like to call them, as a little too wide… even Kardashian-like. Regardless of whether or not the eye of the beholder finds this to be positive or negative, one can't deny it's a modern update on the classic sports car design formula. Plus, we can't help but think they'd allow for some pretty wide aftermarket wheel and tire choices.
The 2020 Toyota GR Supra 3.0 Premium is a brilliant modern sports car. Toyota made a wise decision teaming up with BMW for its production, too; it possesses all of the BMW Z4's best qualities and none of its downsides. It has its own downsides, but they are vastly over-shadowed by having so much to offer. It also does away with some of the Z4's convenience and luxury features, making it a more focused enthusiast chassis, which we definitely appreciate. We were a tad skeptical of the hype behind bringing back a sports car that's been absent from new car lots for the better part of 20 years, but the Mk5 Supra is well worth it.
Check out our POV video!