Spec MX-5 SimRacing Challenge Driver Profile: #23 Jack Sanchez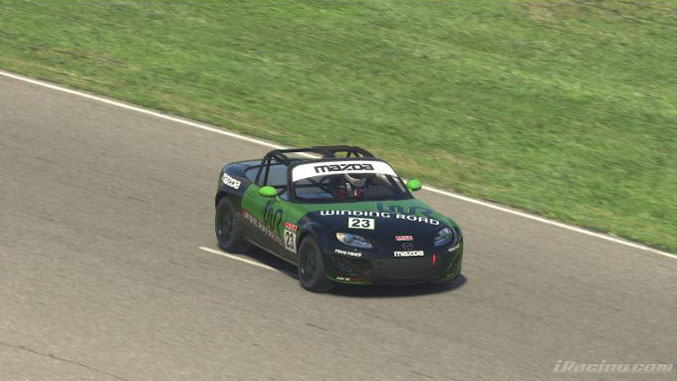 Jack's Back!
Oregon's Jack Sanchez returns to the Spec MX-5 SimRacing Challenge for another crack at the title. In 2019, Jack finished 18th in the regular season which earned him a spot in the Grand Finale race at Road Atlanta; he also has the distinction of being one of the few drivers that started every 2019 race and that's what earned him an auto-invite to the 2020 season.
Get to know Jack Sanchez, driver of the #23 Spec MX-5 SimRacing Challenge Car!
What's your name and where are you from?
My name is Jack Sanchez and I was born in Idaho before moving to Oregon at 14. Currently living in the west of the Portland metro.

What line of work are you in?
I'm a software engineer for an automotive company.

How old are you?
27
What was your motivation for participating in the Spec MX-5 SimRacing Challenge?
I saw the post on reddit one day. For me it was, come for the prizes and stay for the great racing and competition! The fact that it's broadcasted and there's a real Race Director at each event is just the cherry on top for scratching that realistic racing itch. I love getting to go back and watch the broadcast after the races.
Do you have any previous non-virtual motorsports history?
I've been autocrossing for a couple years now, and I love that! I've started really building my car for it now. I enjoy the aggressive approach to car control that autocross offers. However, my first time behind the wheel was virtual, in sim racing, long before I even had my driver's license.
Do you feel virtual motorsports is becoming a valid starting point for participation in actual motorsports?
I think the number of converted drivers in the last couple of years speaks for itself! I think it is unlikely most people will be able to make that leap from virtual to real at a level like you can run in the sim, but for me, the balance of sim racing and autocross has really hit the spot for me at this point.

Are you a 'gamer' or do you mostly only sim-race?
I'm definitely still a gamer. I probably spend similar amounts of time playing video games that I do sim racing. You can't chill in a sim-race like you can with a good video game.

Do you consider sim-racing a game?
There are certainly gaming elements to sim-racing, but ultimately, it is virtual motorsport. You need to know both components if you want to come out on top.
How long have you been sim-racing?
So many years now, mostly sim-cade level stuff though up until about 2 years ago when I seriously got into iRacing. Ever since I experienced what iRacing had to offer, it has been hard to be engaged in any other title that I've tried.
Are you very active in sim-racing?
Yes, I would say that I'm a fairly active sim-racer. It is rare for a week to go by without entering in an official race of some form, and I'm usually preparing for some upcoming event.
How much time would you say you put into sim-racing?
Many hours per week practicing and preparing as well as racing. Occasional paint creation can also be a huge time sink.
Do you run in many leagues?
No, this is the only sim league I've participated in, but it has turned out to be great fun and taught me a lot in the first season. I'm hoping to leverage the learning with a more competitive running this year!
What's your favorite car or series to compete in?
I like driving front engine, rear wheel drive cars, I'd have to say right now it is the M8 GTE over the Merc GT3, I generally run iLMS as well as the IMSA series.
How do you rate your chances of winning the driver development test at the end of the season?
I'd say it is doubtful, there are a lot of fast drivers in the lineup, but a hotlap and a race are different animals, and anything can happen after the green flag waves. Things will certainly be interesting this season with the new tire degradation. I'll definitely be doing my best and am trying to stay out of the big ones this season!
Anything else of interest you'd like to share?
Just looking forward to some great racing!