Review: 2020 BMW 228i xDrive Gran Coupe — Understated Refinement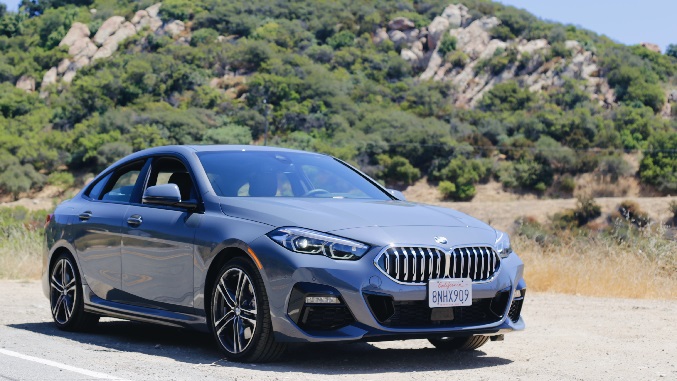 All photos by Peter Nelson
A few months ago we had the opportunity to review the 2020 BMW M235i xDrive Gran Coupe, which we found to be a good car, though a little underwhelming. It had all the acceleration and grip, plus some pretty impressive handling, though it didn't have that little extra something that BMWs are known for: controllable, RWD excitement. It was more of a general-population-friendly fast compact than an enthusiast's choice.
We got well-acquainted with the positives and negatives of this FWD-biased AWD platform during our week with it. After we handed back the keys, it made us ask: if more essentially-FWD, non-SUV, Mini platform-mates badged as Bimmers are in the cards at BMW, what would a non-M version be like?
Enter the 2020 BMW 228i xDrive Gran Coupe: the M235i GC's less-athletic sibling. Similarly adorned on the exterior and inside the cabin, though with less power, less suspension tuning, less-grippy tires, and less dollars in its price tag.
We were thrown the keys to this even-more-general-population-friendly compact for a whole week, and walked away with some pretty good conclusions, despite not being as thrilling in the performance department. Thanks to BMW USA for giving us a go for this review; our tester's base price was $37,500, with $9,700 in options and a destination charge of $995; all-day it was $48,195.
Interior and Exterior
Positives: Unobtrusive, conservative looks, with an interior that's a great place to be
Negatives: Possibly too unobtrusive, and the interior isn't as tall-people-friendly
Like the M235i GC, the 228i GC was pretty inconspicuous, though even more so. With a couple of M badges present to signify its M options, it otherwise looked pretty plain. What was striking however, was its beautiful Storm Bay Metallic paint (a $1200 option) that looked gorgeous in all light and was quite easy to photograph. If a car is going to look unobtrusive, yet above-average in price, it ought to have some suave touches to make it look the luxury brand part. We think this color did this, as well as its new-BMW design in its LED head- and taillights. One could conclude that this is desirable in a car like this: blend in with every other modest 4-door compact on the road, but be a cut above with a shiny Bavarian roundel on the hood.
Inside the 228i was optional Mocha Perforated Dakota Leather (a $1450 option) all over, including on the dash, door cards, center console, and seats. The interior was very pleasant to look at, and every material felt substantial and solid. The seats were very comfortable, and as adjustable as the upgraded seats in the M235i GC, albeit less tall-person friendly. In fact, we were a bit surprised how little headroom we had; leg and arm room were ample, but the roof was surprisingly low for a European luxury compact, most likely due to its sunroof.
Rear seat room was quite tight for adult-sized humans like the M235i GC, but also like the 235, had excellent trunk space.
BMW iDrive was easy to use as always, iPod connectivity was flawless, and automatic climate control was almost telepathic with what kind of temperature and fan speed we needed while cruising around in 90 degree Southern California heat. The 10-speaker Harman Kardon sound system was quite crisp, and made the simple activity of cruising around listening to satellite radio and podcasts a pleasant experience in itself.
The interior was a great place to be; when we pondered the 228i's purpose as a comfortable commuter car, or even as a car that's cobbled together to be the ideal tool for the harshest of driving environments (Los Angeles), everything started to make a lot of sense. It's a great place to shut out the outside world, relax, keep the climate control set to auto, and just cruise along and unwind. This thing was very well insulated, which has to account for a good percentage of its 3,500 lb. curb weight.
Plus it came with BMW Caring Car! This is BMW's way of either relaxing or invigorating the driver with frantic climate control changes, a sunroof that opens and closes on its own, and studio musicians doing their best Ulrich Schnauss or Kings of Convenience impressions.
Suspension and Handling
Positives: comfortable, solid ride that fares well over road imperfections and on the highway
Negatives: The suspension, while sportier than average, quickly becomes overwhelmed on twistier roads
The 228's ride and handling was above average, thanks to its M Sport Suspension that comes included in the $3,050 Premium Package. It was never harsh, but felt solid and well-planted, and made for good fun while carving through flowing, twisty roads. Ride quality was very good cruising around on Los Angeles' crappy, sunbaked streets. The ride was confident while weaving through gaggles of absent-minded drivers on Los Angeles' 405 and 101 freeways, as well as turning it up to 6/10ths for some flowing, twisty-Malibu-road fun. Independent suspension at all four corners, consisting of double-wishbone up front and multi-link out back, just like the M235i GC, was the major reason for all of this.
Harsh imperfections and potholes jolted through the chassis faster than a bolt of lightning, but that was due to the 18" run-flat tires with slightly more sidewall than rubber bands.
The tires and steering wheel didn't transmit much feedback from the road, though we weren't expecting much as we quickly found out that its Bridgestone Turanza all-season tires were terrible. They started screeching as soon as we reached advisory speed limits in tighter corners, and made a lot of road noise at highway speeds. It was almost as if the tires metamorphized into critically-thinking beings, possessing the ability to see upcoming yellow advisory signs, compare them with the vehicle's corner-entry speed, and start shrieking in fear. BMW's $700 Dynamic Package containing Summer tires most likely remedies this.
Tight corners revealed the limits of the 228i's suspension. When it came to the tight stuff, or trickier transitions, we started experiencing some plowing under braking as well as pronounced body roll. This was exasperated by its squishy, weak brakes; it didn't take much to put them past their ideal temps.
Nevertheless, once we got through a tighter corner, the transversely-mounted turbo B48 4-cylinder engine made up for the lack of grip and poise, and had no trouble quickly pulling us to the next one.
Engine and Transmission
Positives: great power and torque, excellent fuel economy if you're easy on the right pedal
Negatives: Very quiet… that's about it
We had trouble believing that 228 horsepower and 258 lb.-feet of torque was enough to pull this 3517 pound Teutonic sedan to 60 MPH in just over BMW's reported 5 seconds, but sure enough the right launch got us in that range quite easily. This is probably due to BMW always understating their power figures, or publishing where the power's at post-transmission rather than pre. This made for getting up to speed on freeways and quickly whisking past idiot-drivers an easy task, as well as a lot of fun on canyon roads.
Like this author stated above, the 228i became overwhelmed when tasked with cutting through tighter canyon roads, but we could put the power down very early thanks to BMW's version of a limited slip differential, and various other tech like Dynamic Stability Control and Dynamic Traction Control. There was a tiny amount of turbo lag like the M235i GC (and even the Toyota GR Supra 2.0 we tested, they all have the same likable engine), but nothing we'd complain about, and in general it revved up and felt strong across the entire tachometer.
Despite there being a handful of M-signified items on the options list, and an engine that loved to rev up with a great amount of torque, it just didn't sound all that entertaining. Between its actual exhaust sound, and the synthesized stuff coming through the speakers, regardless of mode it never sounded that aggressive. From our research it looks like sporty, aural sensations are reserved for the M235i GC.
Fuel mileage was very good: 23 MPG city, 33 highway, and 27 in combined driving. Easy cruising on the freeway led to even better results, in fact we saw over 35 at one point.
Great for What It Is
In the context of a car that's great for traversing Los Angeles, or really any busy urban environment, the 2020 BMW 228i xDrive Gran Coupe fit the bill very well. Its understated design, BMW roundels fore and aft for status, a comfortable, isolated interior to tune out all the BS, good road manners, great power, and solid handling for getting around or avoiding BS drivers all comes together nicely. It also had good driver aid tech in addition to its brilliant iDrive system; one form of driver-assistance was BMW's lane keeping assist. This not only helps absent-minded drivers stay in their lane, but is also a ruler-smack to the knuckles if you change lanes without using a signal. Good on BMW for inadvertently working to rid that poor practice from North American (especially Southern Californian) driver habits.
Check out our POV video!