The Best Racing Harnesses For Every Occasion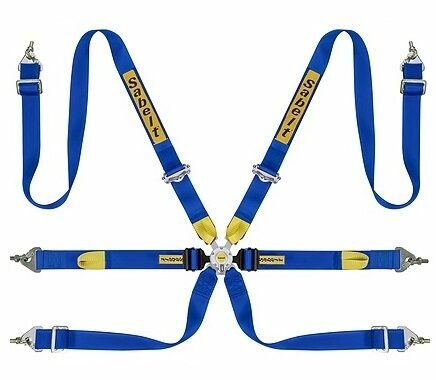 Updated for 2020. Some of the harness options that were originally selected for this article are no longer available. We've updated this article with new racing harness picks for 2020 – Editor.
While safety is the primary function of a racing harness, there's a number of other considerations when choosing one for your requirements, like the type of motorsport competition you'll be using it in, its ease of use, and your budget.
We've compiled a list of our picks for the best harnesses available for specific requirements and what makes them standout options. As a refresher in the factors you need to consider when buying a racing harness, you may want to read our Racing Harness and Belts Buyers Guide, and head over to the Winding Road Racing online store to check out the entire selection of harnesses and belts available.
High End: Safecraft Restraint Systems 6-Point Racing Harness
We put Safecraft harnesses in the cars we race and recommend them for all the cars we build. Their ease of cinching and amazingly tight "no-back-off" adjusters just can't be beat. The mechanical bits feel so precise that you'd think they were made in Germany. But, in fact, they come from Chicago and the brilliant mind of IMSA driver Charles Espenlaub. See all Safecraft harnesses.
Best Harnesses For Driver Changes/Endurance Racing: Sabelt Enduro Silver Series 6-point Saloon Harness
Perfect for nearly any installation, the Sabelt Saloon 6 point harness (which uses the British terminology of "Saloon" meaning "Sedan") has lightweight easy to use adjusters, has large loops for the shoulder belts and comes with both pull-down and pull-up lap belts. IT also comes with both pull-up and pull-down lap belts, grippy material under the shoulder belts to hold your head and neck restraint better, and routing for cables and/or hydration. It is available in 3 colors and comes from a storied brand that you can trust. The Sabelt Saloon is FIA rated, which means the belts are certified for 5 years, potentially saving you money. See all Sabelt harnesses.
High-End All-Arounder: Schroth Flexi 2 x 2 Racing Harness
Perfect for nearly any installation (it can be converted from pull-down to pull-up, and it has no sewn-in attachments so that you can run it in snap-in, bolt-in and wrap configurations). The Schroth Flexi 2 x 2 harness comes from the leading brand in harnesses. Schroth has used its years of experience in Formula 1 racing to engineer a safe and yet affordable harness any racer would be proud to use. See all Schroth harnesses.
High-End Formula: Schroth Formula 2 x 2 Racing Harness
The Schroth Formula 2 x 2 harness is optimized for small formula cars, removing the length adjuster on the lap belt to reduce the space needed in tight confines. See all Schroth harnesses.
Good All-Rounder Value: Sabelt Steel Series 6-point Saloon Harness
The 2″ belt design of both lap and shoulder of this harness means it brings you the latest learnings from safety testing. It can also be purchased in 3″ lap or shoulder belts, comes in 3 colors, and comes standard with pull-up lap belts. The FIA rating means that you won't have to replace the harness for 5 years, saving you upgrade costs. See all Sabelt harnesses.