Quick Drive: 2012 Chevrolet Camaro SS Convertible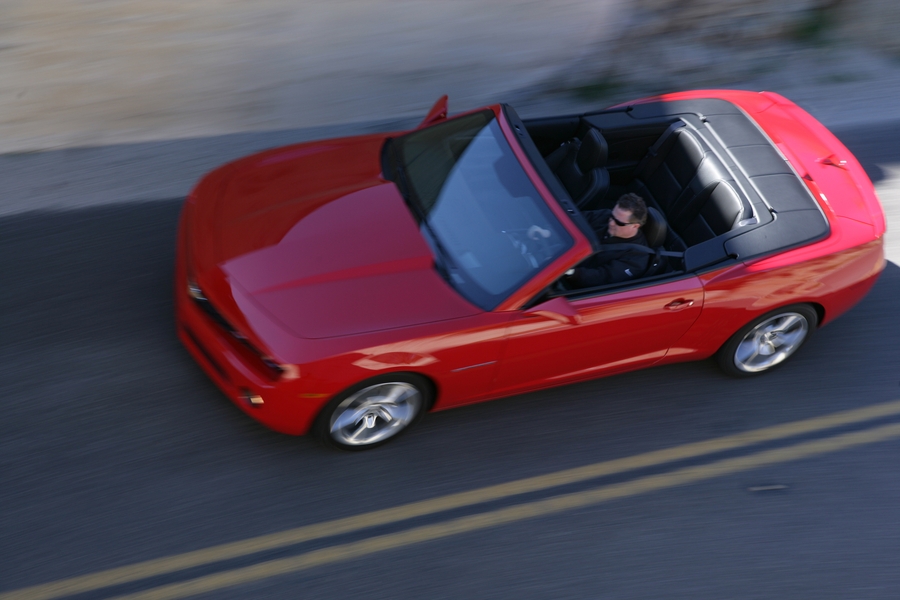 This was my first go in a Camaro SS, and I'll admit straight away, I was disappointed. I expected more; more noise, more power, more Chevy small-block V-8 goodness. Instead, it just felt like a moderately fast muscle car. Yes, it had some of that muscle car attitude, especially splashed with the orange paint and black stripes of our tester, but it never really felt all that good.
The biggest issue is the weight. The Camaro desperately needs a date with Jenny Craig, as its 4100-pound curb weight is just too much of a hindrance on performance. To put things in perspective, even with the heavier automatic transmission, a Mustang GT is 500 pounds lighter. And I could feel this weight in everything the Camaro did. The way it cornered, accelerated, and braked all felt a half-step slower than they should have been. I have no doubt that the Camaro can be a seriously good muscle car, but in order to do that, it needs a much lower curb weight.
—Brandon Turkus, Test Fleet Manager
Phooey.
So the Camaro convertible is a heavy car, so what? It still has a monstrously strong, 426-horsepwoer V-8 to push it around, plenty of grip, and superb handling. Brandon can compare specs with the Mustang all he wants, but it won't stop the Camaro from being a much more sports-car-like experience than the still-too-softly-sprung Mustang GT 'vert.
I won't argue that the SS convertible is a totally brilliant driver's car, but I do firmly believe that it holds an edge over the Stang in terms of handling prowess. Given a back-to-back drive I'm sure that Brandon would see the light (he's still pretty young, so I'll cut him a break here).
Now, in other areas I completely agree with Mr. Turkus. The Camaro is too quiet by at least half, and really doesn't give one the really gut-wrenching shove in the back that you'd expect from a 400-plus horsepower muscle car. A better power-to-weight ratio certainly wouldn't hurt, either, as long as the weight being cut didn't hurt the Camaro's super rigid frame. The Chevy never does feel as fast as it's looks and spec sheet lead you to believe it will.
I found myself liking the manual gearbox here more this time around than I have in the past. The six-speed just feels honest and pretty mechanical, without blowing my mind in terms of quickness or smoothness.
One more note here. I had the Camaro over a weekend, but was forced to trade for a more practical ride when some urgent business took me across the state on a rainy Saturday. The prospect of driving the rather claustrophobic convertible, with the top raised, for more than 300 miles was unappealing to say the least. In other words: this still isn't my idea of a daily driver.
—Seyth Miersma, Editor-In-Chief
Pros
If you're even considering a Camaro purchase, chances are that the car's bluff good looks have won you over
Handles well enough to make you forget the muscle car legacy
Engaging manual gearbox
Cons
The Mustang 5.0 will make for some very lively debates in this segment
Doesn't feel as quick as 426 horsepower would indicate
Too quiet for something this badass