Quick Drive: 2011 Jeep Liberty Renegade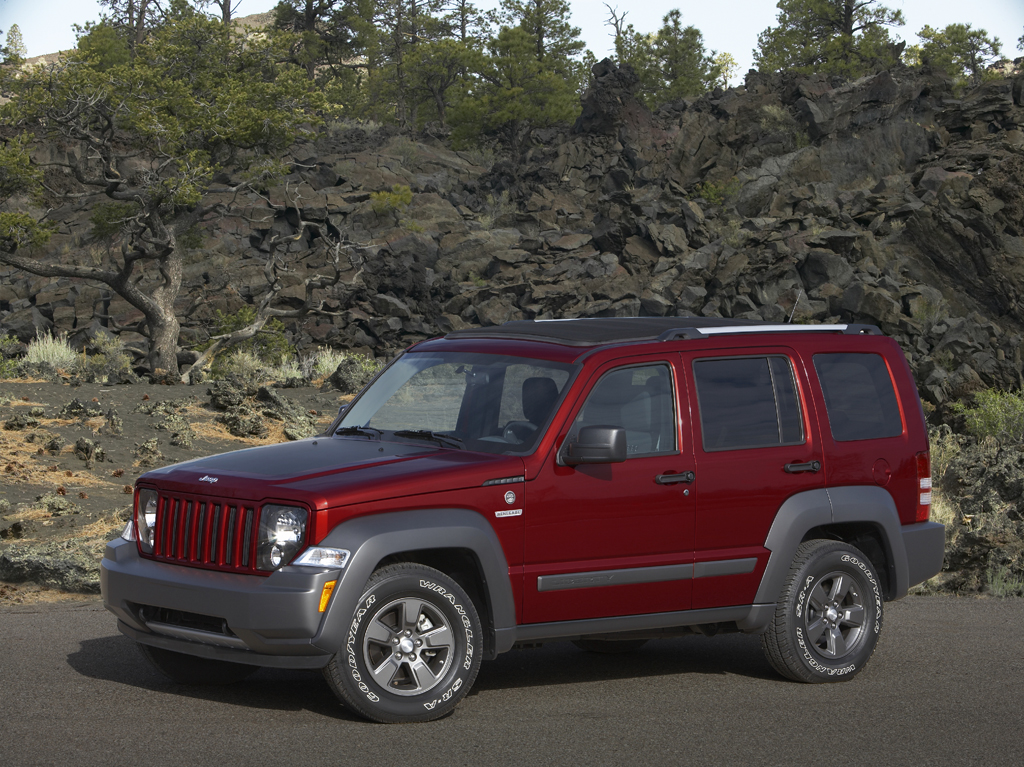 Dynamically, the Liberty isn't a very good vehicle in the context of newer SUVs and crossovers. The 3.7-liter V-6 feels pretty old these days, producing 210 horsepower and 235 pound-feet of torque. Doing a bit of math reveals this engine's poor power-to-displacement and torque-to-displacement ratios (56.7 horsepower and 63.5 pound-feet of torque for each liter of displacement). The 3.7 redlines at 6000 rpm, but with peak horsepower and torque only coming on at 5200 and 4000 rpm respectively, the Liberty really needs to be revved to get anywhere.
This shows through at the pumps. With an EPA rating of 15 miles per gallon in the city and 21 on the highway, I wasn't expecting a fuel sipper. And with an average of about seventeen miles per gallon, I was right. Hopefully, the 3.6-liter Pentastar V-6 will find its way under the Liberty's long hood.
Despite the generally uninspired engine, I really enjoyed the Liberty. There is just something so American and traditional about bombing about in an off-roader. That's especially true in snow-covered Michigan, where any chance to step off the beaten trail can become a fun sideways adventure. That being said, I wouldn't have minded a bit more off-road tech in the Liberty. A two-speed transfer case or the fancy Selec-Terrain system from the Grand Cherokee would be welcome additions. Both would go a long way towards giving the Liberty a bit more off-road cred and an added dose of security.
—Brandon Turkus, Test Fleet Manager

I feel very upright when driving the Liberty. It's pretty tall, and the seating position makes it feel even taller. This is helpful for visibility, especially with the big, rectangular windows throughout the cabin. Unlike a lot of SUVs and CUVs, I feel like I can actually get a sense of placement in terms of lanes, other vehicles, etc., instead of the sole benefit of a good view of the road ahead. The windows go pretty low, so I can see the ground almost directly next to the vehicle too. This would surely be helpful in a precarious off-road situation, but it also inspires some confidence on public roads and parking lots.

The suspension feels pretty rigid when traveling down the road, and it doesn't absorb a lot of the bumps and imperfections at speed. The Liberty also has a tendency to rock fore and aft, and I cold imagine my neck feeling sore after a long drive on Michigan's ailing roads. Also, that tall feeling I mentioned translates to a lot of lean in the corners, which is less than ideal for comfort and stability.

The interior of this particular Jeep was a definite improvement over past liberties. It had black leather upholstery, and the basic design of the cabin look more classically Jeep-like than the last Liberty I drove (which had more of a rental-car vibe going on). It felt very purpose driven, and lots of right angles and rectangles mirror the exterior styling.

—John Beltz Snyder, Production Editor
With all of the big changes, great updates, and new vehicles that the Chrysler Group has been rolling out of late (think Dodge Charger/Chrysler 300, Jeep Liberty, and even the Fiat 500), the Liberty feels a bit half-hearted to me. Driving dynamics don't feel tremendously better than the outgoing truck, and Brandon's right to question the lack of the otherwise-ubiquitous Pentastar V-6 here, too. I think that Jeep, rightly, put most of its time and resources into the Grand Cherokee update, giving the Liberty only the benefit of a new (and much better, thank you) interior.
In short, the Liberty is a much better buy for 2011 than it was in the 2010 model year, but I don't see it taking many conquest sales from the new breed of SUVs and crossovers.
With that said, Liberty does make for an interesting price/engine/size equation relative to the competition. The Jeep slots in-between larger options like the Chevy Equinox/Toyota Highlander, and smaller ones like the Honda CR-V or Kia Sportage. It's also got a V-6 where many similar options are four-cylinder only (with the six still being more powerful, despite how we feel about it), and is priced to be competitive with the set of smaller vehicles.
—Seyth Miersma, Editor-In-Chief

Pros
Off-road capability is certainly still present
Interior refinement has made some gains in this generation
Priced to be competitive with larger, less powerful AWD vehicles


Cons
3.7-liter V-6 feels a bit old considering the Pentastar is now in other Jeeps
Feels a bit too unstable when cornering at speed
For a few grand more you can have a V-6 Grand Cherokee—Isn't that what you really want?