Flip This Car: 1989 Ford Taurus SHO — Part Three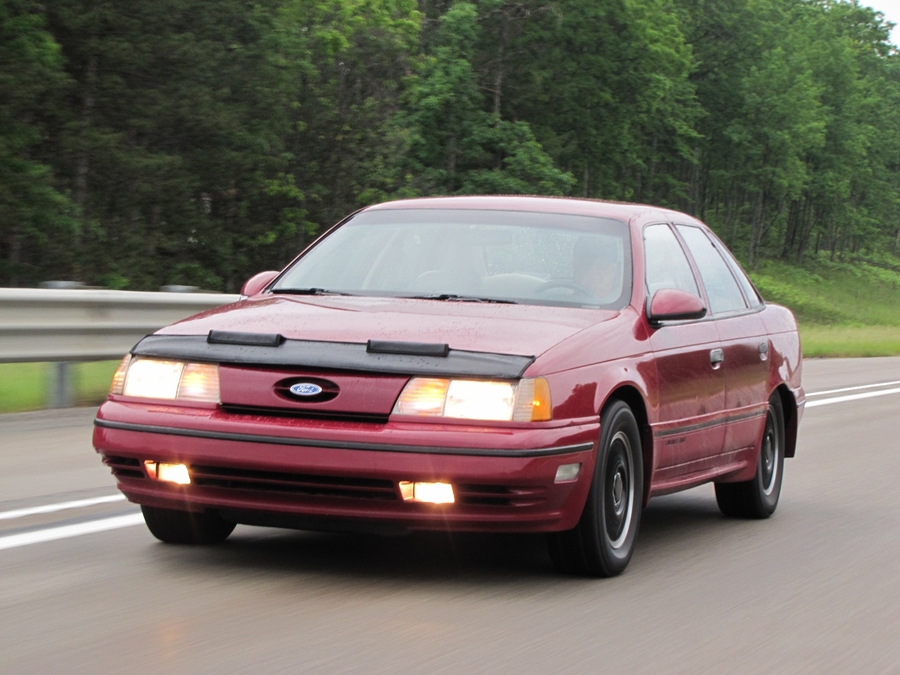 The Road Test
Driving the Yamaha
I may have mentioned before that this rusty, red 1989 Taurus isn't my first SHO. It may be a sport sedan with a spiffy engine, but I've been made aware (from a Toyota Avalon no less) that it's no longer the rolling four-door superhero it once was. And to that end, I can only say that I really, really don't care. The Old '89 doesn't have the refinement of new cars (nor did it quite have the refinement of its contemporaries, for that matter), it's not as comfortable, it doesn't have nearly the same level of technology, but it does have that fabulous DOHC, 24-valve Yamaha engine, and it's still a humdinger despite 21 years and 159,000 miles. These mills love to rev, and the fact that my fuel mileage is down to a highway average of 25 suggests I love to rev just as much. Clutch in, first gear, revs to 1800, drop and go. Modulate the gas to keep the tires from filling the cabin with smoke, grab more rubber in second, and marvel at how much this engine sounds like an Italian V-12. I may have lost to a Toyota Avalon, but I'll bet that driver didn't need to smoke a cigarette after the race. This engine was originally built for a mid-80s Ford sports car called the GN-34. The how or why it ended up in the Taurus is a subject that's still debated among the SHO faithful, but I'm ever glad it at least went somewhere. Every auto enthusiast needs to hear the howl of this engine, at least once in their motoring career.
Off-road capability
Who says a lowered sport sedan can't go off-road? If soccer moms refuse to get their four-wheel drive SUV dirty, then I refuse to let my two-wheel drive Taurus SHO stay clean. Actually, when it comes to crawling down the trails, the SHO is quite capable of, well, getting stuck and/or puncturing a tire with every turn of the wheel. Even on seasonal roads that see semi-annual maintenance, the SHO is good for all of 2.3 miles per hour, and the stiffer-than-stock suspension setup is outstanding in rearranging my spine. That's not to say I didn't at least try to have some fun; one particular stretch of road trail had me pretending I was Ken Block, until I found myself at the top of dead man's hill with no way to turn around. I had two choices—attempt a descent down a washed out cliff surrounded by trees, or reverse a half-mile though a twisty, one-lane trail. The fact that I'm typing this story should indicate my final choice.
The supporting cast
Ford's original suspension tuning on the SHO made for a capable performer, but with upgraded Eibach/Tokico suspension, the Old '89 is even better in the corner carving department. I'm not necessarily saying a 21 year old Taurus is equal or superior to modern sport sedans, but the SHO's minimal body roll and light weight make for a driving experience that's at least as enjoyable as any front-drive sedan currently on the market. And surprisingly, this aftermarket suspension is quite livable for daily use. Northern Michigan roads are a cobbled mess of patched potholes and frost heaves, but the SHO soaks them up with little more than a firm bump as opposed to a jarring thud. It feels well balanced, and once committed to a corner, the Old '89 offers plenty of feedback, which translates to loads of confidence. The stock 215/65/15 tires make no protest until you get to the limit, which finally comes with scrubbing understeer that can be negated with lift-throttle oversteer. It may not have any electronic co-pilots to save the day, but the SHO is communicative enough to actually tell the driver how to save the day. After piloting cars that can correct themselves, it's nice to be reminded that yes; I have some skills of my own.
Cheesy accessories
What would a cheap car be without cheesy accessories? We all have deep, dark, automotive fetishes born from the auto accessory aisles of chain stores nationwide, and cheap car challenges are the perfect venue for giving in to those dark desires. Here's a breakdown of some accessories I've tested on the Old '89.
Combination clock/compass/temperature/weather forecaster
This is a great way to update the interior controls on an old car to 2010 standards. After all, every car should have a compass, and the deluxe units from places like The Sharper Image can even forecast the weather. Costs can range from $15 to $50 dollars and a ding in your reputation, that is, if an $800 car even grants you a reputation.
Vinyl hood protector
These are Invaluable items when covering up poor hood chip repairs done by a previous owner. As a bonus, they're also kind of retro, which means it doesn't really look out of place on a retro car. Cost is $35, and the cheese factor is minimal.
Soundracer V-8 / V-10 sound imitators
The perfect items for discriminating enthusiasts who don't take themselves too seriously, and since I'm driving an $800 Taurus, I clearly fall into that category. Simply plug one of these into the cigarette lighter, tune the correct frequency on the radio, and glorious V-8 or V-10 engine sounds matching your engine rpm will begin to play. Trouble is, the SHO V-6 already sounds amazing, but if you're driving a beat up Taurus MT-5, well, you get the idea. Major cheese factor here, and a bit pricey at $40 each, but entertaining nonetheless.
Flashing neon lights
Somewhere, in the heart of every auto enthusiast, is the desire to stick ridiculously gaudy lights on their car. Plug-in neon strip lights offer the cheese without the commitment of actually mounting lights, and they can be found for free in the back of most Honda Civics. Use it once, get it out of your system, and then get rid of it before anyone actually notices.
Comfort/Refinement
Let's just say that, in 10 years of flipping cars, I've driven worse. The long throw manual transmission on the SHO is the epitome of rowing gears; the 2-3 shift feels more like a repositioning of the entire subframe, but the box always manages to engage the gears with relative ease. I actually rather like the interior layout for 1989, but compared to modern Fords, the materials, fit, and finish of this car are pretty medieval. The leather trim on the driver's seat is well on its way to extinction. The leather is nearly worn off on the shift knob. A canyon-like crack on the top of the dash keeps getting wider, and despite the obvious attempts by previous owners to stem the cancer, the many exterior rust spots are a clear indication that Ford was way off the mark on quality and refinement. Perhaps I'm being a bit harsh—for a 21 year old car, the SHO still looks decent, it's relatively devoid of interior squeaks, the seats are amazingly supportive (if peeling apart), and it's quiet enough inside to have a conversation in a normal speaking voice. I can turn on the A/C (yes, it's still working), turn on the radio, and blast down the road with fervor, and in that role, the Old '89 is more than capable of offering occupants a pleasantly enthusiastic experience.
Final thoughts
I haven't been driving this car easy these past couple months, but neither have I been abusing it (with perhaps a couple tire roasting sessions in the recent forest fire.) The SHO has taken everything and more, so the experience thus far has been a world of enjoyment. I also know, however, that I've been lucky. Finding any car for under $1000 that's reliable and trouble-free is a challenge, never mind finding one with aspirations of performance. I'm not sure I'd be quite so cavalier in this adventure without an enthusiast community to fall back on; in fact, I'll go so far as to say that, with any used vehicle, becoming a part of the enthusiast community isn't just a good idea, but vital to keeping your car on the road. Many of you have mentioned the National Taurus SHO Convention taking place in Dearborn, Michigan this year. That's where I'll be for the next Flip This Car update, where I'll be fraternizing with the SHO community and placing the Old '89 against some of the best SHOs in the world. In the meantime, I'll be updating readers and asking questions on a regular basis in the Winding Road forums, so be sure to log in for the latest on the Old '89, and while you're there, offer up some advice on what kind of crazy mission I should do next.
1989 Ford Taurus SHO
Vehicle status: Capably reversing through the forest
Miles driven: 1842
Observed fuel economy (80 percent highway): 25.3 mpg
Tire tread depth: 8-7/32 rear, 6/32 front
Broken parts since the last article: None
Total parts investment to date: $147.37