Gear Spotlight: Sparco's QRT-R Racing Seat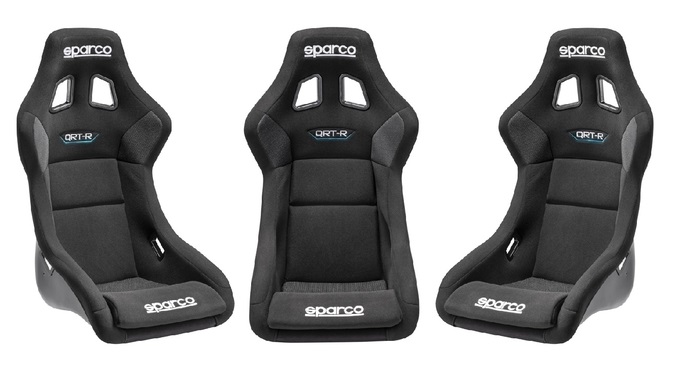 We really like the Sparco QRT-R. From our own personal usage, as well as hearing customers' feedback, it's a comfortable seat that accompanies taller/larger drivers well, and thanks to its dimensions can fit into a lot of smaller vehicles' interiors (though you'll want to do your own measuring before purchasing one).
Another nice aspect of it, is thanks to its sloping sides and not-too-deep base, it's a little easier to get in and out of and could be a great candidate for a dual-duty, street-and-track vehicle. Plus, if you're a taller driver trying to fit into a smaller vehicle, its lower seating position could mean a lot more headroom.
Just right: SoCal Retail Manager Peter Nelson is 6'3" and has plenty of room for his Arai GP 5W in his Mazda2.
It's Sparco's first racing seat to feature their patented QRT ultra-light technology. This QRT Technology gives an unparalleled mechanical strength/weight ratio for fiberglass composite racing seats. QRT Technology gives an average weight savings of 7lbs (up to 10lbs +) per shell.
The main benefit is that the QRT-R seat approaches the weight of a carbon fiber seat at the price of a fiberglass seat. The QRT-R racing seat shell weighs 9.9 lbs.
Technology:
Lightweight QRT Technology (7-10lbs weight savings)
Lower seating position that can fit taller/larger drivers
Smaller outer dimensions for small vehicle fitment
FIA approved
Whether you're looking for a new seat for your race car or putting a lighter and sportier seat into your street-driven track/autocross car, the QRT-R definitely punches above its very light weight. Check it out on our site, and feel free to reach us at 512-994-0656 or [email protected].