Review: 2021 Lexus IS 300 AWD – Sharper Looks, Still A Good Value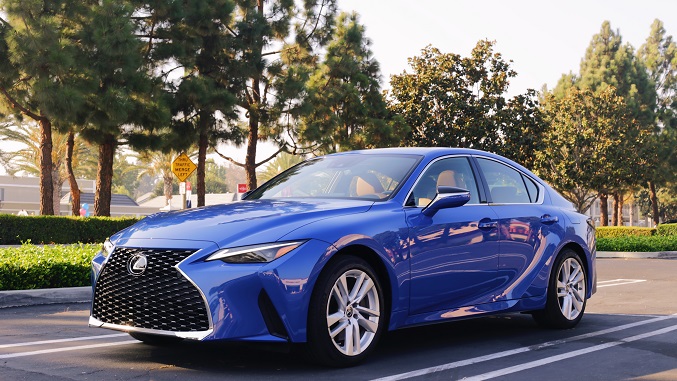 All photos by Peter Nelson
Recently, we were lent the brand-new 2021 Lexus IS 300 AWD for a couple of days. When we took delivery, we immediately noticed some nice upgrades over the previous, 2020 Lexus lineup. We wouldn't say these are significant upgrades, but rather the slow-and-steady, gradually-over-time type, which has proven to be a successful strategy for the Japanese luxury brand.
The IS 300 has acted as a sort of introduction to the brand that helps prove that they can offer as much luxury, convenience, and refinement as its European competition, and often for less money. Our tester, the IS 300 AWD with the Comfort Package, backs up that proof further by offering an extra degree of luxury to help it compete with the likes of the BMW 2-Series and Mercedes Benz C-Class.
Does it really compete though? Thanks very much to Lexus for throwing us the keys for this review. Pricing starts at $41,000; the all-day price of our 2021 Lexus IS 300 AWD Comfort came out to $47,975 after the following optional extras: Triple Beam LED headlights ($1,250), Navigation with Mark Levinson sound system ($2,750), Comfort Package ($1,950), and delivery ($1,025).
Exterior and Interior
Positives: great, sporty looks, good interior materials
Negatives: not the most spacious for tall folks
The first glance of the 2021 Lexus IS 300 in the flesh gave us an uninhibited "oh wow" expression of delight; its Grecian Water blue paint job (no extra cost) shimmered quite nicely under the SoCal sun, and really stood out in a noticeable-but-not-at-all-obnoxious way. We've written quite a bit in the past that we always appreciate it when an OEM's palette is more than just grey, black, and white. This shade of blue was much appreciated.
This color also did a good job outlining the subtle changes Lexus has made to the IS' exterior: gone are the melty rear tail lights, busy front bumper, and odd rear three-quarter angle. Everything looks more refined. The exterior still maintains Lexus design language, it just refines and makes it noticeably more aesthetically-pleasing. We had been a little unsure of Lexus sedan and coupe grilles since the late-aughts, but we think this 2021 IS' grille looks great. The IS' also sits a tad lower than the previous generation, and 30 millimeters wider, which definitely improves its sporty looks. In general, the IS doesn't look bulbous or heavy, but rather trim and athletic.
New-generation upgrades continue inside. There were still plenty of classic Lexus materials and amenities, such as a center analogue clock, quintessential trackpad, and supple leather bits throughout. Now, Lexus has such subtle upgrades as better-feeling controls, touch-sensitive climate controls, and a 10.3-inch high-res touchscreen. Everything was nice to the touch, and every surface that was covered in Glazed Carmel perforated NuLuxe faux-leather, including the heated and cooled seats (part of the Comfort Package), felt really nice. The Mark Levinson 17-speaker, 1800-watt Premium Surround Sound Audio System was truly excellent, and holy cow did the volume crank.
The seating position was sporty, yet relaxed, with higher door sills and good adjustability in the front seats. It wasn't the most tall-person friendly interior, but it's relaxed, reclined driving position was very good, with excellent visibility. The IS did a great job of cutting off the outside world, creating relaxed, easy-going vibe, which is great for a commuter in a major metropolitan area like the Los Angeles Basin. Rear passenger room was good, albeit headroom was lacking. Frontal visibility and seat comfort in the back were excellent however, and the way the rear windshield was angled allowed for a nice greenhouse.
Driving Experience
Positives: Good power and compliant handling
Negatives: Driver aid tech is not as good as other brands'
260 horsepower and 236 lb.-ft. of torque might not sound like much in 2020, but when its produced by a naturally-aspirated 3.5-liter V6 under the hood of a 3850-or-so-pound sedan, it's actually quite adequate. These power figures are good for a 0-60 time of around 6 seconds in the IS 300 AWD, which was enough to merge quickly, get out of the way, and rip away from a fresh green light with plenty of gusto. Plus, the mighty V6 made a great growl as it revved up to redline, with a solid torque curve and little vibration.
Since this is Lexus and as-much-luxury-as-possible-for-the-price is the name of the game, the engine never felt coarse; it was as silky smooth at idle as it was shifting just short of redline. This really helped drive home the fact that our tester was equipped with the Comfort package; when all you want to do is sit relaxed with the seat coolers maxed out and just cruise around listening to chill music, the engine doesn't harshen the experience. The gearbox didn't either; its six-speed auto shifted quick enough, though lacking precision and snappiness commonly found in other luxury automatics. Though, it didn't feel as laggy or un-inspiring as conventional autos we've experienced in Lexuses before.
Going one further with the Comfort package, we didn't venture up to any twisty canyon roads for this review. Well, we would've, but unfortunately timing didn't work out. Though, we did get a good grasp of its handling and ride characteristics cruising around Orange County and Long Beach streets.
The all-wheel drive definitely put in the work. When we set the IS to Sport mode, pinned our right foot to the floor, and cut the wheel to take a fast right-hander onto a big empty street, the drivetrain made easy work of it and didn't cause a peep from the tires. The thing had so much grip in corners. The light steering, while void of feel, at least had a nice ratio and made maneuverability quite easy. Combining the light steering with the grippy drivetrain, we took many opportunities to one-hand it spiritedly into some fast turns and on-ramps, and all we experienced was grip for days and surprisingly little body roll.
Again, we wish we had time to pull some more spirited G's on some twisty mountain roads, but we got a pretty good abridged example of its handling. Plus, ride quality was comfortable, confident, solid, and compliant, rather than soft and disconnected. Grip and ride quality weren't based on the drivetrain alone: double-wishbone front and multi-link rear independent suspension populate the new IS' wheel arches. The tires had a nice amount of sidewall as well: 235/45/18 all-around, in a segment where harsher 40 series or even 35 series (ahem, BMW) seem to be more common.
Driver aid tech was standard Toyota/Lexus fare, and while the brand has talked up the extensive list of assists, detections, and warnings quite a bit with the new IS, they're still not quite up to the level that we've experienced behind the wheel of a Mercedes, or even far-cheaper Honda. Blind Spot Monitor and Rear Cross Traffic Alert were great. But on the highway, Lane Departure Alert with Steering Assist, Lane Tracing Assist, and All-Speed Dynamic Radar Cruiser Control were lacking. Radar cruise control was awkward at times; it scuttled and felt unsure on the highway maintaining proper distance from cars in front of us (though crappy drivers in front of us were possibly to blame?). Lane tracing was like bowling with bumpers; it drifted from one edge of the lane to the other, never really confidently maintaining center. It also got confused by lines and edges in the lane; again feeling unsure, though this time with differentiation between what was a lane marker and what wasn't. Its driver-assistance tech wasn't terrible, but if its going to compete with Mercedes and BMW, as well as Honda/Acura, it ought to give all of them a run for their money in this increasingly-crucial category.
Still a Great Value
The 2021 Lexus IS 300 AWD is a good car and a great luxury value. It handles and rides confidently, its luxury is very good when spec'd out to the gills, and it looks significantly better than the previous generation. All for less than $50,000 after adding some substantial options and packages as delivery. At this pricing, it definitely competes with, and should be also be considered while shopping for, the BMW 2-Series or Mercedes C-Class. We wish we had more time with it, especially on roads with some twisties. Though, if the AWD with Comfort package's dynamics were any kind of a preview, we can't wait to get our hands on more sportier IS trims, like the RWD IS 350 F Sport that our colleagues in Detroit recently had a go in.
Check out our POV video: