Gear Spotlight: Replay XD 1080 Mini Action Camera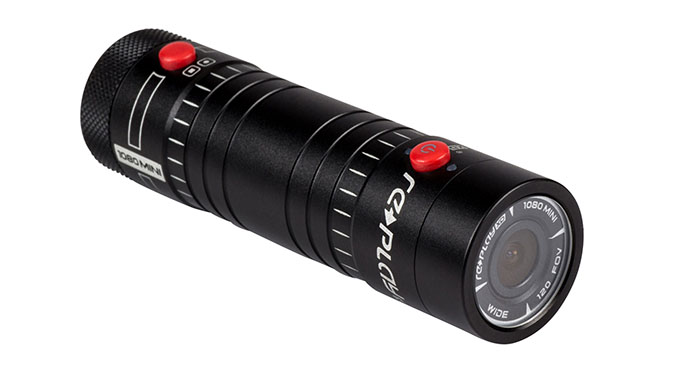 In the world of action cameras, GoPro is essentially the equivalent of Kleenex at this point, as brand adoption has become so widespread that most people wouldn't really consider that an alternative to it exists, or that such an alternative might be worth closer inspection. However, just because something becomes a standard in its realm doesn't mean it's the only game in town. The new Replay XD 1080 Mini action camera brings its own unique bag of tricks to the table, and some of its features might make it a more ideal fit than the typical go-to depending on your requirements.
What's special about the Replay XD 1080 Mini?
Like a GoPro, the Replay XD 1080 Mini is a mountable digital camcorder which has been specifically designed to withstand the rigors of high impact outdoor use, but the Replay offers a few key features that truly set it apart.
To start off, the Replay XD 1080 Mini is the smallest and lightest 1080p action camera on the market today. Because of its diminutive size and lack of bulk, the Replay can be mounted into tight spaces that other cameras cannot. Due to its light weight, it's also ideal for helmet cams or other applications where excess mass can be an issue.
Secondly, the Replay XD 1080 Mini was designed from the ground up to take abuse, and the camera is waterproof up to 3 meters without the need for any kind of special case or enclosure. The Replay's body is made of aluminum to make the camera as robust as possible, while its sealed, rubberized buttons won't allow debris to get caught in them and feature vibration feedback to indicate that a key press has been acknowledged.
Another notable feature is that while the Replay XD 1080 Mini sports an internal microphone that is designed to provide high quality built-in audio, the camera also includes an external microphone port so that you can use your own audio gear with your recordings if you choose to do so. This ensures that even if the events you record include audio that is often difficult to capture clearly (like, say, loud race cars), you have the option to use an external microphone that's better suited to the task by simply plugging it into the Replay's
external mic interface
.
Why would you want it?
Beyond the features listed above, there is another compelling factor for the Replay XD 1080 Mini – the price. At $199.99, and no need to purchase additional cases to keep the camera safe from the elements or to improve its ability to get clear audio from the internal microphone, the Replay simplifies the process of capturing footage and keeps the costs down in the process.
The Replay XD 1080 Mini also features a wide, 120 degree field of view and a removable front bezel that allows you to swap in aftermarket lens and filters on the camera, making it more versatile than many of the alternatives.
Anything else you should know about it?
The Replay XD 1080 Mini can capture 720p footage at 60 frames per second, but it is limited to 30 frames per second at 1080p. While 30 frames per second won't look choppy (and is a faster frame rate than the 24fps used in television and movies), it won't appear quite as smooth as 60fps would.
Another limitation of the camera is the lack of a smartphone app. Aside from the basic features that are accessed via the buttons on the camera itself, advanced settings can be edited via a text file that's located on the microSD card. For those will some elementary computer savvy, editing these settings will be a pretty basic task, but for those who're unfamiliar with editing text files, it may prove a bit of a hassle. Regardless, we appreciate the inclusion of such a file as it allows you to change many settings that are normally inaccessible by any means on other action cams.
Though the lack of a companion app would normally also spell the inability to check out the footage in real time (to make sure you're happy with the angle, etc), the Replay XD 1080 Mini features a
Live View mode
which allows the camera to interact with a computer as though it were a webcam, streaming its footage back in real time to your machine so you can make adjustments, or to simply use it as a high-end webcam if you want to.
What's included?
The Replay XD 1080 Mini includes one LowBoy fixed mount, one HeimLock adjustable mount, one flat VHB SnapTray, one curved VHB SnapTray, one tripod 1/4-20 SnapTray, a 4GB microSD card, a card reader, a mini USB cable, a nylon ballistic case, a camera bag, decals and the user guide.
Where can you get it?
Click here
to see the entire selection of action cameras available in the Winding Road Racing.