Game Review: Forza Horizon 2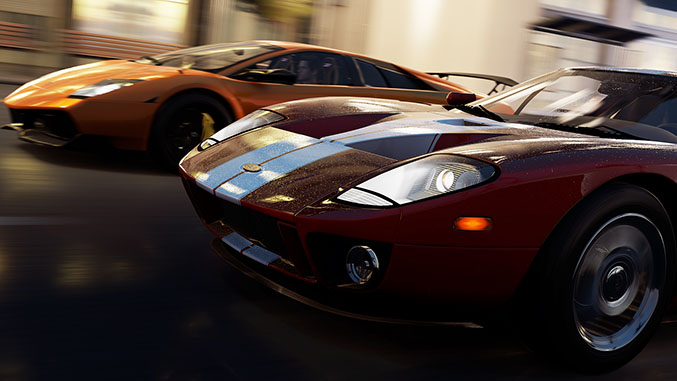 Let's start by getting one important thing out of the way: though it may look a lot like Forza Motorsport 5, Forza Horizon 2 is not a traditional racing simulator. However, Forza Horizon 2 builds upon both the first game in the series as well as the newfound abilities of the Xbox One to create an interesting hybrid of an open world driving game and a hardcore racing sim that has the potential to appease both casual gamers and racing simulator fans simultaneously.
What's the idea behind Forza Horizon 2?
Forza Horizon 2 takes the majority of the car roster and the physics of
Forza Motorsport 5
and applies them to an open world layout where various types of racing like point-to-point, circuit racing, and road rally events are accessible to the player at any point within the game. Various one-off challenge events are also spread throughout the map, and you're free to simply drive around the world enjoying the cars and roads at will if you choose to do so. Much like in the Forza Motorsport series, new cars are acquired by way of in-game credits which are earned through racing and the occasional bonus. As in the first Forza Horizon installment, Forza Horizon 2 takes place during the fictional "Horizon Festival", a celebration of cars and music, which is being held this time around in southern Europe.
What's the gameplay like in Forza Horizon 2?
Much like the first Forza Horizon, Forza Horizon 2 uses a ranking progression system which awards XP points based on race outcomes and various real-time bonuses that are awarded while driving around town like a hooligan. Forza Horizon 2 takes the progression system a step further with the addition of "Perks" which, while not directly affecting the abilities of your car or how you drive it, can give you an advantage by providing things like higher bonuses for performing drafts on your opponents, or yielding better bonus awards in the "Wheelspin" – a Price Is Right-style bonus randomizer that you're given the opportunity to spin each time you rank up.
Within each championship that you participate in, Forza Horizon 2 offers four main types of racing modes – Street Race, Circuit Race, Sprint, and Cross Country race. Circuit races are confined to a traditional lapped course layout, much like Forza Motorsport races, while the rest follow a point-to-point design, with or without traffic depending on which mode you choose. Cross Country is a new addition this time around, and offers a somewhat bizarre take on rallying, not only allowing any car to complete in these mixed surface races, but plotting courses which take you through dense brush, vineyards, airports, farms and other locales not commonly associated with race courses.
What are the physics like in Forza Horizon 2?
This is where Forza Horizon 2 will likely redeem itself for those looking for a more traditional racing simulator. At least while racing on tarmac, Forza Horizon 2 retains essentially all of the complex and fairly true-to-life physics found in Forza Motorsport 5. Additionally, it also provides all of FM5's scalability in terms of damage realism and driving assistance options as well, allowing both complete newcomers and hardcore simulator fans the ability to properly tweak the game's options to suit their play style and experience level. Moreover, when all the computer assistance is disabled and the responsibility of driving the car is left solely to the player, each car exhibits not only unique driving behaviors, but behaviors which are truly indicative of the cars they're designed to emulate. Forza Horizon 2 also offers the same level of customizability as Forza Motorsport 5 did, allowing players to upgrade and tune brakes, suspension, engine internals, spring rates, gear ratios, and so on – all with results that don't betray the expectations of anyone familiar with tuning real cars and at-limit handling.
What are some of the new features in Forza Horizon 2?
Along with a map that's roughly three times the size of the fictional back roads of Colorado in the original Forza Horizon, FH2 debuts a new real-time weather system in which a sudden torrential downpour can begin in the middle of a race, or stop just as suddenly. As one might expect, slick roads have a noticeable effect on grip during races, though we noted that Forza Horizon 2's wet road physics seem significantly more forgiving than they do in real life. Regardless, it's a nice addition and keeps the racing interesting and fresh.
FH2 also adds a number of online features that help integrate offline and online play more seamlessly, including online modes which allow players to just traverse the landscape and find other players along the way for impromptu racing, car meets, and other social elements.
How are the visuals and sound in Forizon Horizon 2?
Simply put, Forza Horizon 2 looks and sounds fantastic. From an audio standpoint, every car sounds amazingly realistic due to the fact that each one features engine sounds recorded from its real life counterpart, lending the Forza games a massive advantage in terms of immersion over games like
Gran Turismo 6
which use synthesized engine audio. If we had one complaint about Forza Horizon 2's audio, it would be the fact that the engine tones and volume aren't altered if you choose to, for instance, swap your stock exhaust for a fully uncorked race system. Regardless, the audio is meticulously rendered otherwise, complete with the all-important subtleties like the booming reverb of blasting through a tunnel at wide open throttle and the incessant tire chatter of driving on cobblestone roads.
In terms of graphical prowess, when played on the Xbox One the visuals of Forza Horizon 2 are second to none. These are the most complex and beautiful to look at cars that we've ever seen in a video game. The damage modeling is equally convincing, and the world itself is gorgeous enough on its own to justify simply driving around in Forza Horizon 2's world and enjoying the sights and sounds.
How are the opponents and multiplayer features of Forza Horizon 2?
Like Forza Motorsport 5, Forza Horizon 2 uses the Drivatar AI system, an algorithm which analyses the driving style of each Forza Horizon 2 player and creates offline AI opponents for all players to complete against based on that data. While it seemed revolutionary in Forza Motorsport 5 and truly added the feeling of a human element to the computer-controlled opponents, it's a bit less successful here – perhaps due in part to the more free-form design of most of the racing. Even still, the Drivatar system trumps any of the AI opponents we've encountered in other racing games by a country mile, and as an added bonus, your online Drivatar also earns you credits even when you're not playing the game by participating in other players' offline races.
Multiplayer offers a wide realm of different activities, from online road trips with other players and traditional wheel to wheel racing, to more mini-game style scenarios, such as the Tag-like "Infected" mode in which one player attempts to tag other players until all the cars in the arena have been infected. Nearly all the offline features are at your disposal within the online component, while the mini-game options are an online-only affair. Local two player split screen is, disappointingly, a feature omitted from the game entirely.
Bottom Line
While purists might find themselves either annoyed or amused by some of the less realistic elements of Forza Horizon 2, there's no denying that the game holds merit for its graphical presentation, intricate physics system, wonderful roster of cars and the massive amount of things to do within the game. Some might be turned off by the untraditional freedom offered by the open world design, but once you've become acclimated with the concept and better understand that Forza Horizon 2 can be played either like an arcade racer or a racing simulator based on the events you choose and how you set up the game's various driving assists, we see little reason why this wouldn't be worth checking out regardless of which side of the fence you prefer.