Fire Suppression: Don't Use A Fire Bottle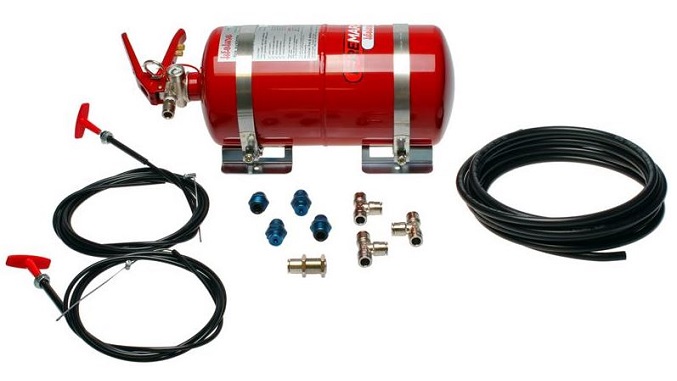 Fire suppression is a crucial aspect of wheel-to-wheel racing that should not be taken lightly. All club-racing-and-higher classes require a system that can be activated by driver or safety crew and spray an ample amount of material into both sides of the firewall. They are also a good idea for any HPDE and Time Trial-prepared car as well. There are a few different materials, bottle sizes (when we say "don't use a fire bottle", we mean a hand-held extinguisher that isn't connected to a system), and ways it is delivered (electric vs. mechanical), so here are three systems we've compiled for customers' consideration, based upon price-point, extinguishing agent, and type of platform.
Best Inexpensive, All-Rounder: Lifeline Zero 2000 4.0 ltr Steel Fire Marshal Mechanical System. This is a best-seller thanks to its price point, simple mechanical operation, high quality, and ease of install. Its appropriate for NASA, SCCA, Lucky Dog, AER, Champ Car, etc., and contains a foam-based extinguishing material.
Best Lightweight, High-End System: Lifeline Zero 360 FIA 2.25kg Novec 1230 Stored Pressure Electric System. The key benefit of this system is it sprays a chemical called Novec. When Novec liquid is sprayed through the six nozzles of the system, the Novec is atomized and turns into a gas. The Novec gas also expands to fill the volume in which it is sprayed, making Novec's coverage far greater than with foam which is physically dispersed only where it is aimed. This system is also significantly lighter and a little more compact than a conventional mechanical foam system. More on novec systems here, and check out the mechanical novec system here.
Cost-Effective Formula System: Lifeline Zero 2000 2.25 ltr Club Fire Marshal Mechanical System. This is essentially a smaller version of the Lineline Zero 2000 4.0 ltr; it is designed for open wheel, formula, and small-cockpit prototypes where space is limited. Mechanically operated and equipped with 2 nozzles (one to hose down the driver, the other for the engine bay), it is easier to install like the 4.0 ltr system and is relatively inexpensive.
Bonus High-End System: OMP CESST 1 Fire Suppression System. This FIA-approved electric system ticks off all the boxes for sedan-type race cars, and is like the Lifeline Novec system in that it does not spray foam, but rather 4.25 liters of Ecolife, an ozone-friendly gas material. This is also available as a smaller, formula-car-friendly system.
We are also a certified Lifeline Zero 2000 AFFF Fire Bottle Service & Re-certification Center! Check out more that here.
For more info on fire suppression systems, feel free to call us at or email [email protected]