Video: Rambunctious Racing In The Rain At Road America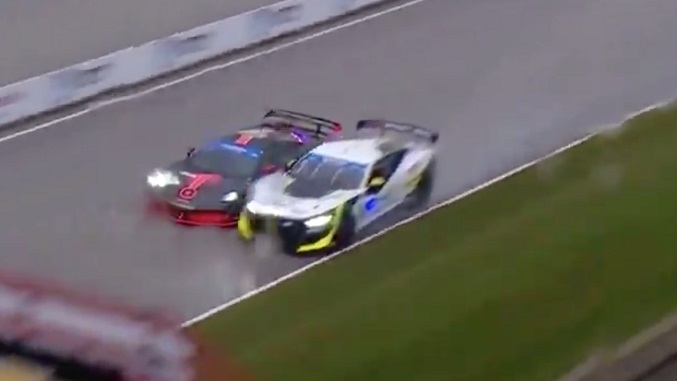 One of the most entertaining final laps ever went down recently In IMSA Michelin Pilot Challenge at Road America. After passing two cars on the outside through Canada Corner in the #71 Rebel Rock Racing Chevy Camaro, Robin Liddell proceeded to then charge up the hill and take the lead from Kuno Wittmer in the #75 Compass Racing McLaren GT4 just before the line. The pass itself is by far one of the wildest moves we've seen in a long time (this is also up there), especially with the whole field slipping and sliding around a drenched circuit.
The win is definitely a little puzzling; did Wittmer lift thinking he was well in the clear (not uncommon in first-across-the-line sports)? Did the rain obscure his rearview? Was his McLaren scrambling for traction in the rain?
Edit 8/14: it's been brought to our attention that apparently Wittmer accidentally hit the pit speed limiter while reaching for the radio button to congratulate the team.
Regardless of what happened, the whole race is really something to watch due to the rain, especially through the complex and sweeping turns of Road America. Add in this legendary final lap, and it's definitely the stuff of legends: