Driven: 2012 Hyundai Equus Signature 5.0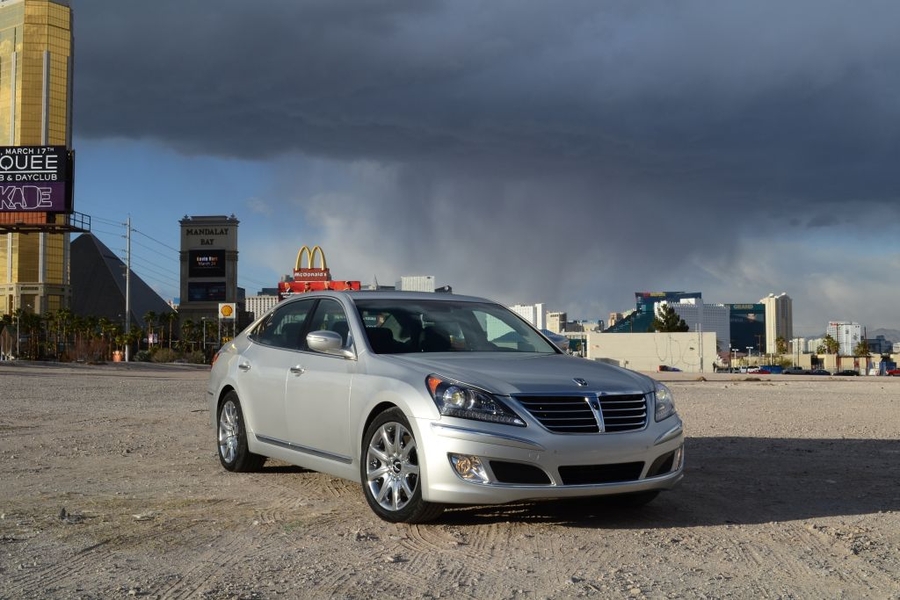 —Las Vegas, Nevada
Hyundai's Equus is a fine piece. It's a pleasant, comfortable, easy-to-drive big sedan that punches above its weight in the luxury market, all while costing a nicely spec'd Ford Fiesta less than its primary competitor, the Lexus LS460. So how could Hyundai make its biggest and cushiest vehicle even better? Well, if you said, "add more power," then step up and claim your prize.
For 2012, the Equus has been given a 5.0-liter V-8 engine as standard equipment. This is the same powertrain—5.0-liter engine and eight-speed automatic transmission—that our own editor and serial V-8 connoisseur Seyth Miersma called, "a fantastic bargain over the high-level V-8 competition," when he tested it in the smaller
Genesis R-Spec sedan
. So how does this mill perform in the admittedly heavier (4643 pounds versus 4154 pounds in the R-Spec) Equus?
Well, it gets the same 429 horsepower and 376 pound-feet of torque, which, despite those extra pounds of luxury sedan, allow it to hit 60 miles per hour in the mid-5-second range (as per our scarily accurate butt dyno). Not sports-car-worthy by any stretch, but we'd feel comfortable saying it's on par with the competition from Audi and Lexus. This isn't a 0-60 car, though; it's a luxury sedan, and on that front, the 5.0 fits in quite well.
This smooth and appropriately throaty V-8 feels just right in this big sedan. Throttle tip-in is quick without feeling too sharp, and the initial delivery of torque is linear and predictable. In fact, this is a pleasantly potent engine throughout the rev range. Mid-range thrust didn't push us back in our seat, but we had no issues dicing the big Korean through the notoriously crazy traffic on Las Vegas Boulevard.
The eight-speed automatic helped out, keeping the Equus's engine on boil during our mix of surface street and highway driving. The eight-speed shifted quickly in both manual and automatic mode, and delivered downshifts just when we wanted them. We have to remark at just how good this eight-speed (and the majority of
new eight-speeds
in general) is, delivering the kind of unobtrusive performance that luxury customers demand, all while turning in impressive fuel economy numbers.
Sadly, our test route for this brief-ish Equus drive did not extend to many roads that could really test the Equus's handling in a dynamic way. If our experience with the previous car is indicative of the new one (98-percent chance), tight and challenging roads would be handled with softish suspension, mild understeer, and just the sort of bland confidence you'd expect from a car of this size and orientation.
Of course, the route we drove did serve to replicate the conditions that Equus owners will probably experience most: suburban sprawl, and highway fare. In this setting, the Hyundai excelled, delivering a supremely comfortable and quiet ride. Using an electronically controlled air suspension, the Equus felt soft without too much unpleasant body roll. In Sport mode things firmed up a bit, but the overall ride and handling was decidedly geared towards comfort. What roll there was came on in a progressive manner, and it was only when really flinging the big sedan around that we noticed a disruptive amount of body movement.
The other benefit of the air suspension's smooth ride is that the Equus is extremely quiet (aided by what must be a metric ton of sound deadening). We experienced severe wind gusts during our drive, with some weather reports calling for gusts north of 40 mph. Despite these wind shears, the Equus remained as quiet as your local crypt. Even when the road turned bumpy, the sound that made it into the cabin was negligible.
If there was one area of the Equus that we found rather underwhelming (relative to the rest of the car), it was the very isolated electro-hydraulic power steering. Steering feedback wasn't strong at all. Still, we'd guess that many a buyer will commend Hyundai for avoiding a finger-light steering system, as this setup had decent heft. Overall steering response was not sluggish, but certainly not snappy or overly quick, either.
The Equus, even with this brawny powerplant, isn't an involving car. The addition of the new engine isn't likely to boost its Involvement Index score (currently sitting at a 67). That said, the 5.0 does make the Hyundai flagship much more relevant in the debate about full-size luxury cars. With the Equus 5.0 still under cutting the best of the Japanese and German class, there's a good argument to be make here, especially for those buyers that value substantial luxury and value, more than they do a badge.
VS: Lexus LS460L
Price point and power are the Equus's big bonuses when it goes up against the Lexus. With our Signature tester costing $58,750, the Hyundai is about $14,000 cheaper than the Lexus. The 5.0-liter V-8 also boasts an extra 49 horsepower and 9 pound-feet of torque (429 horsepower and 376 pound-feet of torque in the Equus, and 380 horsepower and 367 pound-feet of torque in the Lexus).
Granted, the Lexus bests the Hyundai on fuel economy, netting 16 city miles per gallon and 24 highway. Compare that to the 15 city and 23 highway of the Equus, and the fuel-sippers might cry foul. To us, one mile per gallon doesn't seem worth sacrificing 47 horsepower, to say nothing of the huge wad of cash. Point, Equus.
VS: Chrysler 300C
Chrysler's 5.7-liter Hemi V-8 is one of our favorite V-8s and it actually bests the Hyundai in terms of torque, with 394 pound-feet of torque (compared to the 376 pound-feet in the Equus). Still, the Hyundai has a whopping 66 more horsepower, which can't be ignored.
The Hyundai's horsepower advantage can be felt on the road, where its standard eight-speed automatic delivers quicker and better-timed shifts than Chrysler's five-speed autobox.
The air suspension in the Hyundai delivers a much more comfortable and quieter ride than the Chrysler, as well.
The Chrysler is considerably cheaper, but the lower price point comes at the expense of some luxury and technology features, and space in the rear seats. Still, there's a compelling argument here for someone that's looking for a big, powerful sedan at a bargain (relative to luxury marques) price. There's no question that the faster, smoother, and more comfortable Hyundai is more of a "true" luxury car.
2012 Hyundai Equus Signature 5.0
Engine: V-8, 5.0 liters, 32v
Output: 429 hp/376 lb-ft
Weight: 4605 lb
0-60 MPH: 5.5 sec (est)
Fuel Economy, City/Hwy: 15/23 mpg
Base Price: $58,750
On Sale: Now