Driven: 2012 Hyundai Genesis R-Spec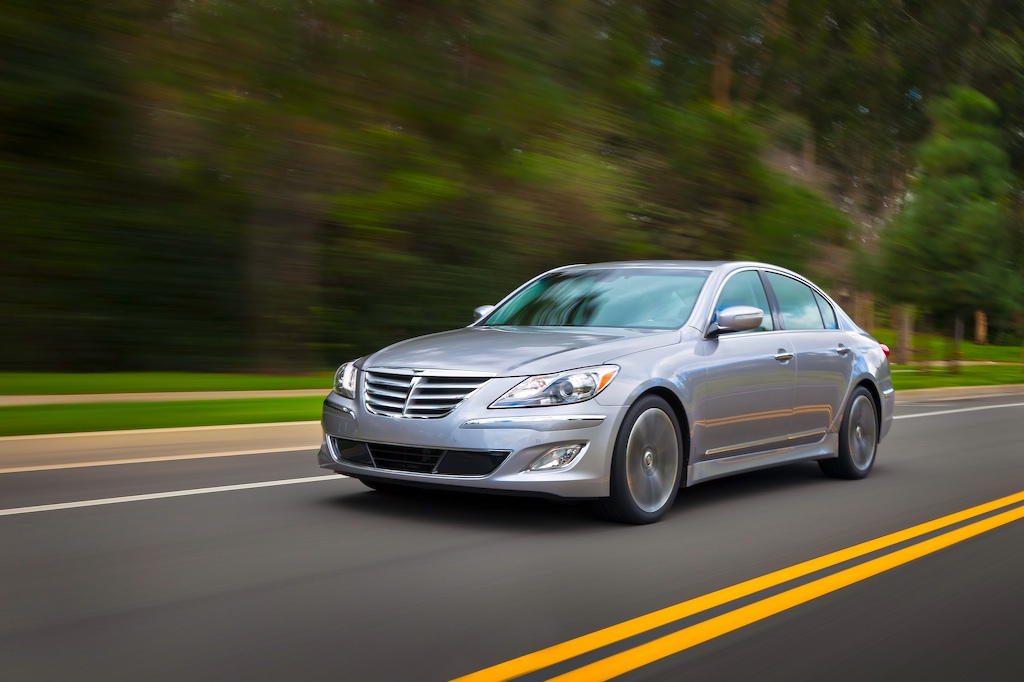 —Las Vegas, Nevada
We can report, without fear of reprisal, that the air conditioning in the newly revised Hyundai Genesis sedan works a treat. After a half-day of driving through the Mojave Desert outside of Las Vegas, with external temperatures reading right around 104 degrees, we returned to our mega hotel starting point (the impeccable Mandarin Oriental, if you're interested) as cool as The Fonz on Friday. Excuse our exuberance here. You may not have tuned in to our first drive report of Hyundai's first 5.0-liter-powered R-Spec Genesis to geek out on powerful A/C, but, being a Michigan-based publication, it's rare that we get to test under such torturous conditions. Onward.
In fact, that icy air was endemic of the relative luxury of the Genesis cabin. Though not much changed for this 2012 model year refresh (new wood trims are about the only interior modifications), we were quickly reminded that the big Hyundai sedan was a comfortable place to spend time. Seats are soft and nicely finished, albeit a bit too flat, trims and touch points look and feel premium, and the large navigation screen with central dial controller is pretty easy to use without having to hunt around a lot. Should Hyundai have considered using a thicker-rimmed steering wheel with a grippier covering for this R-Spec car? Probably, but that miscue (one we'll discuss a bit more in just moment) is small, and easily overlooked in most of the driving we did.
Hard to miss, meanwhile, was Hyundai's new, range-topping 5.0-liter V-8 engine. This beefy V-8—which carries over with the "Tau" nomenclature from the previous 4.6-liter V-8—is a remarkably good upgrade to the already competent Genesis sedan. The directly injected motor puts out a whopping-good 429 horsepower and 376 pound-feet of torque, which is more than enough to out-grunt competitive V-8s from Mercedes-Benz, Lexus, and Infiniti. Outright acceleration is pretty impressive for the big sedan at a manufacturer estimated 5.1 seconds to 60 miles per hour, and our real-world runs told us that the engine's great early torque (300 pound-feet at only 1500 rpm) offered brisk starts with just a toeful of gas pedal. Out in the open desert we were able to run up through the gears to peak engine speeds, and found the R-Spec engine to be quick revving and sonorous (though muted). This new R-Spec Genesis is a real under-the-radar speed machine.
Hyundai has also built, in-house, a brand new eight-speed transmission for its Genesis sedan line. The automatic cog-swapper feels like a natural fit with the new engine and with the sort of core Genesis sedan values, which means it generally defers to being smooth and effortless over truly engaging or performance oriented. Left in D, the eight-speed does the normal auto trans bit of shifting up to the highest gear possible in most situations, and generally kicking down quite quickly when you stomp on the gas. When shifting manually with the central gear lever (no paddle shifters are offered, sadly) we had a better time, broadly speaking: better able to keep the revs high, the power flowing, and the exhaust entertaining. Still, we experienced a few hiccups of lag when executing manual shifts, and didn't find the forward/backward for upshift/downshift lever to be particularly engaging to use.
Engineers have tuned the R-Spec suspension for mildly better handling prowess, too. Higher spring rates and stiffer shocks combine with a new rear-stabilizer bar to make the Genesis feel a bit more neutral overall, and flatter through corners. The difference in these settings was easily apparent when we drove the R-Spec car back-to-back with the softer V-6 Genesis, though we'd hardly imagine that many enthusiast drivers would come out of a test drive with the word "sporty" on their lips. There are a couple of reasons for this. First is the original intent for the car: Hyundai still tunes the Genesis to behave like a luxury car, rather than a sports sedan, and therefore offers a ride/handling compromise that optimizes comfort over fast reflexes. So, while the big sedan actually will turn-in, and bite, and hold its line through a fast corner better than the previous model year, it doesn't ever reward a driver for doing so. Point two is that the car simply doesn't offer very much feedback. The steering wheel is pretty numb, and a little bit rubbery, and didn't give us much of an indication when we were reaching the (admittedly higher) grip limits of the car.
Still, with context considered, we've got to say that the work on the suspension was well conceived. We really think the R-Spec underpinnings should just be standard on Genesis—they offer such a better degree of control over the surface of the road, and without making the ride feel even a bit harsh or brittle. A better version of what we're used to from Lexus sedans, which is impressive for the Korean brand.
In fact, the whole Genesis R-Spec feels like a natural progression of the predecessor, with everything we like about the old car intact, and a lot of good piled on top. Our gripe is that the "R-Spec" name does throw us, and potentially buyers, off of the trail a little bit. Leave the simple "5.0" badge on the end of the Genesis name, and our expectation is really the car we know and love with a boost of power. Add R-Spec to the mix, and expectations change a bit, we think, towards a car that has been tuned more for out-and-out performance. Too many players in this segment (BMW's M, Mercedes' AMG, Audi's S and RS) offer significantly changed performance for their breathed-on models. R-Spec really just offers the top-of-the-line engine, rather than a true performance variant, which might be seen as a bit of a bait and switch for some shoppers. And, outside of the transmission interface and the dull steering, we think that the car offers huge potential to be an M5 alternative if Hyundai made the decision to go there.
As it stands now, the new Genesis represents a fantastic bargain over the high-level V-8 competition. We happen to think that the exterior revisions, especially the new front fascia and the aggressively cool nineteen-inch wheels, turn the car into something much better to look at. (We doubt the 2012 Genesis will see quite so much "anonymous styling" verbiage written as the last model did.) With a top-flight new powertrain, strong fuel economy numbers, and what might best be described as a "sensible" approach to luxury and technology features, this Genesis is worth checking out. Do not buy a Lexus GS before driving the Genesis R-Spec. Is that clear enough?
Of course the R-Spec will not hold the attention of those with enthusiast driver aspirations for very long, either. We think that's okay, though we would like to encourage the company's product planners and engineers—who've been consistently knocking the ball out of the park these days—to look hard at a full-on performance version of this car. Still, if you're an open-minded kind of luxury shopper, the $46K it'll take to get you into a car as complete as the Genesis R-Spec should make for a compelling argument. And don't worry about those hot desert days of driving, either; we know the car is cool.
VS: Lexus GS460
Hyundai's Genesis sedan should be especially scary for the folks at Lexus, as the only clear advantage we see for a car like the GS460 here is in the area of brand perception and, maybe, residual value. Genesis offers a similar approach to ride, handling, and overall comfort, but does so with (now) a much more evocative and powerful V-8 option. That the R-Spec also starts at about $9000 below where a V-8 GS does is a big, sweet slice of cake, too.
VS: Lincoln MKS EcoBoost
Outside of the Lexus crowd, America's own Lincoln MKS may actually offer the stiffest head-to-head competitor for the Genesis. The Lincoln comes within just a few thousand dollars of the top-line R-Spec, offering significantly cool in-cabin technology and bold styling for that money, too.
But the R-Spec wins the paper battle, with much more power and torque, and nearly as good fuel economy (16/25 mpg versus 17/25 for Lincoln's turbo V-6), for a lower sticker price. The Genesis has a bigger back seat, too, which is sometimes mission-critical in this class.
VS: Ze Germans
Grouping offerings from BMW, Audi, and Mercedes-Benz here is a little bit of a cop-out—certainly head-to-head comparisons with any or all would be worthwhile—but the argument is kind of similar for each company. The German cars offer stiffer, more sporting profiles, with similar (but still lower) power outputs, and much better brand image. Of course, they all offer that at a massively higher price point, too. The reality here, we think, is that you'll have to truly care about the enthusiast driving thing (better vehicle engagement), or truly not care about the money to shop these Euro cars over the Genesis. In other words: this argument is largely won or lost for Hyundai by the time an individual has even decided to buy a new luxury car.
2012 Hyundai Genesis R-Spec
Engine: V-8, 5.0 liters, 32v
Output: 429 hp/376 lb-ft
0-60 MPH: 5.1 sec (est)
Weight: 4046 lb
Fuel Economy, City/Hwy: 16/25 mpg
Base Price: $46,500
On Sale: July 2011