Driven: 2012 Fiat 500 Sport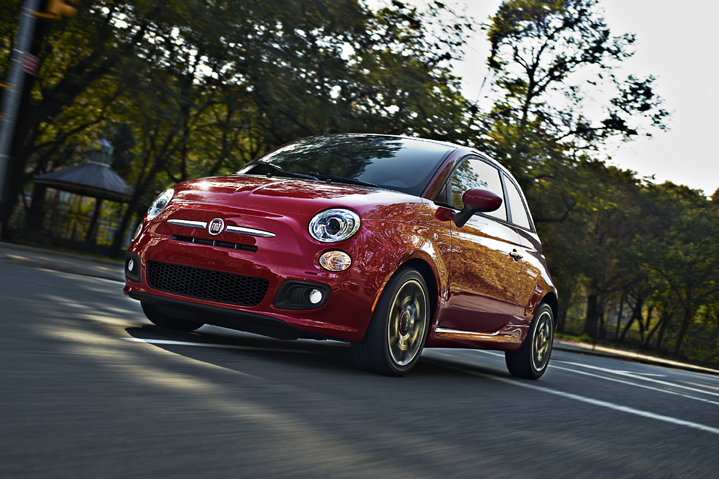 —San Diego, California
Is it better than the Mini Cooper?
As enthusiast drivers in general, and small-car enthusiasts in particular, that's the number one question that we had for this Americanized edition of Fiat's 500. There's little question that, especially in the early going, many examples of the Cinquecento will be sold based on looks and character alone. Much like the Mini, the Volkswagen New Beetle, and even Chrysler's own PT Cruiser before it, the 500 has got just the sort of must-have stylishness that will draw in the temperamental "It Car" dollars. But if Fiat hopes to build a lasting, enthusiastic customer base for its small car, it'll have to provide a workable counterpoint for the driver-friendly Mini, as well as standing on its own four wheels in an increasingly good and competitive small car segment.
The success of BMW's Mini brand in the US (about 45K units sold in North America in 2010—a record number) has relied heavily on selling the notion that the cars fit into the "premium" category, despite their small size. That's significant because we Americans have long had difficulty reconciling the fact that a small car needn't always be a very cheap car. Fiat seems to understand this market position pretty well, if we're to judge by the US-specification 500s that we drove.
The 500, even in the basic Pop (stupid name) trim level, does a phenomenal job at using great design to overcome shortcomings in absolute material quality. Said another way: the Fiat cabin makes very successful use of plastics that might fail in lesser applications. Contrast between lights and darks, bold use of color, a great steering wheel, and good-to-the-touch switches and stalks all help to convince us that this is a premium-level interior, despite being heavy on the petroleum-based materials. We heard on the launch, and have heard from others subsequently, that the body-colored, shiny piece of plastic that dominates the dash feels "cheap" or "to reminiscent of the PT Cruiser," and we generally understand those complaints without totally agreeing with them. Somehow the 500 pulls off the look, where other cars with similar interior pieces (Camaro, for instance) don't—kind of like Italian men being able to wear skinny suits and pointy shoes that make (some of) our American frames look rather foolish.
About those American frames: Fiat hasn't just gone and imported a straight duplicate of its European-spec 500 to sell to us here in the States. The company has made some significant updates to the car—wider seats among them—to make it better suited to American expectations and tastes. Blowing out the seat cushions for more big-ass space is a natural (if predictable) change, and we doubt if many of our countrymen will quibble with the true glove box that's been added in place of the skinny, under-dash shelf, or with the fold-down armrest for the driver. Our Cinquecento also gets a larger fuel tank, more sound-deadening materials, and revised suspension geometries, front and rear.
Like we did when we first heard the engineering presentation, many of you will read that bit about US-tuned suspension bits and start to feel a bit queasy. But the happy truth of the matter is that Fiat has made the 500 stiffer and more stable for US consumption. Rear suspension bushings have been beefed up for more roll stiffness, while, up front, stabilizer bar rates have been increased for less roll, and brake dive has been dialed out. We should mention here that, while driving the Sport model, with its more aggressive suspension, we noticed distinctly more predictable behavior under heavy braking than was evident with the stock setup in the Pop model.
In fact, the 500 Sport felt a bit better and more confident in nearly every dynamic situation we encountered. (We should know, too. Having plenty of extra time after our morning/afternoon drive route in the Sport, we retraced the entire trip with a base model to suss out the differences.) While the entry-level 500 still felt wholly willing to play along with our raucous requests in the canyons, it never had the same razor-sharpness that its more sporting brothers offered. Being as the Sport trim can be had for a $2000 premium ($17,500 versus $15,500), and given that loads of extra goodies are added in for that price (bigger wheels, Bluetooth, steering wheel controls, Bose audio, fog lamps, body kit, and on, and on), we think of it as being the best value in the 500 range early on.
Make no mistake; this is a terrifically good-handling car, and one with the dynamic range to make it feel good in many different driving situations. With its European city-car roots and its 90-inch wheelbase, the 500 offers go-kart quickness in terms of turn-in and rotational response. In fact, because it is so willing to turn on a dime, we often caught ourselves underestimating the grip on offer from the modest 195-section front tires, and turning in just seconds too soon. After making that correction, we found the car was willing to hold our desired line both in large sweeping bends, and for ultra-tight, near-hairpin stuff. That ability was magnified by the nice steering effort and feedback, certainly lighter than what we're used to in the Mini, but no less precise for the lightness, and probably just a hair better in terms of feel.
We expected the 500 to feel right at home on tight and narrow roads, but we didn't expect it to have the grace we found on the freeway. But the fact of the matter was that the Fiat never felt the slightest bit jittery or out of sorts while being driven at 70 to 80-plus miles per hour on the highway. The ride was smooth and firm, and the cabin was, if not completely quiet, at least a bit less noisy than we would have guessed. When pointed forward on the commuter route, the 500 actually performed like a much more massive vehicle, in a good way.
And that's important to note, too, because if the 500's short wheelbase was a major factor in its athletic ability, then its sub-2400-pound curb weight is equally critical most of the time. In much the same mold as lightweights like the Mazda2, each piece of the 500 becomes a bit sharper thanks to its lack of bulk. The brakes haul the car down from high speeds rapidly, tires feel relatively unstressed under hard cornering, and, critically, the low-powered motor is able to feel pretty punchy because of the light weight. Doing all of that without sacrificing much high-speed composure is quite a feat.
At 101 horsepower and 98 pound-feet of torque, the Fiat MultiAir 1.4-liter four isn't a powerhouse, but what it lacks in outright chutzpah it more than makes up for in revving speed, vocal verve, and overall character. In gears one through three, the 500 has been tuned to offer dynamic acceleration—we never felt that the car lacked the guts to make a pass in town, or to aggressively merge with flowing traffic on the highway. Better yet, the engine note made us love to wring the four-banger out in each of those three gears. The exhaust note is far deeper and fuller than you would expect from an engine of this displacement, and the top end offers a howl that is louder in volume, without becoming shrill. Our co-driver on the day noted that the Fiat sounded "downright Italian," and we were pleased to agree with him.
For all the cheekiness of the Fiat motor, we didn't come close to falling in love with the attendant five-speed manual transmission. The clutch pedal was light to the foot, and simple enough to engage properly, but the gearlever didn't really play along for either super-smooth or super-fast shifting. The stick was a bit long of throw and too vague for an enthusiast-oriented driver. We also didn't particularly like the boot around the bottom of the gearshift lever—it felt a lot like many a similar item we've seen all but disintegrate on older cars. (Don't let this last negative bit sway your opinion too far, though; we've no doubt that the aftermarket will provide great short throw and better boot solutions to both of the aforementioned nitpicks.)
A sheer lack of power in this powertrain will also eventually become a nuisance, we'd wager, at least if you live somewhere other than on a canyon road in California, or in the middle of an urban center. We had an amazing time wringing out this motor over hundreds of miles of fine roads. But, we've played this game enough to know that driving in the flat Midwest is a different experience entirely, and one that doesn't lend itself quite as well to the joys of low-powered driving. Once you rev your way out of third gear in the Fiat, you really run out of anything but very slow acceleration, and fifth gear is solely to be used for fuel saving on the highway. A higher powered (130-plus horsepower) Abarth version of the car is on its way to remedy this issue, but you'll have to wait until the first quarter of 2012 to get your hands on one.
Back to our original question: is this Fiat the equal of the Mini Cooper? Well, no. In reality, the Cinquecento might actually be a little bit better. Hear us out.
The Fiat handles just as well as the Mini, and even makes up for its lack of power and torque by being just a bit more tossable overall. The Cooper fights back a bit by having weightier controls and a more planted ride, but we tend to think of those factors as being matters of personal taste (you either like heavy steering, or you don't) rather than true measures of ability. The Mini is bigger on the outside, though it doesn't seem to offer much real gain in terms of interior volume as a return on its bigger exterior measurements. And, let's face it, both of these cars are small enough that no potential buyer is putting a premium on having lots of space.
But even if you make the argument (not too difficult, depending on your loyalties) that the Mini is the better driver's car, it's not a lot better, and it is quite a bit more expensive to have. You'll need about $3000 more to get into the very most basic Mini Cooper than it takes to buy the middle-level Sport-trim 500. So while the Mini is essentially in a price/performance/content class all its own, the still-premium and still-sporting 500 gets to compete head-on with less compelling products like the Toyota Yaris. Even good-to-drive small cars like the Mazda2 and the Honda Fit, which come close to the 500 in price and verve, don't have the style that this young Italian brings to the table.
And so we say, "Job well done, Fiat." An enthusiast car, priced to compete with econoboxes, that many, many young, hip, and influential people will be clamoring to own. Fiat has brought a serious fighter to spar with the big-time Mini. We're happy to have good seats.
2012 Fiat 500 Sport
Engine: Inline-4, 1.4 liters, 16v
Output: 101 hp/98 lb-ft
0-60 mph: 9.2 sec (est)
Weight: 2363 lb
Fuel Economy, City/Hwy: 30/38 mpg
Base Price: $17,500
On Sale: March 2011