Driven: 2011 Mercedes-Benz E350 CGI BlueEfficiency, E550 Convertible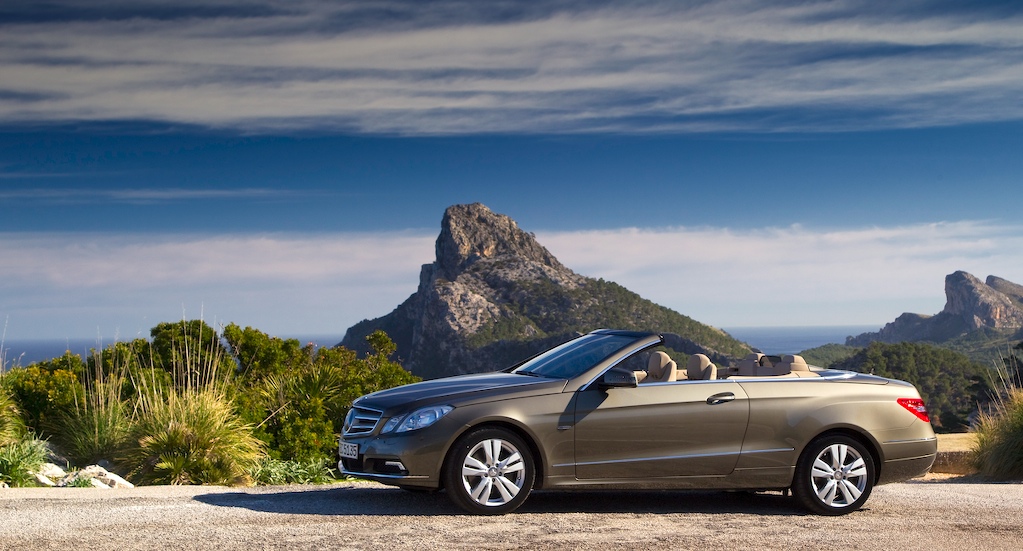 —Majorca, Spain
Two generations ago—the A208 CLK-Class convertible of 1996 to 2002—this was a masculine-looking car. Today's recently discontinued generation A209 CLK convertible was more leaning toward the feminine side with nearly 65 percent of purchases having been made by the fairer sex worldwide. With this new A212-generation convertible E-Class (the CLK name exists no more, soon to be followed by the death of the CL name as it becomes the S-Class coupe), Stuttgart wants again to toughen up the image a little for the street version. But not too much.
That is sooo sexist, we know, but it is a real hurdle in discussions with Mercedes experts that cannot be avoided. It's always strange to us, too, why any premium brand with powerful technology under the hood and racing in its veins sort of shrugs almost in embarrassment at the fact that women buy a majority of this or that model. Do women taint the manly engineer-racer image that much? Does it hurt business? We are left to wonder.
At any rate, we just tested the latest ragtop E-Class in relatively sunny conditions on the mostly German and British Spanish island of Majorca, and she holds up well to those small fairy-tale roads. The 2011 E-Class convertible is still and unavoidably a softer lifestyle purchase, yes, but it's one a middle-management, manly man can still make without too much concern for his image, even if construction crews might still whistle and call you Cupcake as you pass.
Okay, now that was just plain mean, because we enjoyed the hell out of the open-car lifestyle for these two days and 150 or so miles. We're not ever going to be 100 percent on-board with the current-look Mercedes edgy face and the rear fender flair action, but we'll go so far as standing firm at 86.3 percent there, so not too shabby. With this convertible in particular, the straight-on rear view looks a touch chunky in stacked Ferrari California style, which is odd since the top is cloth. But Mercedes wanted people to have semi-decent luggage space with the top open or closed, the cubic feet while open being an awkwardly engineered 10.6 cubic feet. When she's closed and the plastic roof hamper moves up a touch, it's a much more useful 13.8 cu. ft. configuration.
And we do, yes, we do prefer thick cloth tops by a slim margin over folding hard tops here at Winding Road. Tempers flair during these debates, but the softies rule.
The versions coming to North America of this body style that completes the W212 E-Class family will be only the 268-horsepower E350 V-6 (tested here as the Euro 288-hp E350 CGI BlueEfficiency) and 382-horsepower E500 V-8. Mark your calendars for mid-May 2010, just in time for summer. Advise your loan officers that you're looking at around $57,000 base for the E350 and $68K for the E550. Our favorite version of all the engines offered worldwide was for once not the 228-horsepower/398-pound-foot 350 CDI BlueEfficiency (read: the Euro raft of tech touches to save fuel and lower emissions, but non-urea-enhanced as with our BlueTEC with 210 horsepower and 400 pound-feet that we still get in the current R-, ML-, and GL-Class, and should be getting in the new E-Class sedan.).
It was a fully optioned E350 CGI with AMG Package with its nicer steering wheel with shift paddles to the seven-speed automatic, sport suspension via the middle-dash button, and M button for manual mode to the transmission. On the eighteen-inch, five-split-spoke, AMG wheels with denser Pirelli P Zero treads, this already much admired V-6 just gets the job done and how.
Bad news? You cannot get the AMG Package on your E350 in North America, but it comes standard on all E550s. This decision we find perplexing, but if the North American Daimler marketing gurus and business-case experts think it's smart like that, who are we to whine? It's just a real shame since the E-Class convertible is really a CLK-Class-sized car and works better with the six-cylinder than with the older-tech gas-guzzling 5.5-liter V-8 in the E550 convertible.
Despite adding 265 pounds car-for-car when comparing E-Class coupes and convertibles, the E350 ragtop gets to 60 mph "officially" in just 6.7 seconds, or equal to the last CLK350 convertible which weighed 122 pounds less. The new E550 convertible stays also at 5.2 seconds up to 60 mph like the CLK550.
Mercedes engineers shared with us the fact that Daimler drops all its convertibles from five feet high onto their A-pillars during safety tests, exceeding the testing required by any government. The safety guys said that compared to all competitors that come even within the ballpark of the E-Class convertible's dimensions, their roofless car outperforms all comers.
We didn't try out the roll-over testing first-hand, but we did play all day with the new AirCAP wind deflector that comes built in to the headrail. Everyone has been trying to perfect the wind-buffeting protection on open-top cars without robbing us of the rear seats with huge folding plastic screen devices. Press the button in the center console where your right hand rests and the AirCAP 3.3-pound air foil raises up to a set position on four hinges while the rear headrests and small wind-stopper raise up as well. The effect is appreciable especially at speeds over 40 mph. Let's face it, if you're tall, there's no hope of avoiding flies in your teeth, so you're relegated to the front seats. But average and smaller people will enjoy the calm back there even at speeds over 100 mph – speeds which we, of course, never condone.
The whole E-Class family is the slipperiest in this sector, with the sedan and coupe both coming in at 0.26 CofD. The convertible naturally ups the drag numbers. When the top is shut, it's 0.28, open it climbs to 0.33, and then with AirCAP in place it jumps to 0.38. Too high a price to pay for mussing your hair less? Not really; this is a Riviera and backroads cruiser car, and it feels good that way.
Even in a time of crisis when cars such as these lifestyle niche exercises suffer the most, the U.S. accounts for around 55 percent of all E-Class (read: also past CLKs) convertible volumes. That's why perhaps Mercedes is blessing us with AirCAP as a standard feature on all cars.
You go, girl.
2011 Mercedes-Benz E350 Convertible
Engine: V-6, 3.5 liters, 24v
Output: 268 hp / 258 lb-ft
Top Speed: 155 mph
Weight: 3946 lb
0-60 MPH (est.): 6.7 sec
Base Price (est.): $57,000
Price as Tested (est.): $65,000