Driven: 2010 Lincoln MKT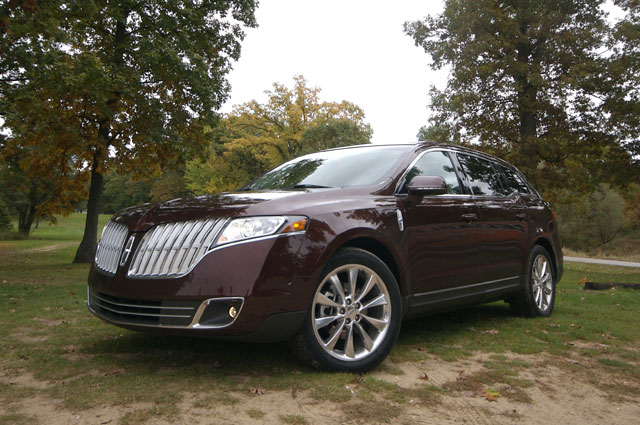 —Ann Arbor, Michigan
One of the most crucial things that American automakers—namely Ford and GM—are currently doing is working on building better individual brand identity within their larger portfolios. In years past, the Lincoln brand suffered by being written off as the grandfather-oriented luxury brand, offering soft vehicles with only a few more luxurious touches than similar products with Ford or Mercury badges. But recently, we've seen some really attractive things come from Lincoln, and Ford's marketing representatives have a clear objective to bring new products to dealer lots that don't plainly resemble the Ford vehicles that they're based off of. Sure, you can look at a Ford Taurus and Lincoln MKS side by side and see some similarities, but non-automotive media consumers won't necessarily spot the similarities.
Enter for 2010, the seven-passenger Lincoln MKT crossover. It may be based on the trusty Ford Flex platform, but Lincoln engineers reiterated that not a single body panel or interior amenity has been carried over, unchanged, from the Flex. Its exterior appearance alone is a very polarizing opposite from the boxy Ford crossover, and while the debate still continues about if we find the MKT to be a "pretty car" or not, one thing's clear—you won't mistake it for a Flex. Or anything else, for that matter.

So while the sheetmetal and interior cushiness is completely different from any other vehicle in the company's portfolio, key factors like the MKT's powertrain can be found in other Blue Oval products. Ford has a really attractive twin-turbo, 3.5-liter EcoBoost engine on its hands, and it'd be a damn shame to let that beauty go to waste. Upmarket MKTs come standard with the EcoBoost engine and all-wheel drive, though there is a lesser model available, equipped with the 3.7-liter V-6 from the MKS sedan, mated to front- or all-wheel drive. Power numbers have not been changed, and the MKT is still capable of achieving 22 miles per gallon on the highway with the EcoBoost engine—just one of the many best-in-class features we were told about before our test drive. And like the Flex, suspension upgrades have been fitted to EcoBoost-equipped MKTs, offering a more involving driving experience and a more connected feeling to the road, but generally cushier than the EcoBoost Flex we recently tested.
The MKT moves down the road with a very firm, planted poise, though engineers wanted to ensure that ride quality was not compromised because of the added performance. This new Lincoln is a very soft, very easy vehicle to drive, and it enjoys cruising at 75 miles per hour on the highway, having more than enough grunt to be hustled through a sweeping turn on a curvaceous B-road. A lot of work was done to ensure that road and wind noise were not immensely noticeable in the cabin, and we can honestly ensure you all that the MKT is one of the quietest vehicles we've ever tested. Yes, there's a noticeable exhaust note when pushed hard, but you can't hear the twenty-inch tires moving across the pavement, and the more aerodynamic shape of the MKT versus the Flex allows for a better coefficient of drag, and in return, a strong reduction in wind noise.
But while the MKT's interior is made up of different materials and has a slightly different design than the Flex, its amenities are nothing short of Ford's new standard for high amounts of technological goodies and premium convenience features. Note the optional refrigerated second row storage bin, the four-way HVAC controls (two up front, two in back), and the standard glass roof. Not unlike the Flex, the MKT is a very pleasant inside—so  much so that when we had to hand the keys over to a fellow journalist for the drive back to our starting point, we opted to sit in the second row. It's plush, people—plush in a way that an Audi Q7 or Cadillac Escalade isn't. And as for legroom? Here's another place where that "best in class" line comes in. The interior is made up of very fine, soft materials and the whole design is very appealing from both a driver and passenger perspective.
All in, we firmly believe that Lincoln will have no troubles moving these cars off of lots to consumers looking to downsize from larger SUVs. We saw a similar trend with the Flex, and the MKT offers more in the way of luxurious appointments and a refined driving experience. Sure, we journalists can see and feel the Flex influence here, but overall, it's a much different package. We drove the MKT back-to-back with an Audi Q7 and were impressed with how much quieter, nimbler, and more involving the Lincoln's drive experience was. Smart luxury CUV shoppers will be wise to add the MKT to their list of vehicles to check out. Its unique appearance and hit-or-miss design may not be right for some, but from a behind-the-wheel and sprawled-out-in-the-second-row perspective, it's just right for us.