Classic Racing Shoe Roundup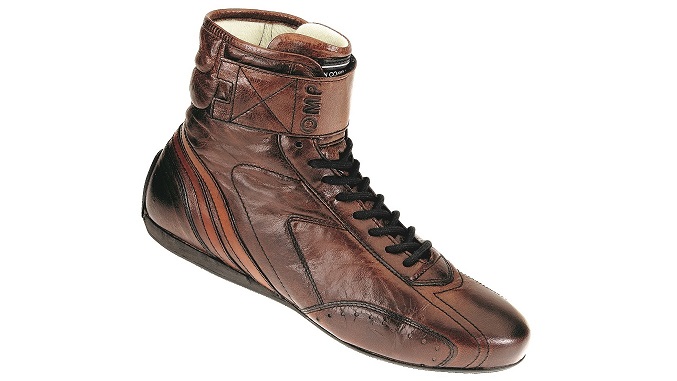 Anyone with even the slightest interest in motorsports digs the history of motorsports. We not only enjoy looking back on crucial races, but also manufacturer, driver and team rivalries, vintage racecars and their cool liveries (Gulf Porsches, late-80s/early-90s IMSA GT cars with beer sponsors, etc), and even the protective clothing that drivers adorned behind the wheel as they shot down straightaways and dove into corners (often without neck protection).
One way to combine having rated, comfortable, modern racing equipment with cool, vintage design, is with racing shoes! We may never know what it felt like to be Steve McQueen battling for podium in the 1970 12 Hours of Sebring, but at least we can buy shoes that are similarly-designed to what he was wearing. Check out the following shoes we carry that channel vintage racing shoe design, and make drivers stand out in the paddock.
Sparco Slalom RB-3 Classic Racing Shoes – Understated design, high-quality leather, and based on the current Slalom which has been a great seller. This shoe not only stands out for its looks, but also for its lightweight, anti-slip, anti-static, and fuel/oil-resistant sole.
OMP Carrera Vintage Racing Shoes – These shoes are hand-crafted in Italy of high-quality, soft leather, and we think they are some of the most beautiful shoes ever made. These come with double-closure laces and a velcro strap to keep it snug, and the thin rubber sole ensures great feel.
Sabelt Hero TB-9 Racing Shoes – These aren't marketed as a vintage racing shoe, but we find that they resemble high-end shoes of the 1980s and 1990s due to their understated, clean design. However, that doesn't mean they're of old technology. They're one of the most-comfortable rated shoes we sell thanks to their soft leather exterior, thin sole, and great breathability. The black, red, and white colors they come in look great; we're partial to the red (we just need a Ferrari 355 Challenge to accompany them).
adidas Feroza Elite Racing Shoes – Like the Sabelts, these are not marketed as vintage-design racing shoes, but we find they're reminiscent of shoes that drivers wore in the 1980s. In particular, they appear to pay homage to the Adidas Monza Racing Shoes from 1985, like what Walter Röhrl wore to dance between pedals piloting his Audi Sport Quattro S1. These shoes have a comfortable interior, massive heel for comfortably rolling onto the throttle, and the high-top design provides great support.
Note: we only have a couple of sizes of the Feroza Elite left in-stock, feel free to email or call before ordering.